News
Sunak dodges questions on Braverman's 'hurricane' rhetoric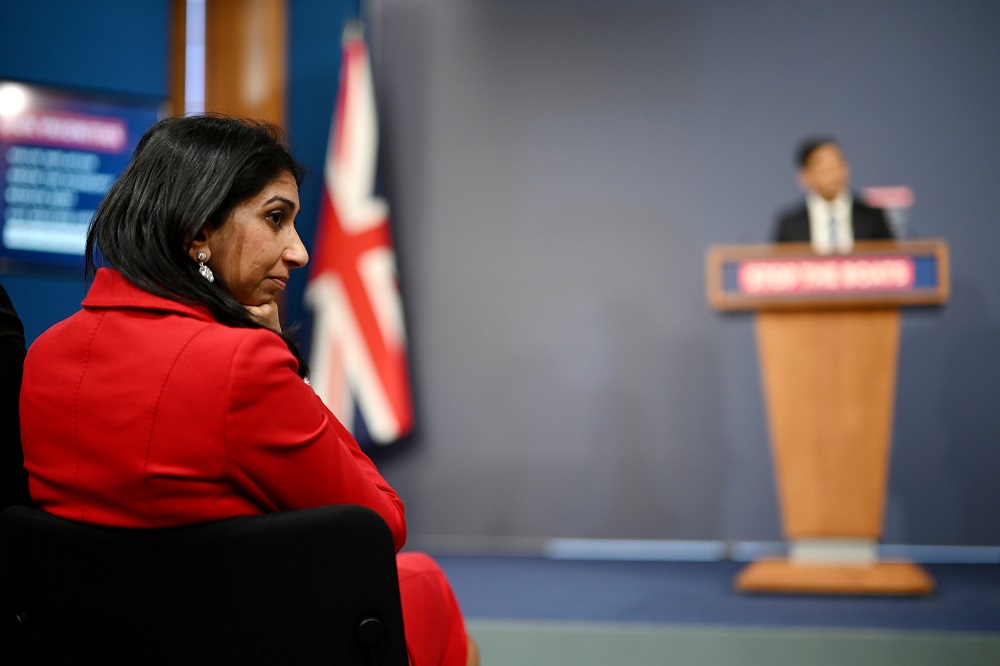 Rishi Sunak has refused to say whether he endorses the rhetoric used by Suella Braverman after she claimed a "hurricane" of mass migration is coming.
The Prime Minister dodged questions on his Home Secretary's speech to the Tory party conference, which caused unease among some senior Conservatives with its warnings about the movement of people around the world.
Asked whether, following her address, he thought Mrs Braverman had been right to vilify people seeking to migrate to the UK as part of a "hurricane" or "invasion", he told BBC Radio 4's Today: "What we need to do is make sure that the criminal gangs who are perpetuating an evil, who are taking advantage of all the people that you're describing, leading to in many cases, tragically, them dying, need to be stopped. And we need to take action to stop them."
He said "no-one should want to defend" the "evil" trade of people paying to come to the UK illegally and "being exploited by gangs".
When it was put to him that he was happy with the Home Secretary's remarks, Mr Sunak said: "Your words, not mine."
Mrs Braverman, whose parents came to the UK from Kenya and Mauritius in the 1960s, used her Tory conference speech to say: "The wind of change that carried my own parents across the globe in the 20th century was a mere gust compared to the hurricane that is coming.
"Because today, the option of moving from a poorer country to a richer one is not just a dream for billions of people. It's an entirely realistic prospect."
She previously likened the arrival of asylum seekers on small boats to an "invasion on our southern coast" in comments made in the Commons last year.
A former No 10 chief of staff suggested Mr Sunak should sack his Home Secretary.
Lord Barwell, who served in Theresa May's administration, tweeted: "With a reshuffle coming, he should reflect whether it was right to give someone with such views such a high-profile platform."

Enoch Powell
Comparisons have been made between Mrs Braverman's language and Enoch Powell's infamous "rivers of blood" speech, which was widely blamed for inflaming racial tensions in the 1960s.
Her Cabinet colleague Grant Shapps defended her against such criticism on Wednesday, saying she had been "absolutely correct" to warn about the scale of global migration.
Business Secretary Kemi Badenoch told a Spectator conference event that politicians should be careful about how immigration policies are discussed, "so that people aren't getting echoes of things that were less palatable".
Fellow Cabinet minister Michelle Donelan also declined to repeat the language used by the Home Secretary.
Former justice secretary Robert Buckland said it was important to consider the reality of global migration, but urged senior politicians to "analyse in a mature way why these things are happening".
The Prime Minister appeared to shift closer to the right wing of his party with an attack on "virtue signalling" in his own conference speech, though he largely avoided so-called "culture war" subjects.
Weighing in on debates about sex education and transgender rights, he said: "A man is a man and a woman is a woman. That's just common sense."
Equality Act
Cabinet minister Mark Harper denied Mr Sunak's remarks went against the Equality Act 2010, which says people going through gender reassignment should not be discriminated against.
The Transport Secretary told Sky News: "Not at all. I think what you're doing there is mixing up sex and gender.
"He was being very clear that you can't change your sex, of course you can change your gender."
If the Prime Minister echoed Ms Braverman's language on "virtue signalling" and transgender people, he appeared to distance himself from her remarks on multiculturalism.
He dedicated a section of his speech to celebrating the UK as "the most successful multi-ethnic democracy on Earth" and emphasising his pride in being the country's first British-Asian PM.
During a visit to the US last week, Mrs Braverman had attacked the "misguided dogma" of multiculturalism, saying it had "failed" – comments that the Prime Minister declined to endorse.
There has long been debate over what people mean by the term multiculturalism, with some using it to refer to a range of communities living alongside one another and others to refer to a policy that promotes diversity.
Asked whether there was any difference between his parents' dreams of coming to Britain and those of people hoping to migrate now, he told Today: "There's a big difference between coming here illegally and legally."
---
Support our Nation today
For the price of a cup of coffee a month you can help us create an independent, not-for-profit, national news service for the people of Wales, by the people of Wales.