News
Sunak sets out 'ambition' with challenges to Labour in King's Speech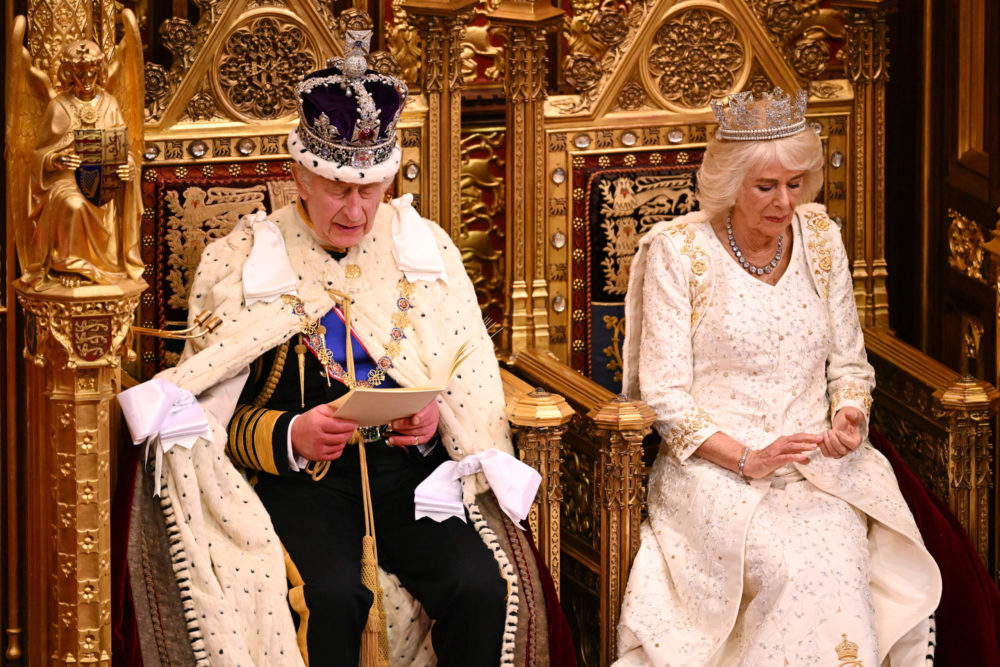 Rishi Sunak insisted he has "turned the corner" to put the country on a better path as he set out his pre-election stall in the King's Speech to present challenges for Sir Keir Starmer.
In his first state opening as monarch, Charles set out legislation to mandate annual oil and gas licensing in the North Sea – which the Tories hope will draw a political dividing line with the Labour leader.
The long-term champion of environmental causes said the new fossil fuel sites will support the country's transition to net zero by 2050 "without adding undue burdens on households".
With a general election expected next year, the Prime Minister put a series of criminal justice laws at the centre of the first King's Speech in seven decades.
But there was little in the way of surprises in what was also the first time Mr Sunak was setting out his legislative priorities since entering No 10 despite trying to portray himself as a change candidate after 13 years of Tory rule and the chaos under Boris Johnson and Liz Truss.
Already announced plans to crack down on young people vaping and creating a "smokefree generation" by banning tobacco sales to anyone who turns 14 this year or younger featured.
Mr Sunak vowed to continue supporting Israel as he carried over a Bill that would ban councils imposing boycotts, disinvestment or sanctions campaigns against other countries.

Tents
But there was no mention of action to tackle people sleeping on the streets in tents after Home Secretary Suella Braverman provoked outrage by criticising people she said were on the streets as a "lifestyle choice".
The package of 20 Bills and a draft includes proposals to:
– Subject streaming giants to a new video-on-demand code drafted and enforced by Ofcom that will apply similar standards to those enforced on television
– Ban the creation of new leasehold houses in England and Wales to improve fairness in the housing market
– Ending no-fault evictions – but not until a new court process and stronger possession grounds for landlords are in place
– Pave the way for the introduction of self-driving cars and buses on UK roads by putting in place a legal framework centred on safety and user protection.
Mr Sunak, in words accompanying the King's speech, insisted there are "clear" results from the five priorities he set for the nation to judge him on.
He acknowledged that there is "more to do" on cutting NHS waiting lists, but insisted he had "made progress" after patients waiting for hospital treatment hit a record high.
But he said inflation is down, as he appears on course to cut it in half this year, and that the economy is growing – albeit minimally as the Bank warns of a year of stagnation.
He insisted that "we are stopping the boats", arguing that crossings are down on this time last year – though more than 26,600 people have still made it across the Channel unauthorised.
"We have turned the corner over the last year and put the country on a better path," he said.
"But these immediate priorities are not the limit of our ambition. They are just the foundations of our plan to build a better future for our children and grandchildren, and deliver the change the country needs."
Ambitious
Mr Sunak said the public wants a Government that is more ambitious for the future, adding: "With this historic King's Speech, we are rising to that challenge. We are changing our country for the long term, delivering a brighter future."
What was not in the speech was also revealing.
Downing Street sources said that Ms Braverman's proposals to restrict tents for rough sleepers were still "undergoing scrutiny". Those in the Home Office pointed towards measures to tackle begging in the Crime and Justice Bill.
And there was no inclusion of a bill to ban so-called conversion therapy for LGBT+ people after Mr Sunak faced a backlash from some quarters of the Tory party.
Rail reform measures after Mr Sunak scrapped the HS2 leg to the North only made it as far as a draft in the speech setting out the Government's legislative priorities.
Downing Street emphasised the law and order policies, including previously-announced proposals for killers convicted of the most horrific murders to never be released from jail.
Rapists and other serious sexual offenders would not be let out early from prison sentences under the plans.
Other measures include handing police greater powers to enter a property without a warrant to seize stolen goods, such as phones.
Senior Tories hope a focus on issues seen as traditionally Conservative will help Mr Sunak overturn Labour's consistently double-digit poll lead.
Allies of the Prime Minister also believe that the Labour leader's record as director of public prosecutions could prove to be a weak point.
Labour has pledged to block new domestic exploration licences for fossil fuels, but the King's Speech includes a proposed law to make annual oil and gas licences annual.
Proposed as a boost for energy security, it would require the North Sea Transition Authority to invite applications for new production licences on an yearly basis.
---
Support our Nation today
For the price of a cup of coffee a month you can help us create an independent, not-for-profit, national news service for the people of Wales, by the people of Wales.