News
Swansea locals to stage 'Wokefest' in response to Katie Hopkins shows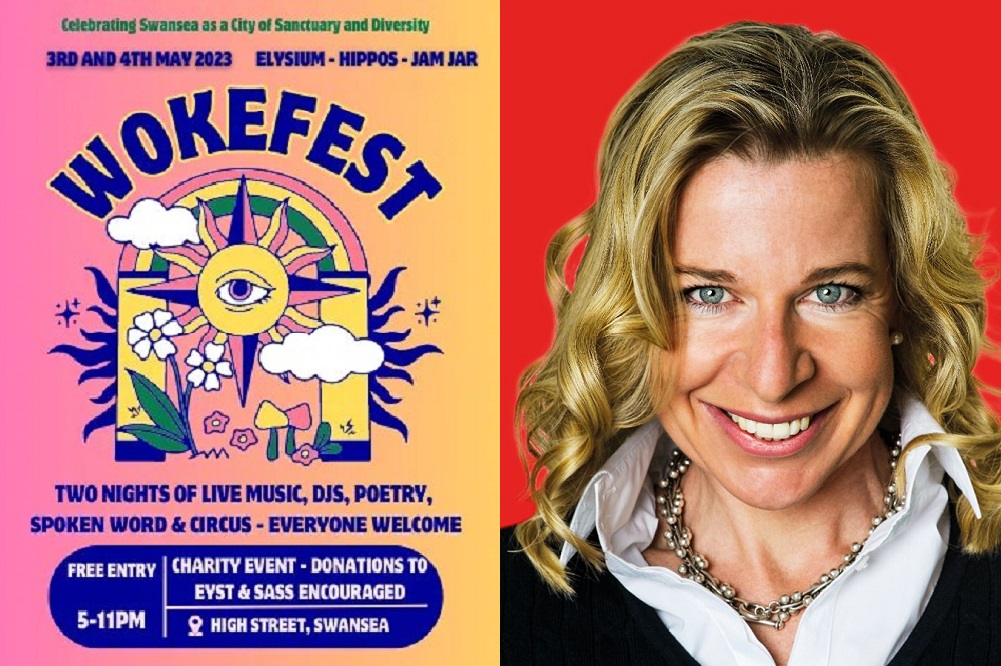 Venues on the High Street in Swansea are set to host a rapidly convened two-day mini festival this week, in response to an appearance by a controversial media personality in another venue on the same days.
On 3rd and 4th May, Katie Hopkins will appear at two sell-out shows at Cinema & Co.
To counter the appearance of Hopkins, whom they describe as a "hate speaker", a group of locals decided to organise the festival and have managed to book over 30 acts so far.
Dubbed 'Wokefest', the festival will take place at Elysium, Hippo, and Jam Jar on Swansea High Street on Wednesday and Thursday this week.
Organisers say they are aiming to spread positivity, promote diversity and to send the message that Swansea is a welcoming, inclusive city befitting its status as a "City of Sanctuary" for refugees.
Despite the event being pulled together in the space of a week, they say they have, with enthusiastic support from communities throughout Swansea, managed to organise a number of events and garnered an overwhelmingly positive response.

City of sanctuary
Co-organiser Jules Woodhell commented, "Wokefest is more than just an entertainment event, it is a statement of unity and a celebration of the strength of diversity.
"The festival will feature a range of talented performers, musicians, poets, and speakers from all walks of life, who will showcase their skills and spread their message of hope and positivity.
"We are proud that Swansea is a city of sanctuary, and as it is a university town, it is important for everyone to feel welcome and safe here.
"We totally support freedom of speech, but hate speech and spreading misinformation are another matter. We felt it was important to emphasise that racial hatred and prejudice are not an accurate reflection of our lovely City.
"We named the festival Wokefest as, in recent times, the term 'woke' has been used derogatively. But we absolutely own being 'woke' as it means we are conscious of systemic injustices and strive to actively address and dismantle them. The festival fully embraces and celebrates this mindset".
Controversial
In 2022, Cinema & Co was subject to an enforced closure and owner, Anna Redfern received a £15,000 fine and a 28-day suspended prison sentence after she admitted contempt of court for refusing to close or to adopt the policy of Covid passes for its customers.
Subsequently, a crowdfunder raised tens of thousands of pounds.
The cinema, which last month hosted a talk by controversial figure David Icke, has continued trading since then and in September last year Ms Redfern abandoned an appeal against her sentence.
Amid criticism on social media, Cinema & Co said on its Twitter feed: "Like we did back in Nov 2021 standing up to the discriminatory Covid passport nonsense, we are advocating FREEDOM OF CHOICE.
"Live, Love, Laugh with Katie at Cinema&Co or Loll, Loathe, Lament alone on anti-social media?
Nobody should police your humour especially in this 🤡 world."
Wokefest is free of charge, and open to all, however, the festival organisers encourage guests to donate to the worthy causes supported by the event, EYST (Ethnic Youth Support Team) and SASS (Swansea Asylum Seekers Support).
For more information on Wokefest, visit the festival's Facebook page.
---
Support our Nation today
For the price of a cup of coffee a month you can help us create an independent, not-for-profit, national news service for the people of Wales, by the people of Wales.