News
Swansea teachers to strike in row over colleague's dismissal after 'breaking up pupil fight'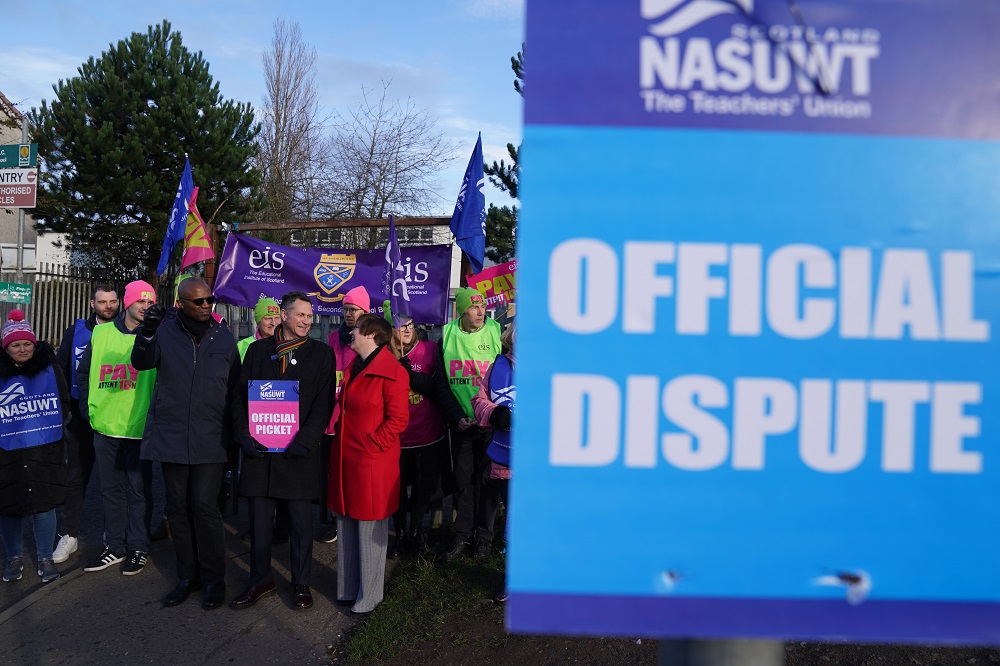 Hundreds of secondary school teachers across Swansea, who are said to be angry over the sacking of one of their colleagues for breaking up a fight between two pupils, are to go on strike.
The NASUWT Teachers' Union said its members voted overwhelmingly to take part in the industrial action on Thursday over "adverse employer practices, threats to their job security and the failure of Swansea Council to comply with existing collective agreements".
More than half of the city's secondary schools will close for the day due to the walkout, while a number of others will partially close.
The union said its members do not take strike action lightly, but said in the face of rising violence in schools experienced after the coronavirus pandemic, teachers should feel "supported when they intervene to keep themselves and their pupils safe".
Swansea Council has previously said it is "extremely disappointed" in the union's decision to ballot for a strike and said it refutes all claims of employer abuse.
The row between the union and local education officials is claimed to be over an incident involving a male teacher who pulled apart two male students who were engaged in a physical fight.

Appeal
According to the union, the teacher was disciplined but then exonerated on appeal before a second appeal led him to be dismissed.
Neil Butler, NASUWT's Wales representative, said the union "does not recognise the outcome of the second appeal".
"Our members are very angry about this, it's outrageous on a number of levels," Mr Butler told the PA news agency.
"The reason this is a wider problem is that we know that violence and aggression in schools has gotten worse, so teachers needing to intervene in physical situations is getting more common.
"They are already very, very nervous to do that because lay a hand on a child and you've got child protection procedures. But in law, teachers do have the right to use reasonable force to protect children and stop them beating each other up.
"Ultimately, actions like this put teachers more on guard, it makes safeguarding in schools worse and leads to teachers not wanting to stay in the jobs anymore.
"This is about standing up for teachers being allowed to do their jobs properly," he added.
NASUWT general secretary Dr Patrick Roach said: "Our members in Swansea do not take strike action lightly but today they are sending a strong message that their employer cannot bully or threaten them without any consequences.
"Swansea Council cannot ignore, side line or ride roughshod over collective agreements with the NASUWT, which are an essential element of the working conditions of teachers.
"The NASUWT will not hesitate to take further industrial action should Swansea Council fail to demonstrate they respect and will uphold agreements relating to teachers' contracts."
Serious breach
Helen Johns, NASUWT national executive member for Swansea, called the council's involvement in the teacher's dismissal "a serious breach of policy" and an "unfounded intervention in a school process".
It is understood the dismissed teacher is expected to take his case to an employment tribunal.
The union is currently in a dispute with three other secondary schools elsewhere in Wales over issues of dealing with poor pupil behaviour.
A spokesperson for Swansea Council previously said: "This action is regrettable and will only serve to deny children of educational opportunities.
"This is based on an individual case and while this continues, for legal reasons and to protect the integrity of the processes, we cannot comment on specifics.
"We value all of our teaching staff and have built good relationships with heads and other staff over a number of years.
"We refute any allegation of employer abuse, victimisation and other claims made by the union which they will need to substantiate.
"We hope that the union will continue to talk with us so that we can work together to find a solution that avoids unnecessary disruption to our schools and the education of children in Swansea."
A rally is to be held outside the Guildhall, one of the council's main offices, from 4pm.
---
Support our Nation today
For the price of a cup of coffee a month you can help us create an independent, not-for-profit, national news service for the people of Wales, by the people of Wales.