News
Teachers rally outside Senedd over pay and conditions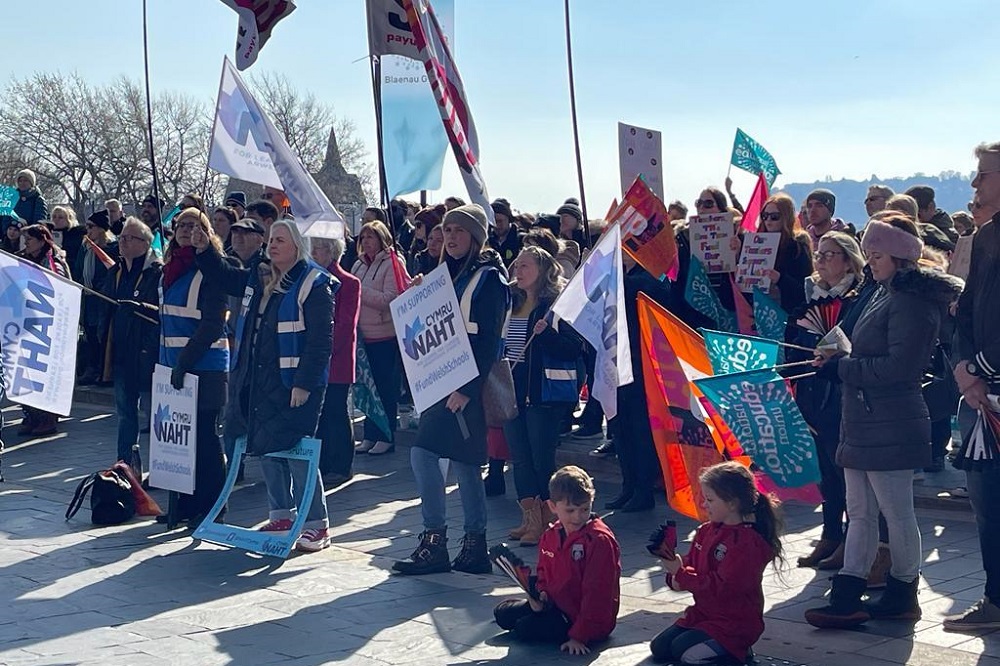 Teachers striking over pay and working conditions have taken part in a rally outside the Senedd.
Pickets were mounted by National Education Union (NEU) members on the steps of the Senedd and outside schools across Wales during the third day of walkouts on Thursday.
Industrial action was paused last month for union members to consider an improved offer put forward by the Welsh Government, but it was ultimately rejected.
Ministers offered what they called a "strong" deal which included a 1.5% pay rise on top of the earlier 5%, a 1.5% one-off payment and measures to address workloads.
Those at the rally in Cardiff Bay said they were concerned about the retention of staff, saying people were leaving the profession for better-paid jobs outside of the education sector.
There was also frustration in the recent pay offer's exclusion of teaching assistants, who many said were "vital" to the running of schools.

Class resources
Many said they were having to use their own wages to cover the cost of an increasing amount of class resources.
Claire Bradford, 42, a teacher at Ysgol Penmaes, a special school in Brecon, who was at the Senedd, said: "This is not an attractive profession any more.
"Yes it's a job we love and choose because you want to make a difference, but it's still a job at the end of the day and we should be paid well for it.
"The more people who go off and do something else, the less good teachers there will be and it's the children who will suffer.
"We're finding schools can't afford to pay the increase in the wages that have come through – regardless of whether or not we think that's a good enough increase in wages – because schools have been told to find the money from existing budgets that are already stretched.
"We've got an amazing new curriculum, but you can't do it on the cheap."
Conall Keaveney, 27, a teacher of two years at Pentrebane Primary School in Cardiff, said he was also striking for TAs who go "above and beyond".
He said: "I'm coming into the profession at the advent of the new curriculum for Wales – it's super exciting.
"But the new curriculum isn't necessarily fully funded by the Welsh Government. In particular, we don't have the support staff or teaching assistants to make it work.
"It's frustrating and ultimately the long-term effect is that teachers are falling out of the profession.
"Teaching might be a vocation but the reality day to day is you can only give so much.
"If teachers are having to use foodbanks, or they're having to use their own money for classroom supplies like books and glue sticks, it's ridiculous."
Physics teacher Daniel Wilson, 52, who works at Ebbw Fawr Secondary School in Ebbw Vale, said: "What I have noticed over the past few years, particularly in the past three to four years, is a difficulty in employing teachers and teaching assistants.
"And now we've got the ridiculous situation of where the politicians are saying they will give a pay rise to the teachers, but they're going to ignore the rest of the educationalists. How's that fair?
"We need to take the stance to say no, actually pay us what we're worth."
Julian Konten, 50, a design and technology teacher at Willows High School in Cardiff, said he was striking to ensure the rights of the children he works with in the future.
"The less resources we give children in our schools the less successful they are likely to be, and this is about social mobility and ensuring their futures," Mr Konten said.
Thousands of pupils remained off school for the strike day.
Parents and guardians
A poll by Ipsos suggests that three in five (60%) parents and guardians back teachers taking strike action, but many (43%) are worried about their children catching up on work missed because of the walkouts.
One parent said he "fully supported" teachers striking.
Kane Brown, 48, from Cardiff, was observing the rally with his son Fabian, six, who was off school because of the strikes.
"We fully support them, they should be paid more," Mr Brown said.
"It seems they can find money for everything else apart from educating the next generation."
Mary Bousted, joint general secretary of the NEU, who also attended the rally, said: "While no teacher wants to be on strike action, we are grateful for the support of parents and do not take it for granted."
---
Support our Nation today
For the price of a cup of coffee a month you can help us create an independent, not-for-profit, national news service for the people of Wales, by the people of Wales.