News
Teaching unions consider new pay offer from Welsh Government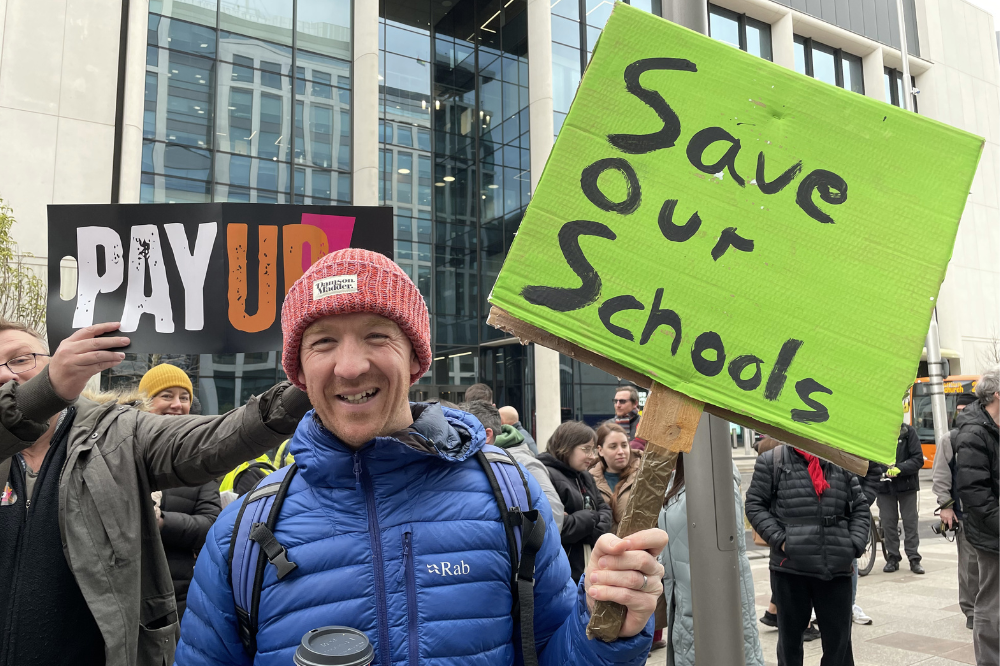 Teaching unions are considering a new pay offer from the Welsh Government aimed at resolving a dispute which has led to strikes.
Talks between ministers and union leaders led to a new offer, similar to one made to health unions in Wales.
Teachers have also been taking strike action in England, where the dispute remains deadlocked.
A Welsh Government spokesman said: "Following continued discussions, we can confirm that an enhanced pay offer has been made to teaching and headteacher trade unions.
"In addition to the 5% pay rise, the revised pay offer comprises an additional 3%, of which 1.5% is consolidated.
"Also included in this revised package are a number of significant non-pay commitments relating to workload in the short, medium and long term.
"We would like to thank everyone who has participated in these constructive negotiations. We now await a formal response from the trade unions."

Workload
Eithne Hughes, director of the Association of School and College Leaders (ASCL) Cymru, said: "We welcome the improved pay offer for teachers and leaders, and the commitment to reduce systemic pressures which are driving unsustainable levels of workload.
"Both issues – pay and workload – are vital to addressing the teacher recruitment and retention crisis and enabling schools to put teachers in front of classes.
"This is the product of extensive negotiations between the Welsh Government and trade unions which have been conducted in a constructive manner by all concerned. We will now discuss this offer with our senior elected members.
"We also welcome the commitment given to us by local authorities in Wales that they will ensure that Welsh Government funding will be passed on to schools in full to ensure they are able to pay these awards.
"This is of critical importance given the huge financial pressure on schools.
"The negotiations in Wales have taken place within tight funding constraints and it is to the credit of the Welsh Government that they have found a way forward.
"All eyes will now be on the Government in Westminster to show a similar commitment to address the teacher recruitment and retention crisis in England."
Pleased
Laura Doel, director of school leaders' union NAHT Cymru, said: "We're pleased that Welsh Government have come to the table with an improved pay offer.
"While it doesn't fully address the 22% erosion of school leader pay in Wales since 2010, it is a strong indication of the willingness on all sides to start to address the balance.
"NAHT Cymru will now go out to consultation with our members and put this new offer to them.
"Crucial to their consideration will be not just the offer of more money for this year, but the agreement to look at workload and to reopen negotiations on pay for 2023/24."
NAHT Cymru will consult its members via an electronic ballot between February 15-22.
Ms Doel continued: "We will not be pausing our action short of strike during this time but will continue to take action until we reach an agreement."
David Evans, Wales secretary of the National Education Union Cymru, said: "NEU Cymru members will be pleased that the Welsh Government continues to take negotiations seriously.
"We have received a revised offer in terms of pay and had discussions on workload.
"As a democratic body, the next thing will be for our executive members to decide if the offer is sufficient to put it to the membership more widely.
"Meanwhile, we remain committed to discussing next year's pay offer with the minister now that he has agreed to reopen the process."
---
Support our Nation today
For the price of a cup of coffee a month you can help us create an independent, not-for-profit, national news service for the people of Wales, by the people of Wales.