News
Telegraph brands Wales 'wokest country in Europe'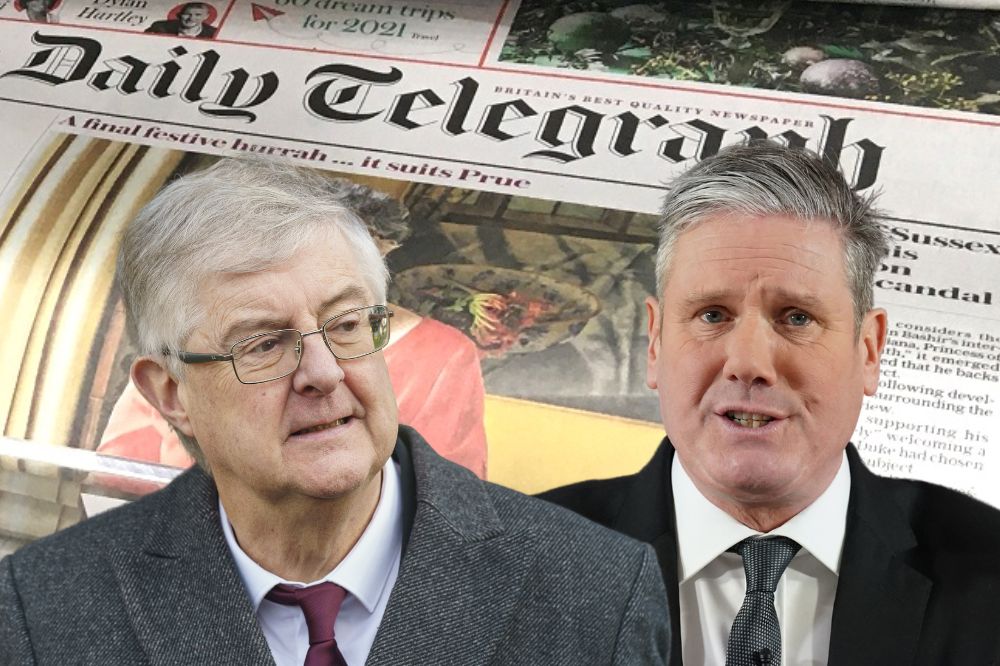 A Telegraph columnist has launched a scathing attack on Wales branding it the 'wokest country in Europe.'
The article, which blasted Welsh Labour policies, was written by former Labour MP for Glasgow south and Scottish Brexit campaigner, Tom Harris.
Entitled 'Labour has made Wales the wokest country in Europe', Harris claimed the current Welsh Government is a "warning of Britain's potential future under Keir Starmer".
In the anti-Welsh Labour rant, Harris cautions "Britain" saying "Wales is not just an example of what Labour can do at a British level: it is a warning."
He adds: "If Keir Starmer will say or do nothing to condemn the extremism rearing its head in Welsh schools, local councils and government departments, we must assume that he wants the same thing for the rest of the country."
In the article, Harris writes fondly of his favourite historical novel entitled "Here be Dragons" which retells the story of the Brothers of Gwyneth.
But Harris accuses modern Wales of still harbouring dragons in the form of Labour who has "governed uninterrupted since the advent of devolution."
The former Labour MP, who admitted to voting Conservative in the 2018 election, criticised Welsh Government plans to make it easier to change gender and accused Mark Drakeford of having "no second thoughts" on the proposals following the UK Government's veto of the Scottish gender reform bill.

"no-nonsense insight"
But the Welsh Government's current LQBTQ+ Action Plan was published shortly after the UK Government blocked Scotland's gender bill plans.
The Welsh Government has said the plan will aim to strengthen equality and human rights for lesbian, gay, bisexual, transgender and queer people to create a fairer and more welcoming society in Wales.
Harris, who has been dubbed by the Telegraph as a deliverer of "no-nonsense insight", also branded the Welsh Government's new teaching curriculum as a "sinister trend" for its inclusion of information about different genders which he says is an "unscientific notion".
The Telegraph columnist went on to bash Welsh Government plans to provide private landlords with anti-hate crime training so tenants can be supported if they experience racism.
The proposals were announced following reports of racially motivated hate crimes being on the increase in Wales.
According to Harris, the measures to protect tenants "prove Welsh Labour's status at the cutting edge of woke" and shouldn't be included in the list of priorities in Wales.
The Welsh Government's audit of statues and place names of people directly involved in the slave trade also gave cause for further finger pointing from Harris.
He described the Welsh Government review of monuments as "chilling" and "Labour feeling entitled to destroy historical items to push the right historical narrative".
Welsh Tory Leader, Andrew RT Davies seemed in agreement with Harris's rant and shared the Telegraph article to social media in a post that read: "And we all have to live through it. Labour in Wales have persued Sturgeon's gender self-ID policy and want to tear down statues through their 'Anti-Racist Wales Action Plan'.
"A warning to the rest of the UK what Starmer's priorities would be."
A Facebook user responded to the the post saying: "So just to confirm, you don't want us to be anti-racist?"
---
Support our Nation today
For the price of a cup of coffee a month you can help us create an independent, not-for-profit, national news service for the people of Wales, by the people of Wales.