News
Telegraph launches scathing attack on Welsh devolution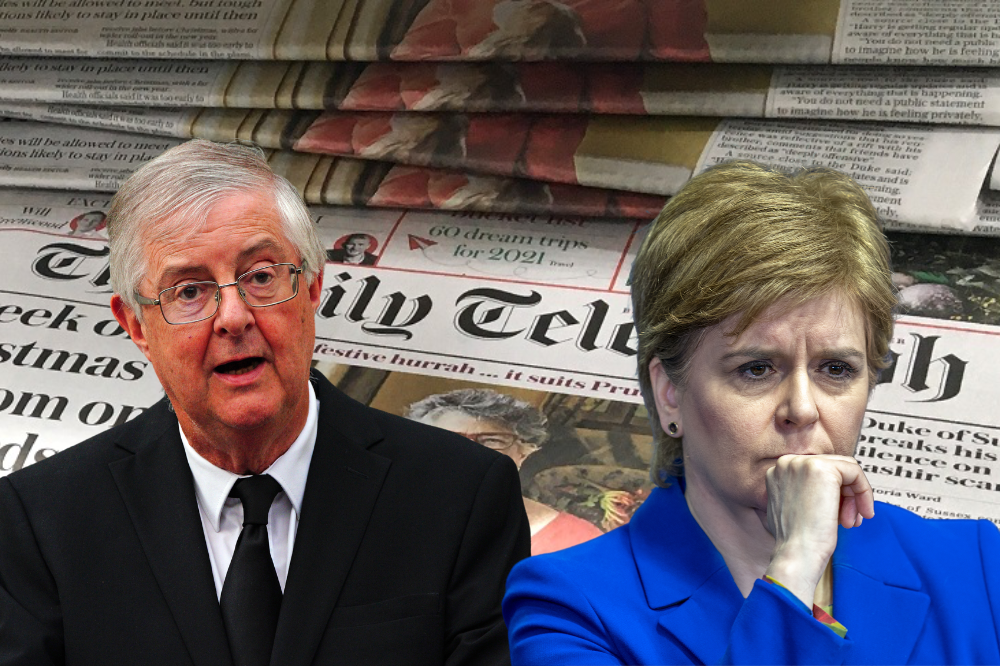 The Telegraph has launched a scathing attack on Welsh devolution saying it has "enshrined dependency, resentment and a begging-bowl culture."
The opinion article by Sunday Telegraph editor Allister Heath tore apart Wales's legislative powers saying it had "failed disastrously" and "rather than saving the UK, it has fractured it."
Cardiff was bashed throughout the piece along with Edinburgh which didn't escape Heath's penned condemnations.
Wales and Scotland were decribed as having a "dirty secret" as "Holyrood or the Senedd don't want the real deal, they are terrified of having to pay for their spending. They don't want to risk going bust."
In the piece published on Thursday night, Heath aimed heavy criticism at Nicola Sturgeon saying Scotland had been ruined by both her and former Scottish First Minister, Alex Salmond.
Blasting both the Senedd and Holyrood, Heath wrote: "After 25 years, what more evidence do we need that Britain's brand of devolution is broken."
He added that devolution encourages "pork-barrel politics".
In November last year another Telegraph columnist wrote that Mark Drakeford had enforced a "scroogefest" during the pandemic as Wales's lockdown rules were stricter than those over the border.
In yesterday's latest Telegraph devolution disapproval, Wales was again ridiculed for its "absurdly strict" lockdown rules.
The article said: "Wales mirrors Scotland's decline. It is controlled by an even lower calibre of power-crazed bureaucrats, as epitomised by their absurdly strict lockdown which saw the erection of a border with England and clothing and toys sections of supermarkets cordoned off."
Heath also condemned Wales's NHS accusing it of being "even worse than England's" as "Welsh patients have been more likely than those in England to wait four hours in A&E in every single month since 2012."
Sadiq Khan didn't escape the Telegraph finger pointing fest with Heath writing that "Unlike Scotland and Wales, London craves real devolution".
Heath then went on to jab at Khan's plan to tax older vehicles as "idiocy".
He added: "The mayor's failure on crime and the Met is unforgivable. Proponents of devolution point to the improvements in public transport since 1997 as the principal benefit of the mayoralty, but Khan's management of the loss-making Transport for London has been abysmal."

"Rotten boroughs"
Editor, Heath also speculated that Scotland and Wales would be "richer, better educated and healthier today had they been governed directly from Westminster by Labour, Coalition and Tory governments since 1997" but the writer also accused Labour of weakening Westminster by "handing powers to Brussels, judges and devolved assemblies."
The Telegraph publication said the "failure" of Wales and Scotland's self governance or "sham devolution" is why "nations or cities have become rotten boroughs."
Heath also accused voters in Wales and Scotland as making their choices on "identitarian grounds, backing Labour in urban areas or the SNP in Scotland regardless of results. They might hate anti-car low-traffic neighbourhoods, but can't find it in themselves to vote Tory."
The Sunday editor applauded Rishi Sunak's decision to veto Sturgeon's "appalling" Gender Recognition Reform Bill calling it a "masterstroke" as it had sent her support for independence "plummeting".
Heath ended his anti-devotion rant by suggesting Sunak intervene in other areas of devolved power saying "Tories need to rethink devolution from first principles".
---
Support our Nation today
For the price of a cup of coffee a month you can help us create an independent, not-for-profit, national news service for the people of Wales, by the people of Wales.