News
TfW urged to award compensation to residents affected by station revamp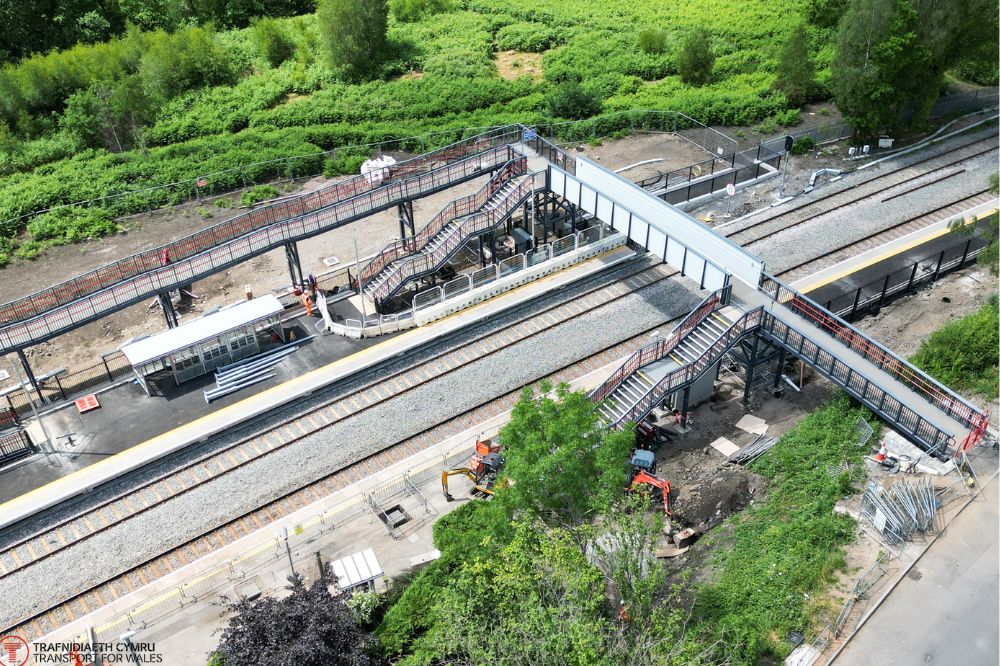 Emily Price
Transport for Wales (TfW) is being urged to award compensation to residents affected by the delayed reopening of a revamped railway station due to a planning blunder.
Earlier this year, TfW lodged an application with Merthyr Tydfil Council to add a bridge, ramp and new platforms to Quakers Yard Station to upgrade it as part of the South Wales Metro.
Although the work was completed in August, the station has remained closed to the public.
A letter sent by two Plaid Cymru MSs to TfW's Chief Executive, James Price, describes the impact the engineer works have had on local residents.
The correspondence, sent by Delyth Jewell MS and Peredur Owen Griffiths MS, says there has been a "lack of consultation, a lack of notice and a lack of consideration" for residents living nearby.
The letter describes one resident who is currently undergoing chemotherapy and has been "forced to sleep on her bathroom floor" at the back of her property because her home is often illuminated throughout the night by site lights and Lux light tests that shine through her curtains.
The resident also said her drive has been blocked by works vehicles and when she's challenged engineers on this she claims she was "verbally abused".
The letter goes on to say: "This has caused problems for nurses attending her home to administer treatment and it has caused her difficulty attending hospital appointments on time.
"The stress, anxiety and lack of sleep is affecting her health at a time when she needs all the strength she can muster."

Complaints
Other residents have complained to Ms Jewell and Mr Griffiths about works vehicles that are parked around the station at "all hours of the day and night" blocking properties.
In the letter, Ms Jewell and Mr Griffiths called on the rail operator's chief executive to offer a "vehicle for compensation" for the "inconvenience" residents suffered and "will suffer in future".
In a joint statement, the Plaid Cymru MSs said: "We decided to write to Transport for Wales following our meeting with residents living around the station because it seemed they were getting a raw deal.
"Between the works running over time, the adverse visual impact caused by some of the station 'upgrades' and the disruption they have had to endure through day and night, residents around Quakers Yard station have had to put up with a lot.
"It is disappointing that they have been treated this way and it is disappointing that communication from Transport for Wales about the project has been poor.
"Residents should have been consulted more, they should have been kept abreast of delays in the project and they should have been treated with more compassion as well as being offered compensation due to the inconvenience they have been caused."
Planning
Responding to the letter of complaint, a TfW spokesperson said: "As part of our once-in-a-generation investment to deliver the South Wales Metro we are upgrading facilities at a large number of our stations.
"This includes a new-ramped and fully accessible bridge at Quakers Yard station, which will open up the railway and wider public transport network to many who may not have previously been able to use it.
"The design of the bridge includes a ramp leading from the bridge deck onto the new platform, with improved lighting to ensure safety and prevent trip hazards.
"We are committed to working with our lineside neighbours to minimise the impact of our work and have been in regular contact with residents near Quakers Yard station through our dedicated community engagement team. A number of changes have been made as a result of their feedback.
"This includes designing hoods that can be placed over the lights on the structure to prevent lighting from shining into properties.
"There is also a landscape management plan that has been developed as part of the planning application, which includes planting low level vegetation and shrubs in front of the station, and trees behind the structure and ramp to tie the bridge into the natural landscape.
"We will continue to work closely with the local authority to ensure the correct planning procedures are in place, and to mitigate the concerns raised by those living close to the station."
TfW have been criticised for the series of planning blunders which have prevented the newly revamped railway station from reopening.
A Merthyr Tydfil Council spokesperson told Nation.Cymru that TfW had not submitted "prior notification" in advance of any works and as a result the council has had to "deal with the work retrospectively".
The spokesperson added: "If they had followed procedure and submitted these details prior to the start of the work, they would not be in this position."
Concerns have been raised by residents regarding the ramp which has been installed overlooking into nearby properties.
TfW proposed adding screening but the local authority said there are still concerns visually and planners have requested "further justification" which is now being considered.
Reopening
Welsh Conservative's Shadow Minister for Transport, Natasha Asghar MS recently submitted a written question to the minister in charge of transport asking for an update on the works being carried out at Quakers Yard Station.
Lee Waters MS responded: "Transport for Wales expect the station will reopen in early 2024."
However, a TfW spokesperson told Nation.Cymru an application will go to the council's planning committee in December – but a reopening date is not yet known.
In a statement, the spokesperson said: "We are working collaboratively with partners in Merthyr Council to finalise the planning requirements and confirm that the application will go to planning committee in December.
"Following this, we will have a confirmation of the proposed date for the reopening of the station.
"We apologise for the inconvenience the delays are causing the community, but we would like to assure customers we are working hard to open the station as soon as possible."
Natasha Asghar, Member of the Welsh Parliament for South East Wales, said: "Residents have been suffering as a result of Transport for Wales' sheer incompetency when it comes to Quakers Yard for far too long – and now it looks as though all of that confusion and chaos is set to continue.
"All of this could've been avoided if the Labour Government owned Transport for Wales did its job properly when it came to the planning side of things.
"The Welsh Government have told the station is expected to reopen in 'early 2024' but with the planning blunders yet to be sorted, how can they be so confident?
"Locals have been given countless different reopening dates in the past, and yet the station remains closed, so confidence in an 'early 2024' reopening is understandably weak.
"The Welsh Government and Transport for Wales must come clean and be up front with residents as they've quite rightly had enough of this shambolic saga."
---
Support our Nation today
For the price of a cup of coffee a month you can help us create an independent, not-for-profit, national news service for the people of Wales, by the people of Wales.