News
The campaign for Welsh independence heads to Europe
David Owens
A delegation from Wales is heading to the European Parliament in Brussels to present the case for Welsh independence.
The group will he attending the ICEC (International Commission Of European Citizens) annual conference, where for the first time, a group from Wales will be present to talk about the current Welsh independence campaign on an European stage.
MEPs (Members of the European Parliament), European Commissioners, the international press and delegates from across Europe will be present to listen to presentations by academics and independence campaigners from Scotland, Catalonia, Wales, Flanders, the Basque Country, Veneto, and South Tyrol. Each country has produced a documentary film in their native
languages which will be shown for the first time at the conference.
The aim of the conference is to challenge ancient laws that are still used by former European imperial states to justify and claim political authority over countries which are trapped within these states.
Since YesCymru (The Campaign for Welsh Independence) joined ICEC as full members in March 2023, ICEC_Cymru is sending a delegation from Wales to the EU Parliament.
Among the Welsh representatives are Jill Evans, former Plaid Cymru MEP between 1999 and 2020, Iestyn ap Rhobert; founding member of YesCymru and Wales spokesperson for ICEC_Cymru|Wales, and Simon Hobson; director on the YesCymru NGB (National Governing Board).
ICEC argues that ancient laws are still being used to justify the ownership of land and resources of countries that are held captive within the state. As a result of this extractive economy, we see asset stripping, cultural and linguistic vandalism, undermining of democratic rights, and abuse of the environment at the expense of captured nations.
Many of Europe's historical problems originate from the fact that large European states refuse to reform historical political injustices that have crossed into current times.
An example of the point in case is the Crown Estate in Wales which is responsible for taking billions of pounds out of the Welsh economy and sending that money straight to the Treasury in Westminster. The Crown Estate in Scotland is fully devolved and the Scottish Parliament has access to a huge revenue stream – why not in Wales? Wales' money and wealth – assets that should be in the hands of the Welsh people is the property of the British state.
In Wales, we have had the following legislation and commissions used to undermine our nationhood:
The Statutes of Wales (1284); the Crown of England's annexation of Wales Act of Union in 1536 and 1542 to abolish Welsh law and use of Welsh in governance and incorporate Wales into the Kingdom of England; Reports of the Commissioners of Inquiry into the State of Education in Wales (1847-1848) commonly referred to as the Treason of the Blue Books, and even the strict limitations enforced by law on the Government of Wales Act (1998), an Act that can be repealed at any time in Westminster.
In the case of Catalonia, their attempt to hold an independence referendum in 2017 was called unconstitutional by the Spanish Central Government. Armed police and military police were sent to Catalonia to attack peaceful voters. Catalonia is being violently stopped by Spain from pursuing its right under international law to be an independent nation.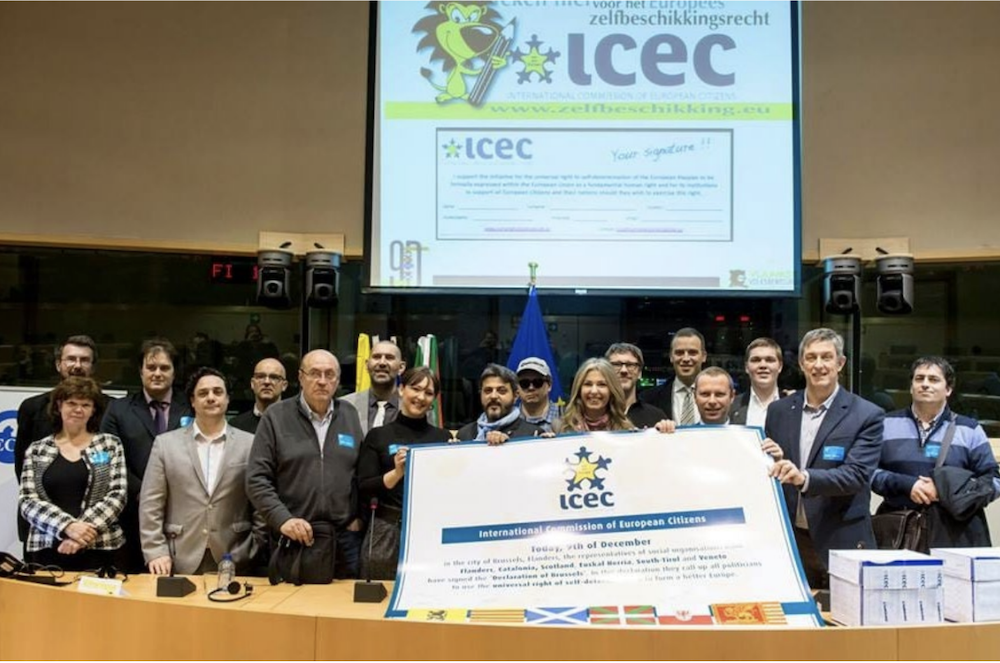 Examples of unfairness can be seen everywhere. Recently in France, the Breton language has been attacked by the French Central Government. It is deemed unconstitutional to use any
other language than French in formal education on French state territory, regardless of the fact that Breton has been the main language of Brittany since the 6th century.
ICEC believes that these problems will not be solved until captured nations gain independence from states. Equity cannot exist in Europe without justice, nor justice without the freedom of nations to exist free from threats from their neighbours.
Each ICEC delegation has prepared a documentary film which outlines how their nations have had their territories exploited by their neighbours. Each ICEC delegation will have speakers who will argue why their nations must gain independence and how working alongside each other is part of that process of liberation.
Spokesperson for ICEC_Catalonia, Anna Arqué said: 'Every year, an increasing number of politicians across Europe listen to ICEC's voice. In 2024, it is very likely that the EU Commission will look at how the EU responds and interacts in a fair way with countries that have been caught. We believe that by working closely with our partners, we can challenge the ongoing injustices, and promote freedom and justice for all the nations and cultures of Europe.'
Spokesperson for ICEC-Cymru, Iestyn ap Rhobert, added: 'Being part of ICEC allows Wales' campaign for independence to be heard in other Europe nations. Wales wants its voice to be
heard in the world and Wales wants to collaborate in a constructive and peaceful manner with partners across Europe. In return, ICEC_Cymru|Wales can inform a Welsh audience of
independence campaigns elsewhere in Europe thus creating an awareness in Wales of what is going on elsewhere. Since leaving the European Union in 2020, the ICEC conference in Brussels is a golden opportunity for us to collaborate with partners across Europe.'

---
Support our Nation today
For the price of a cup of coffee a month you can help us create an independent, not-for-profit, national news service for the people of Wales, by the people of Wales.