News
The children with no school and the landslide that could wipe out their old one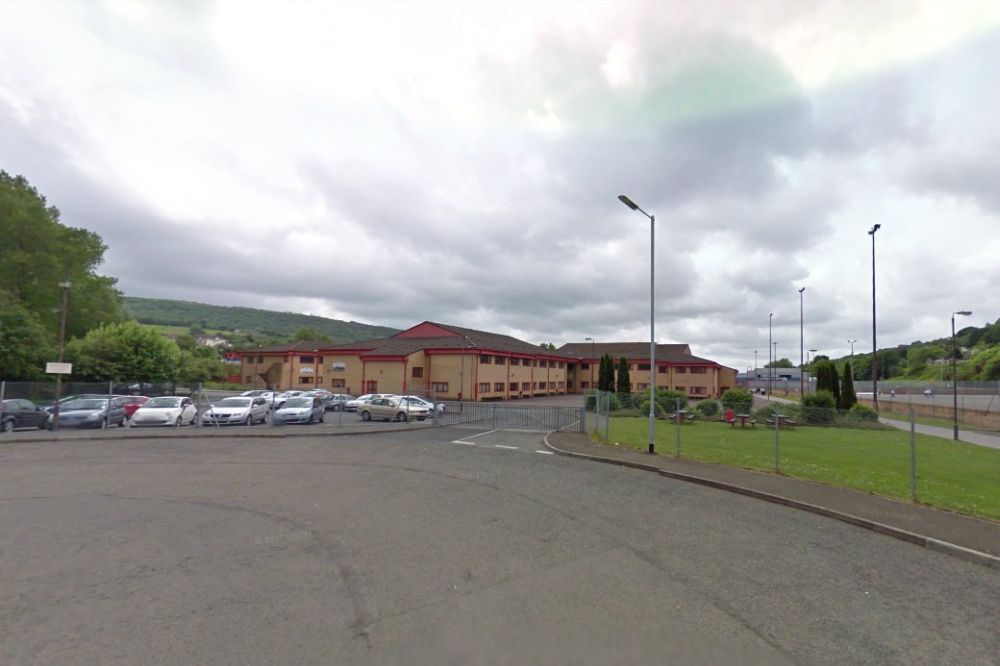 Lewis Smith – Local Democracy Reporter
In part of Wales there is a school without a school. It has teachers, pupils, parents, an entire community, even classrooms, but no actual building where generations have passed through the gates and parents stood to collect their children at the end of the school day.
And it could be a long time yet, an unspecified time, before it has any of those things.
Godre'rgraig Primary School has been shut since 2019 when fears of a landslip from a nearby quarry spoil tip forced students to relocate to temporary portable classrooms on the sports field adjoining Cwmtawe Community School. They are still there.
Neath Port Talbot Council has approved plans to extend the use of off-site portable cabins for a further two years, but there seems to be no guarantee that anything will have happened by then to change the situation.
It's a potentially multi-million pound headache for the council, as it looks to re-home students, as well as deciding what to do with the site of the current school in the process.
There had been a solution, however – but one few people were happy with. Without it though, parents, pupils teachers and a community are now in limbo.
The proposed solution, first put forward by the then Labour-run council, included plans to close three primary schools at Alltwen, Llangiwg and Godre'r Graig, replacing them with a new facility for 630 full-time pupils and 140 part-time nursery pupils, alongside a special learning centre, on land at Parc Ynysderw, alongside the current Cwmtawe Community School, a comprehensive.
Additionally, a public swimming pool on the site would have replaced the local swimming pool in Pontardawe, after the current building was given a maximum lifespan of two years in December, 2022, due to structural issues.

Proposals
However, the new Rainbow Coalition in charge of the council following the most recent local government elections decided to scrap those proposals earlier this year, following what was described as an "overwhelming" backlash from teachers, parents and residents, who argued the plans were unsuitable and damaging to education and community life in the Swansea Valley.
An options report on Godre'rgraig Primary School, based at Ffordd Parc Ynysderw, was carried out by the council in 2021, to produce a plan of action for the spoil tip with a number of possibilities considered.
These could include removing the spoil material linked to the tip, as well as carrying out hard engineering, such as drainage work, to protect Godre'r Graig Primary School from any potential slippage in the future.
However, with the tip situated on private land and costs of work estimated to be in excess of a million pounds, any plans to re-open or re-build on the site of the school could still be some time away.
The report said: "The report provided by Earth Science Partnership (ESP), the experts commissioned by Neath Port Talbot Council, identified a medium level risk from a quarry spoil tip near the school which is affected by ground water. ESP's investigation found that if the stream became blocked as the result of a severe weather event, there is a possibility that water levels and pressures in the tip could induce material to flow downhill."
Susie Davies is chair of governors at Godre'rgraig Primary School. She said that while she felt the decision to scrap plans for the Swansea Valley school had been the best move for students and the local community, she would still like more clarity on council plans for Godre'r'graig moving forward.
She said: "We were pleased to hear of the rejection of the plans for the Swansea valley super school, as we think it would have been a bad decision for the area, and one that would have been permanent.
"What I'd really like to see now is a clear statement from coalition council about how long we are going to continue in the portable buildings, and a clear plan to support the school during that time.
"The school itself is managing incredibly well, with the pupils doing well and the staff being very cohesive, but it can still be very difficult with all of the uncertainty hanging over us."
Plans
Cllr Rob Jones, the Labour Party leader for Neath Port Talbot, was less optimistic about the current situation, however, and said that, outside of the scrapped 'super school' proposals, there were no other viable plans on the table.
He said: "I think our prediction of no school, no pool no plan is coming to fruition now and it's very sad. The coalition-led authority hasn't even begun to discuss the future of Godre'r'graig, and they are condemning these children to years of education in portable buildings.
"I think the decision taken in relation to rejecting the Swansea valley school had not been properly thought through and these are now the consequences that we're seeing.
"The nearby quarry tip is moving, and even opposition to the Swansea Valley school realise that the children cannot go back to the old school as it is too much of a risk."
Local councillor Sonia Reynolds added: "We are still waiting to hear further details from the council about what will happen with the children at Godre'r'graig Primary School, and have been assured there will be answers over the Autumn period, but at the moment I'm not sure where they are going with it."
In a previous statement, Neath Port Talbot Council leader Steve Hunt had said the focus would be on maintaining educational standards in the Swansea Valley with further comment unlikely to be announced before the Autumn.
The deputy leader, Cllr Alun Llewelyn added: "This has been a long and detailed process and it is a significant decision for the Swansea Valley."
A Neath Port Talbot Council spokesperson said: "Our immediate focus is on maintaining educational standards for pupils of Godre'r Graig Primary, where pupils are in temporary accommodation, with a view to finding a permanent solution in due course."
---
Support our Nation today
For the price of a cup of coffee a month you can help us create an independent, not-for-profit, national news service for the people of Wales, by the people of Wales.