News
The heartbreaking story of two suicidal teenagers who feel let down by NHS Wales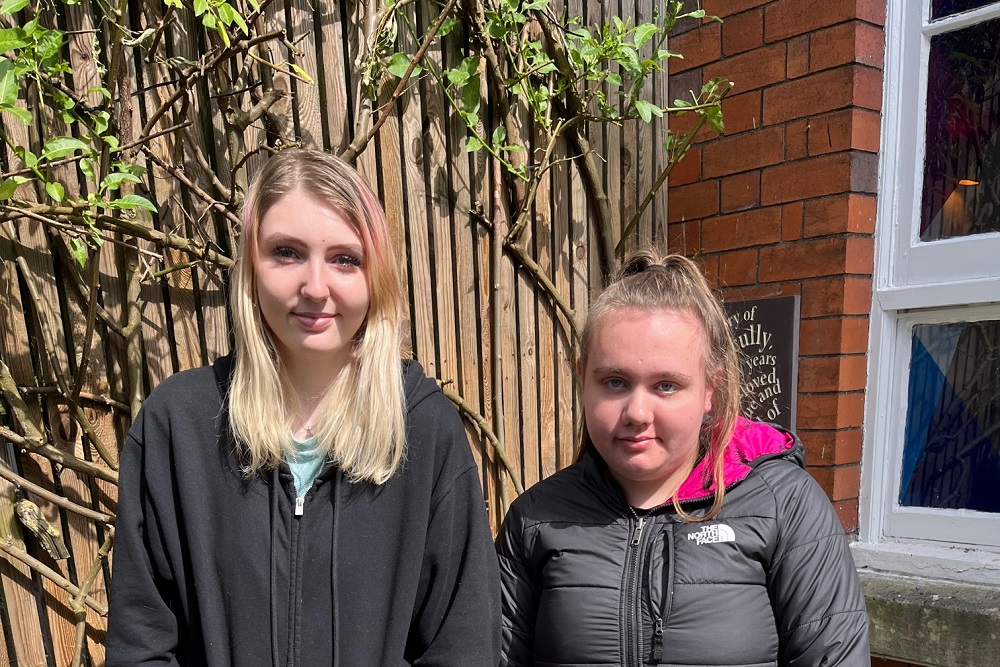 Special report Martin Shipton
Last month around 30 people attended a protest demonstration outside Llandough Hospital.
Those who took part were mainly relatives of patients who have used Hafan y Coed, a mental health unit in the hospital grounds run by Cardiff and Vale University Health Board.
Feelings ran high and there was tension between the protesters and the hospital's security team. The police were present and calmed things down.
The fact that so many had joined the demonstration suggested that concerns were widespread and not just confined to a tiny minority with an exaggerated sense of grievance.
It seemed important, and very much in the public interest, to understand what was behind the strength of feeling.
Initially we spoke to the fathers of two teenage women who had been referred to Hafan y Coed because they had serious mental health problems and had made multiple suicide attempts.
Later we spoke to the young women themselves.
The fathers and the daughters were keen to speak to us and to be identified. They all wanted their voices to be heard. Much of what they said is harrowing in its detail and gives a powerful insight into the mental suffering of the young women and their families.

Mental health crisis
At first the father who organised the protest spoke about the scale of the mental health crisis in Cardiff before describing the agony of being constantly worried about the possibility of losing your daughter – and believing that instead of helping, NHS Wales is making the situation worse.
Asked to summarise the concerns people have about Hafan y Coed, Mathew Hancock, whose daughter Tynia, 19, has been a patient at the unit, said: "They say it's not for them to stop people from killing themselves".
He continued: "The core of the problem I would put down to funding. We've got approximately 620,000 people in Cardiff and the Vale of Glamorgan. Out of that total around 155,000 suffer with some kind of mental health issue, ranging from mild depression to severe schizophrenia. Some 41,000 of them could potentially require some sort of in-patient treatment.
If we've got a 135-beds unit – and Hafan y Coed is the only in-patient NHS mental health unit in Cardiff and the Vale – that's simply not enough beds. It works out at around 307 people per bed, if they were all to require treatment at the same time. Obviously that's very unlikely, but it just goes to show how much the services in Cardiff have shrunk.
"I'm going back to the '90s and the early 2000s, just before the unit opened at Hafan y Coed. It was based at Whitchurch Hospital in Cardiff. The number of beds there were significantly higher. Since then they've built a smaller unit at a different hospital site and have shrunk the number of beds dramatically."
Explaining what had led him to organise the protest, Mr Hancock said: "Eighteen months to two years ago my daughter started to struggle seriously with her mental health. We'd always known there was something not quite right and I'd brought it to the attention of health professionals.
It came to a point two years ago where my daughter was struggling really badly. She was under investigation for autism and emotionally unstable personality disorder. She was suicidal and making a lot of attempts – and this was before diagnosis.
"She was getting 136'd by the police [Under Section 136 of the Mental Health Act, the police can remove someone to a place of safety if they are suffering from mental disorder and are considered at risk]. South Wales Police have been absolutely amazing in their duty of care towards my daughter and, from what I hear, to other patients in a very similar situation. South Wales Police have helped us section our daughter because they clearly see she's jumping off bridges, she's taking overdoses."
South Wales Police
Scott Del Amo, whose daughter Anya, 18, has also been suicidal, said: "Same here. If it wasn't for the police sectioning my daughter … They told me they'd do it because the mental health services wouldn't. That's the first time she got help – because the police had seen her going for suicide attempts, so they sectioned her."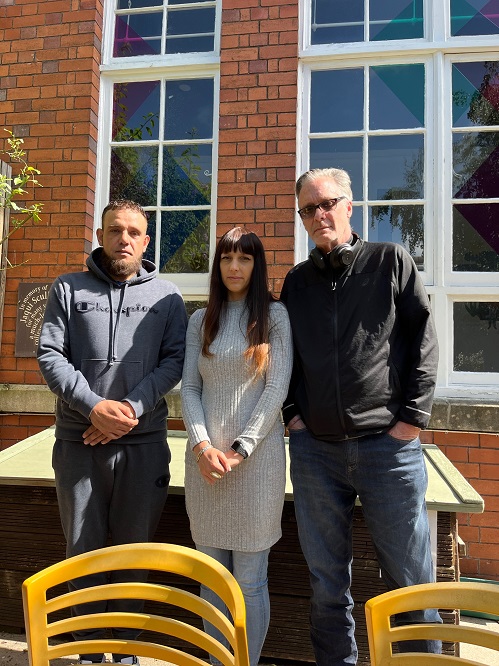 Mr Hancock said: "The police are amazing. They've pulled resources from all areas for my daughter, they've blocked roads off, they've blocked motorways off, they've stopped trains and blocked railway tracks, they've gone searching in forestry for her and put their own lives at risk on many occasions. I wholeheartedly owe my life to them, because they've helped us that much.
"It got to the point where South Wales Police were sectioning my daughter on many occasions – up to three times a day. Their job is to convey the patient to the mental health assessment unit, which is supposed to be a secure and safe environment, and pass custody of the patient over to the mental health services, whose duty then is to keep the patient in a secure and safe environment so they are not a risk to members of the public and themselves, and to undergo a mental health assessment.
"What they've been doing is stating that my daughter is clearly fit to be released, and releasing her back into the community where further attempts are made on her life, We've kept repeating this process – my daughter has suffered multiple injuries over a long period of time through the attempts on her life, along with making her mental health worse as a result, because she feels she's not getting help.
"I started to record all the assessments [meetings with health professionals at which decisions about patients are made], as did Scott. We've amassed a big file of recordings. I told them I would organise a political protest. I said that in the early 2000s they failed my mum.
"Together with other family members I attended Whitchurch Hospital with my mother in the early 2000s.with concerns that my mother was making various references to killing people. We were told my mother was safe and fit and she was exaggerating. They then released my mother. Between 24 and 48 hours later my mother walked into Poundstretchers in Cardiff city centre, took a knife off the shelf, melted it out of the packet with a cigarette lighter and stabbed a member of the public to death.
"I explained that not only had they failed my mum and still are, with her ending up 16 years later back in hospital, albeit she's quite stable now. Now they're going on to fail the granddaughter.
"They kept releasing her a few more times. I was desperate to get my daughter the help she needed.
"Then in April 2022, my daughter was 136'd. She was taken to Hafan y Coed by South Wales Police – into their supposedly secure assessment unit. From what I was led to believe, before the assessment had taken place, my daughter had absconded from their secure facility, which resulted in her going missing for a number of hours to Leckwith Woods.
"The police helicopter or drone was unable to locate her through her heat signature because of the density of the forest. It led to a search party being mounted. She was found with severe scratching and bruising. I was under the assumption that she'd lost her shoes prior to the incident, but it turned out she had lost her shoes during the rescue attempt. She was clearly unstable – not knowing where to go or what to do and looking to end her life. It turned out that she had been assessed at that point, before she'd escaped.
"They'd actually sectioned her under Section 2, which allows her to be detained for up to 28 days for assessment. And then they can go for another assessment to see if she's fit for release, and if she isn't they can Section 3 her for up to six months. So my daughter escaped from that unit after being sectioned, which meant that she could not be let out in any circumstances. But she was able to get out of that facility.
"She was in for a brief period, from April until July when she was taken off the section but allowed to stay as an informal patient. They didn't inform me or her mum. We found out off social media that my daughter was on Cogan Spur, a non-pedestrianised link road which connects the Cogan area and Penarth to the Cardiff Bay area.
"It's like a motorway bridge with a big body of water underneath. It turned out that a member of the public had wrestled my daughter off that bridge. What I was told by that person was that had he not gripped my daughter when he did, she would have been gone. He's 16 to 17 stone, he plays rugby every weekend, he's a very strong and athletic guy. He said to me that as she jumped, he had his hands around her, with her back touching his face. The weight of her pulled his feet, and had there not been a barrier on the motorway bridge stopping his chest, he and her would both have been pulled into the water.
"So she'd been put on an informal basis after three months of treatment which clearly wasn't fully successful because my daughter wouldn't have left the establishment and made a further attempt on her life."
Treatment
Asked what psychological treatment she had received during that period, Mr Hancock said: "None. Just a bit of therapy I suppose."
Mr Del Amo said: "There's nobody there that's trained to do group therapy."
Mr Hancock said: "They're not trained in restraint, so our family members are getting restrained and having all sorts of injections into their backside, without consent."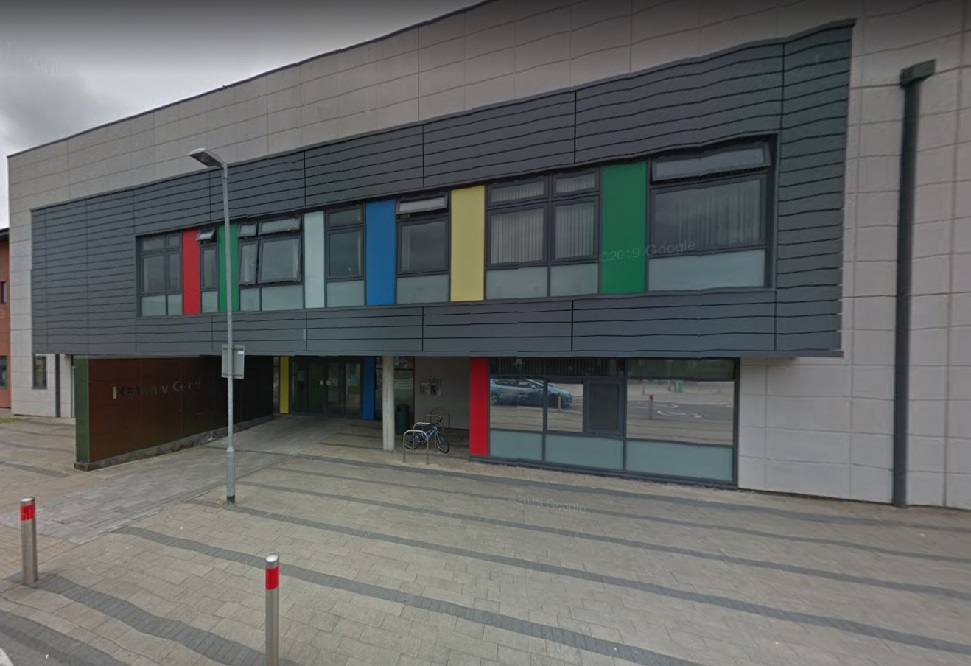 Asked what the unit should be doing for the patients, Mr Del Amo said: "I worked in a psychiatric hospital in Los Angeles for quite a few years. I have a couple of degrees in psychology. I know what good treatment looks like. I worked with children and I worked with adults. They have no treatment at Hafan y Coed whatsoever. They have one psychologist for more than 135 patients – we're not counting the three rehab units that they also have there.
"That psychologist works in the forensic unit only, so these patients have no access to any type of therapy. My daughter's psychiatrist confirmed – and I have it on tape – that there's only one, that there's no one trained to do group therapy, which is the basic therapy that patients can have that has really good, positive effects, and they all enjoy doing it. My daughter's had four occupational therapy sessions in eight and a half months. She has had no education whatsoever. There's absolutely no therapy going on.
"So what is a good programme? A good programme is keeping these patients occupied with activities, with structure, with events, with staff being involved. All they do there is give them a room, a meal and injections – and restrain them."
Mr Hancock said: "They don't even answer the phone to the patients' relatives."
Banned
Mr Del Amo said: "They ban carers and parents. Once you raise concerns, they call you in and they ban you from being able to speak to staff. I've got two letters now telling me I'm banned from any meetings or any type of interaction with staff.
"A good programme is having an occupational therapist who works either in a group setting or individually. When I worked at a hospital in Torrance, California named after my great-grandfather, they had two sessions a day of group therapy. All the patients went. They saw a psychologist at least twice a week. They saw their psychiatrist at least once a week – not just a ward round where they go in and talk for 10 minutes and then leave.
"They actually had a session where they talked about their issues. They had someone who would come in and do sports activity with them every day at the same time – they'd take them out and do some sport. They had animal therapy where they would bring in animals. They had trauma therapy. They had structure in the evening – they'd have quizzes, they'd have movie nights, they'd have games – whatever it was to keep them occupied and keep them interested.
"At Hafan y Coed they provide absolutely nothing. It's shocking.
"This is another thing I just found out – the UK trains 8,000 doctors a year, but only 300 psychologists. If you don't train them, you can't have them."
Suicide watch
Mr Hancock said: "My daughter was supposed to be on a one-to-one suicide watch, but she was under one hour's observation [where a member of staff checks her every hour]. She was able to put a cable around her neck and then video call us from the unit on her cell phone with this cable round her neck, telling me, her brother and her mother goodbye. We literally witnessed that on a video call and got screenshots of it. We had to keep this evidence.
"When we called the ambulance and the police, they both attended the unit and took control of the situation. My daughter had to have a charge nurse cut a cable off her neck. They've got no staff. And after that they still didn't put her back on the watch. They just kept the one hour observations.
Mr Del Amo said: "I had the same thing happen two weeks ago. My daughter was hanging herself in her room.She had just come back from the emergency room where she had surgery for swallowing a toothbrush and at the same time an overdose of 200 paracetamol, more or less. This was the third time she'd come back and no one was watching her.
"In two weeks she had six emergency room visits. And they didn't put her on one-to-one. She called me at 3.30 in the morning after she'd just gotten back from the surgery for swallowing stuff. This is not the first time on this ward, and she's strangling herself in her room. I called them – I managed to get through at 3.30 in the morning.
"They answered the phone and I said 'is anyone checking on my daughter, I think she's in a room strangling herself.' 'No, she's fine.' I said 'has anyone checked?' 'No, she's fine'. I said 'please go and do a check on her'. They came back and said 'she's fine'. I said 'what do you mean, she's fine?' They said 'yes, she said she called you by mistake'. I said 'did you do a visual check on her?' They said 'no, she has privacy rights'. I said 'go and do a visual check'. Sure enough, she was strangling herself. She swallowed nine pencils and they gave her 100 pencils that evening after she'd just come back from swallowing stuff and has a history of it.
"She'd been in the hospital. She got 46 staples, 25 stitches in her left arm. They left her in her room for seven hours. No one did a check on her. She finally went after 12 hours and showed the staples and they rushed her to the emergency room. Prior to this she'd never got a stitch or a staple.
"She came back. Four days later she was in her room again and did the same thing to her right arm. No one was checking her again.
"Do you know what they say to me? 'We don't have enough staff, we're so sorry.'
Monitoring
Mr Del Amo said he had been able to track his daughter by monitoring the location of her iPhone: "Two weeks ago her doctor let her go out and gave her six hours community leave. She took 150 paracetamol, took some alcohol and went and hid in Penarth. The staff had no idea where she was. After a few hours of me tracking her, I called the police. They went and got her.
"I tried to call the staff to tell them and they were saying 'she's got privacy, we'll give her more time.' And I said, 'she's not coming back'. They said 'how do you know where she is?' and I said I had my ways of knowing. They said, 'we need to know how you know' and I said I wasn't telling them. They accused me of withholding information from them and did a report about me for doing that.
"So my daughter came back after her paracetamol treatment and was in the hospital emergency room for three days. She came back at 4 in the morning. At 1pm she had her ward round meeting with her doctor. She said to her doctor – and this is all on tape – that she would go out to kill herself again if they gave her leave.
"The doctor said 'OK, instead of six hours, we'll give you four hours and see how you do'. She left the meeting early, took another couple of hundred paracetamol, more alcohol and went and hid in the park. Once again I was able to track her. I called up the unit and they again said 'how are you able to do this?' The police went and found her – she went back to the hospital, did the treatment.
"The unit told her I was able to track her. She's taken me off the tracker now. They said her privacy was more important. I thought 'oh wow, now I have no way of knowing.' I've saved her life, I promise you, eight times because of it, and now I can't any more. Instead of her doctor thanking me for saving her life, they did a report against me for not telling them how I'd found her."
Mr Hancock said he had had almost exactly the same experience: "We told the hospital how we could track our daughter and a senior staff member then went and said to my daughter, 'You do realise that your parents are tracking you, don't you?' My daughter said 'what do you mean', and the staff member responded "pass me your phone and I'll show you how to turn it off."
What Anya Del Amo said
Nation Cymru: Anya, how would you sum up your concerns about Hafan y Coed?
Anya: It's probably just neglectful, to be honest. You go there for self harm, suicide attempts and to get help, which they tell you you'll get, and then you go there and if you self-harm you get kicked out and then you get left to your own devices. You're told you're getting great treatment, when you're getting nothing. They don't even have a psychologist.
Nation Cymru: Your dad has spoken to me about how, when he was a young guy, he was working in this hospital in Los Angeles and they had lots of activities for the patients and that seemed to be working well. I mean, in your experience, in the times that you've spent in Hafan y Coed, do they just leave you to your own devices?
Anya: Yeah, basically, there's nothing. There's no psychologist. There's no groups. There's no activities. There's nothing. There's just – the nursing staff are in the office doing notes. You're left in the hallway all day or just sit in the communal lounge. You can't even get toast because they've run out of bread. They have a cwtch thing where you can go and do activities, but it's not structured. There's a piano and a pool table and you can go down there, but there's nothing going on. I could spend all weekend on the ward and nobody would even talk to me.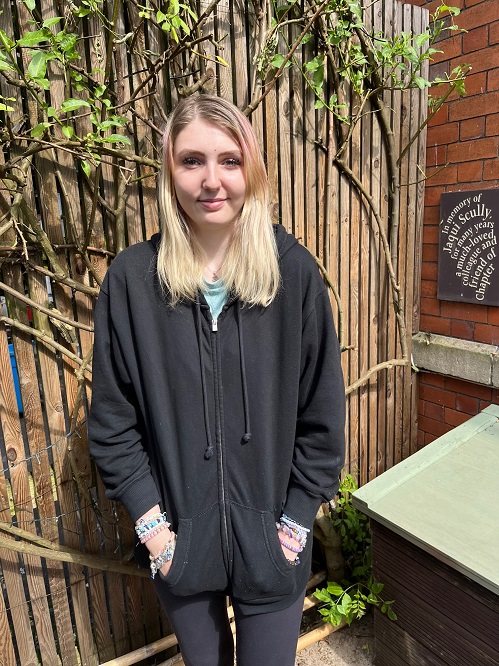 Nation Cymru: The thing is, you're there in the first place because you're, frankly, a vulnerable person who has made multiple suicide attempts. How does it make you feel that you're going to this place, which is part of the NHS, which is supposed to be offering care and support, and in reality they're offering nothing to you? How does that make you feel and how do you feel about the future unless they change?
Anya: Just worthless. It makes me feel like my life is nothing. I'm just a number to them. They say money is not a problem, but then they won't pay for me to have treatment, so I'm just left in this hospital, thinking no-one's going to even stop me if I want to kill myself. They're going to leave me to die. It makes me feel angry because they told me, when I first got admitted, you go in there to get help and the support you need and now they won't give me anything. They just pretend they've tried and it hasn't worked. But they don't offer anything and I just get worse.
Nation Cymru: What pressure do you think should be brought to bear on them to make them change their ways?
Anya: I think they need to be held accountable. They can't get away with it. They're killing people at this point.
Nation Cymru: Because you know of people – young girls, women – who have killed themselves because they haven't had the care that they deserve?
Anya: Yeah, literally. so many friends and friends of friends. They literally killed themselves because they're not getting any help. They tell these people, 'If you don't get help, you won't kill yourself, because you'll have no one to save you'. And then they kill themselves and they cover it up. They keep saying, 'If you do this, I'm going to do this.' And they say, 'OK, do it'. They told me, 'Even if you don't respond to the hospital for over 24 hours [if you abscond], we're not even going to call the police. We're just going to leave you'. It makes you feel like no-one cares.
What Tynia Hancock said
Nation Cymru: Tell me what it is about Hafan y Coed that makes you feel worse than when you went in there.
Tynia: I think their responses when you are really struggling are disgusting. The things they say – they've said stuff like 'make sure your location's off [on your mobile phone] so no-one can find you'. It's like they're trying to aid you to get worse and worse.They're very careless in what they do. If you do certain things, they'll punish you for it. If you're an in-patient, if you self-harm you can't do this, or if you do this then you can't do that.
Nation Cymru: In terms of the way in which they organise the place, Anya's dad Scott has told me of the activities they had for patients in a hospital he worked at in California when he was young, but as I understand it they have nothing like that at Hafan y Coed. Is that right?
Tynia: Yes. You're kind of just left to your open devices, left to be within your thoughts. You haven't much to do there, to stimulate you. When you go to a treatment ward you expect to be treated, but they don't really have any treatment on the treatment ward at all.They say all the treatment's in the community, but you need it in a hospital because obviously you're there because you're unwell.
Nation Cymru: How easy do you think it would be to make the improvements that are necessary for young people like you?
Tynia: They don't really cover the basics, so it wouldn't be that hard to make the improvements they need. They get lots of feedback off different patients, but it's almost like they don't care. They don't listen, they don't care, and they don't want to be held accountable for anything.
Nation Cymru: Is it that they don't have the money to put on these things, or what?
Tynia: I wouldn't say so.They just say that all treatment's in the community. Well if they can afford to do it in the community, why can't they afford to do it within a hospital. It doesn't make sense when you're in there because you need treatment.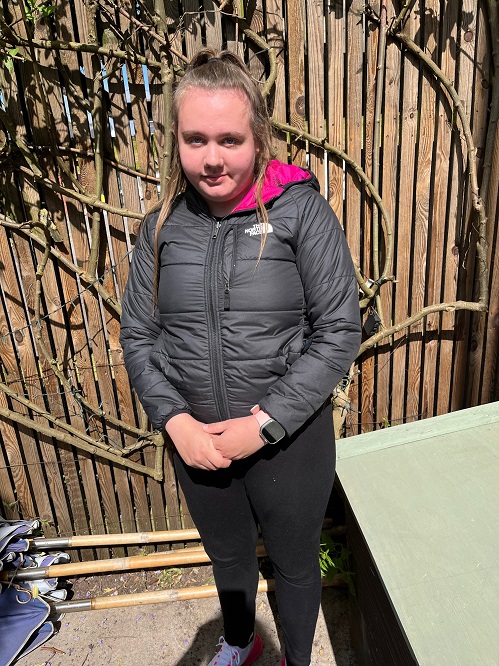 Nation Cymru: What would you ideally like to happen now in terms of treatment that you get or where you are located?
Tynia: I think there should be treatments within hospitals to help young people, with more specialised treatments for certain people as well – and for them to be held accountable and to care about their patients, not just to be there doing nothing every day, in your thoughts, alone. Then punished for doing self-harm behaviours. It's just hard in there.
Nation Cymru: In the last two or three years, a lot of politicians have spoken about the need to give more attention to mental health. But from what you're saying, and from what Anya has said, it doesn't sound as if these intentions have worked out or come through to the coal face, as you might call it.
Tynia: I just feel like the mental health system is all a front. They say they offer this, they say they offer that, but when you get in the system none of it's available.'We don't want to fund you for this, we can't send you here, we can't do this, we can't do that'.
"They don't even try and help you They discharge you. They do unsafe discharges and then they're like, 'why are you back?' You say, 'you've unfairly discharged me, I've told you I'm struggling'. It's like they don't listen: whatever you say is falling on deaf ears. You go in there for help, and you're not getting the help. And then they're wondering why you keep coming back and back and back.
The health board's response
A spokesperson for Cardiff and Vale University Health Board said: "The health board is committed to providing quality and compassionate mental health support to all of our service users in both community and inpatient settings.
"We are unable to comment on the details of individual cases and these particular cases are complex.
"Our teams work closely with patients and their families to deliver appropriate care and support packages that meet the needs of the individual and these are risk assessed and reviewed regularly. Families are also involved in discharge plans where possible.
"Mental health services frequently work with individuals whose needs are complex and where clinical risk needs to be carefully co-managed with the service users themselves, and our teams make every effort to explain the approach and achieve family engagement and support where possible.
"Our concerns team are already in touch with both families involved and we would urge them to discuss any further concerns they may have through the formal process."
Since speaking to Nation Cymru, Anya Del Amo has taken another overdose, with the intention of taking her own life.
---
Support our Nation today
For the price of a cup of coffee a month you can help us create an independent, not-for-profit, national news service for the people of Wales, by the people of Wales.