News
The stunning images of the Northern Lights as seen across Wales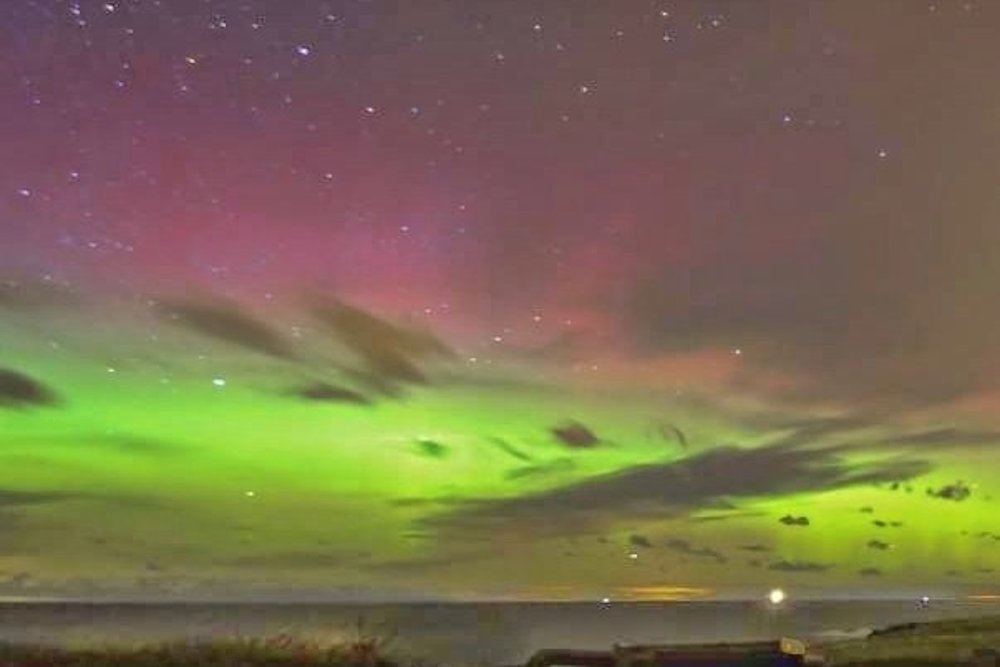 Wales were treated to a spectacular light show last night, as the Northern Lights lit up the skies.
The light phenomenon Aurora Borealis was seen across the Wales on Sunday evening – and could appear again on Monday night, according to the Meteorological Office.
The Met Office tweeted a series of pictures taken by members of the public which captured the lights across the UK.
The national weather service tweeted: "A coronal hole high speed stream arrived this evening combined with a rather fast coronal mass ejection leading to #Aurora sightings across the UK."
BBC Breakfast forecaster Carol Kirkwood said there is a "very good chance" people will be able to see the lights again on Monday night and believes the best time could be around midnight. "We need clear skies and the KP Index is going to be very similar to what it was on Sunday night," she said. "Around midnight will be the best as after that it falls a bit, but if you have got clear skies get out there.
"But your naked eye will not see the vibrant greens and reds we see in pictures. Your naked eye will see a white cloud that is shimmering. So stick your camera at the sky if you see that, even your phone camera and you will get a much better viewpoint of it."
A spokesman for Dark Sky Wales said there was a chance for sightings on Monday night as the aurora warning is valid for 72 hours from Sunday but added: "The only issue is the weather and unpredictability of the aurora itself." The conditions still need to be right – dark and clear nights, with as little light pollution as possible.
The advice from Dark Sky Wales is that if it is the same intensity as on Sunday night people should look "anywhere north-facing". They added: "It will appear as a white haze to the naked eye, maybe green, but colourful with a camera."
These are a selection of the wonderful images captured by people across Wales.
The Aurora Borealis over Snowdonia tonight… pic.twitter.com/22WDmE6Mzx

— Chris Parry (@cjparry) February 26, 2023
Fantastic aurora display from Mid Wales last night. #NorthernLights #Cambrianmountains pic.twitter.com/2CXEW9TplP

— Rob Davies Astro (@RDavies666) February 27, 2023
Two days ago we were the epicentre of an earthquake and tonight we have #northernlights above #Crickhowell #breconbeacons #Wales #aurora #aurorauk #auroraborealis @BeaconsPhotos pic.twitter.com/HkPMwjxy4k

— GeoWorld Travel ⚒🦖🌋✈ (@GeoWorldTravel) February 27, 2023
Aurora Borealis, Newport Pembrokeshire (SOUTH(!) West Wales) #northernlights #Aurora pic.twitter.com/DKkqsiXsAB

— Iriemember (@EmShev1) February 27, 2023
The tiniest peek of #northernlights from South Wales! Only once I've ever managed to see them this far down, and was almost gone by the time I grabbed my actual camera. The sky had a pretty red glow though! #aurora #auroraborealis @TamithaSkov @liamdutton @Schafernaker pic.twitter.com/lPeVdTl2b6

— Owen Rhys Meredith (@owenmeredith) February 26, 2023
Northern lights (aurora borealis) as seen from near Welshpool, Powys, Wales. 2 seconds exposure. #NorthernLights #AuroraBorealis #Wales @BBCWthrWatchers @MetMattTaylor @Netweather @ThePhotoHour @metoffice pic.twitter.com/qn5pLMDpKh

— Vladimir Morozov (@lepkirk) February 26, 2023
Wow just wow. Finally seen the northern lights and from home!!! #northernlights #wales pic.twitter.com/lQKfGYxyYO

— Tim Pearce (@TimboPearce) February 26, 2023
She danced #aurora #northernlights #Anglesey #wales @ItsYourWales @Ruth_ITV @DerekTheWeather @ChrisPage90 @ITVCharlieP @S4Ctywydd @WeatherAisling @liamdutton @BBCWthrWatchers @Schafernaker @AngleseyScMedia @Sue_Charles @SabrinaJayneLee pic.twitter.com/gUyqRlQi9h

— Anthony Ward (@AntonWardPhoto) February 27, 2023

---
Support our Nation today
For the price of a cup of coffee a month you can help us create an independent, not-for-profit, national news service for the people of Wales, by the people of Wales.