News
Therese Coffey trolled for praising 'wild swimming' area linked to 'E.coli issues'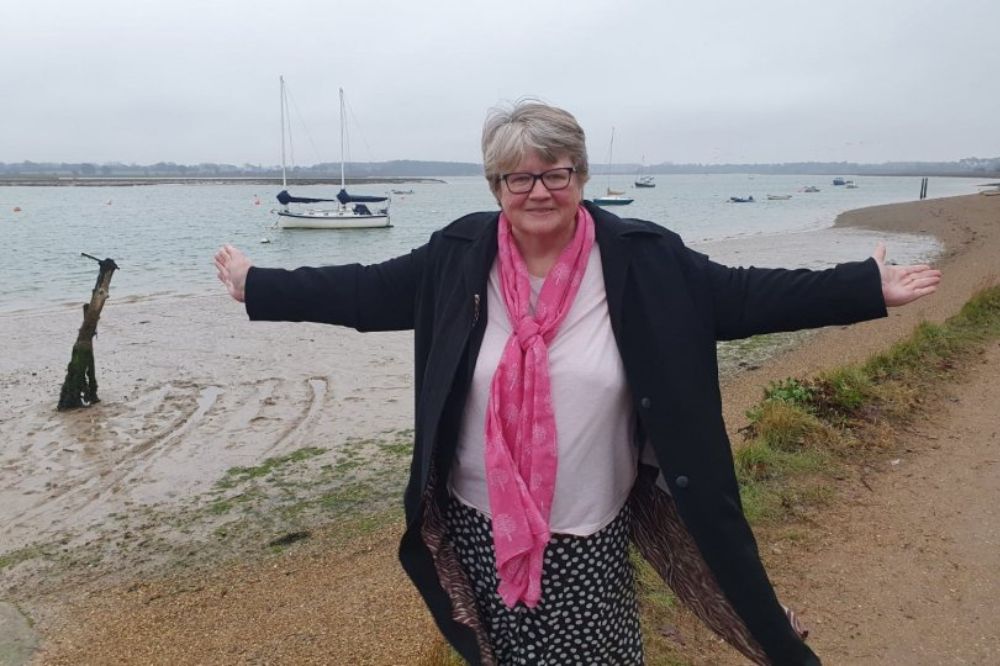 Tory minister Therese Coffey has been rinsed on Twitter after she posed beside a muddy estuary in a post promoting "wild swimming".
The UK Environment Secretary shared an image of herself on Monday with her arms flung open wide beside brown sludgy water in a Tweet that read: "4 new designated bathing sites confirmed today, including Waldringfield on the River Deben in Suffolk Coastal – the river estuary site."
Although the senior Tory minister had turned off the commenting function, it didn't stop social media users sharing the post as a quote re-tweet, with many venting their anger towards the minister with one dubbing her the "Queen of Untreated Sewage".
Deputy Labour Leader, Angela Rayner also poked fun at the image asking: "Not taking a dip yourself?"
Not taking a dip yourself? https://t.co/gpT3DjV5by

— Angela Rayner 🌹 (@AngelaRayner) April 10, 2023
E.coli
Some Twitter users pointed out current sewage issues across the UK with many warning the site may not be suitable for swimming due to it being close to an area where E.coli had been found thought to be connected to sewage being discharged into the water.
Former Eastern Daily Express editor, Nigel Pickover said: "Isn't the Waldringfiled site just a few swimming stores downstream from the heavily-polluted Martlesha, Creek with its high E-Coli issues?"
Another angry user posted: "This evil creature thinks we're all stupid enough to go swimming in water filled with shit and to eat turnips when they aren't in season in place of fruit we can't get hold of in shops. Well I'm disgusted by you Coffey, you're an absolute stain on this country."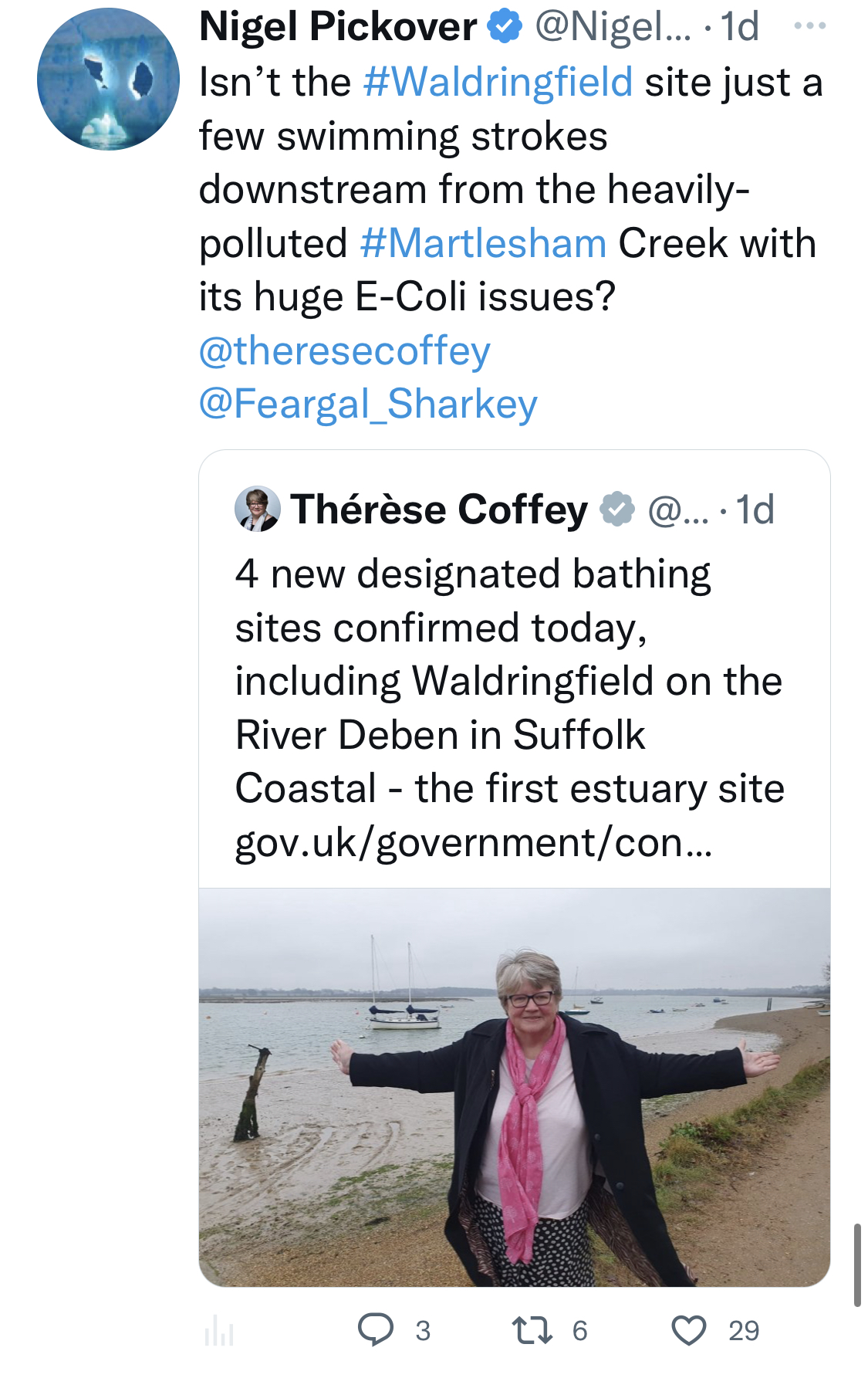 "Cowardly"
One user shared the image with the caption, "I can still see a turd on that beach" whilst another dared Coffey to "drink the water".
Some Twitter users questioned why the UK Environment Minister had opted to turn off commenting on the post with one posting: "I can only assume you consider this cause for celebration, why else post it on Twitter. So why have you turned off your replies? Seems a bit cowardly to me. Are you per chance afraid of ppl mentioning all the other beaches and waterways you've been complicit in destroying."
Liberal Democrat analysis reported that last year 982 raw sewage spills happed in the senior Tory's own Suffolk Coastal constituency.
Liberal Democrat environment spokesperson Tim Farron accused Tory MPs of "taking the public for fools".
Dozens of beaches and rivers in the UK have been polluted in recent years due to discharged sewage and it seems the slurry floating behind Therese Coffey in the image wasn't enough to convince locals to take a dip.
In Wales last year, Welsh Water released sewage into rivers, lakes and the sea for almost 600,000 hours accounting for more than 25% of all hours of discharges into waterways across Wales and England.

---
Support our Nation today
For the price of a cup of coffee a month you can help us create an independent, not-for-profit, national news service for the people of Wales, by the people of Wales.