News
Thousands march for independence
//= do_shortcode('[in-content-square]')?>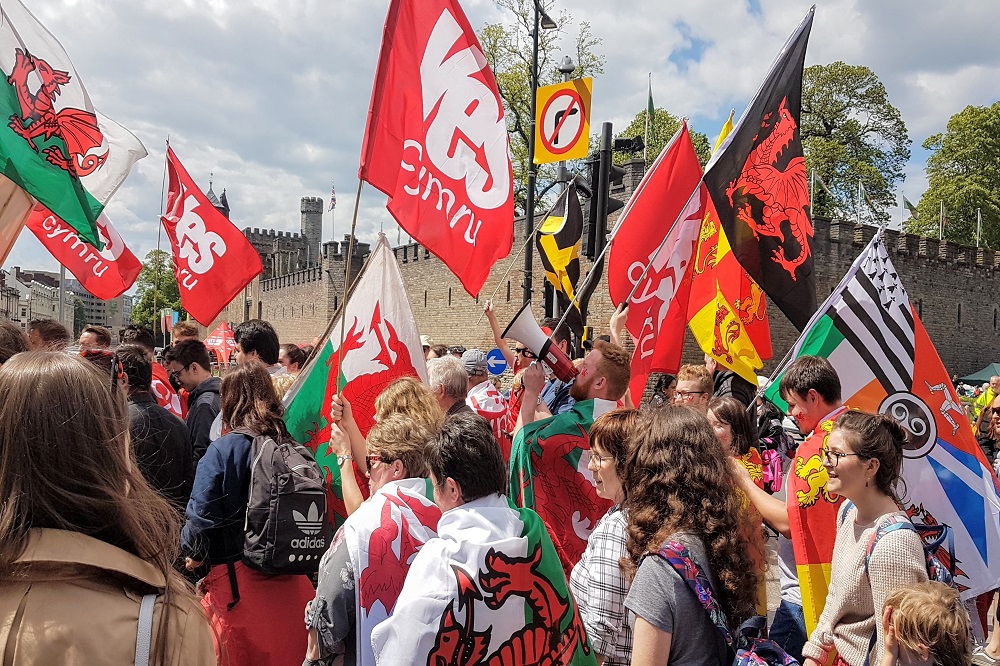 More than 3000 people from across Wales and further afield, participated in the first-ever march for an independent Wales in Cardiff today.
The march, organised by AUOBCymru (All Under One Banner), a non-political, grassroots movement inspired by the All Under One Banner movement in Scotland, brought together groups including YesCymru, Undod, Welsh Football Fans for Independence and AWokEN.
As the march set off musician Cian Ciarán described the turnout as encouraging and positive adding:
"I think independence can be the vehicle for change. A change in politics. A change in attitudes that we desperately need. We are not going to get that from Westminster. It's a divisive and unequal union."
Proud
Rhian, who had travelled down to take part from Conwy said:
"I'm here to show my support for Welsh independence. I think it's about time that we woke up as a nation and that we're able to make our own decisions for our own country."
"I can't believe the turnout. I thought initially there might be 200 or 300 but I literally can't see in front of me or behind me. It's a sea of dragons, YesCymru flags, Owain Glyndŵr flags, Kurdish flags. It's absolutely making me proud, proud, proud."
In the spring sunshine, marchers sang and chanted on the route from City Hall to Central Library where they were addressed by speakers including Adam Price, the leader of Plaid Cymru, Ben Gwalchmai of Labour 4 Indy Wales, Siôn Jobbins of YesCymru, Sandy Clubb of Undod  and Agit Cheviz for the Kurdish community in Wales.

The Plaid leader delivered a barnstorming speech (fersiwn Cymraeg yma). Highlighting historical poverty in Wales he said:
"We started our march in Cathays Park, a monument if there ever was one, to the wealth that once flowed through the arteries of this city from the valleys and villages to the north, through the docks to the world."
"We were a rich nation whose people were condemned to live in poverty."
"Pretty much anything of any value that you could dig up from the ground was dug up once in Wales."
Nothing has changed
"But apart from those few square miles of civic pride up the road, none of those profits were ploughed back into our country. All we had to show for it was the slag heaps and scars."
"And here we are 100 years later. Everything is different – but nothing has changed."

Describing Wales as an energy powerhouse, the Plaid leader highlighted the nation's position as the 5th largest exporter of electricity in the world and discussed the potential wealth that could be generated from renewable energy and water. To loud applause he asserted:
"There is nothing inevitable about the condition of our people. We can abolish poverty in Wales. We can abolish premature death, sickness and disease. We can abolish homelessness, hopelessness and despair."
"But we can only do that if we accept that the solution to our problems will never come from another country's capital 150 miles to the east. They never have and they never bloody will!"
 "We are a nation long belittled that's started to believe. The clouds of inferiority are evaporating from the skies of our ambition. Wales is waking, rising, rejecting second-class status to claim our place as an equal among the nations of Europe and the rest of the world."
"And when the great story of our nation's independence will be written, in the very near future, it is this generation that will be able to say "we got there because we marched." United in our goal. Ignited in our passion. All under one banner. In our hearts. In our minds. Already free."