News
One person unaccounted for and three hospitalised after Swansea explosion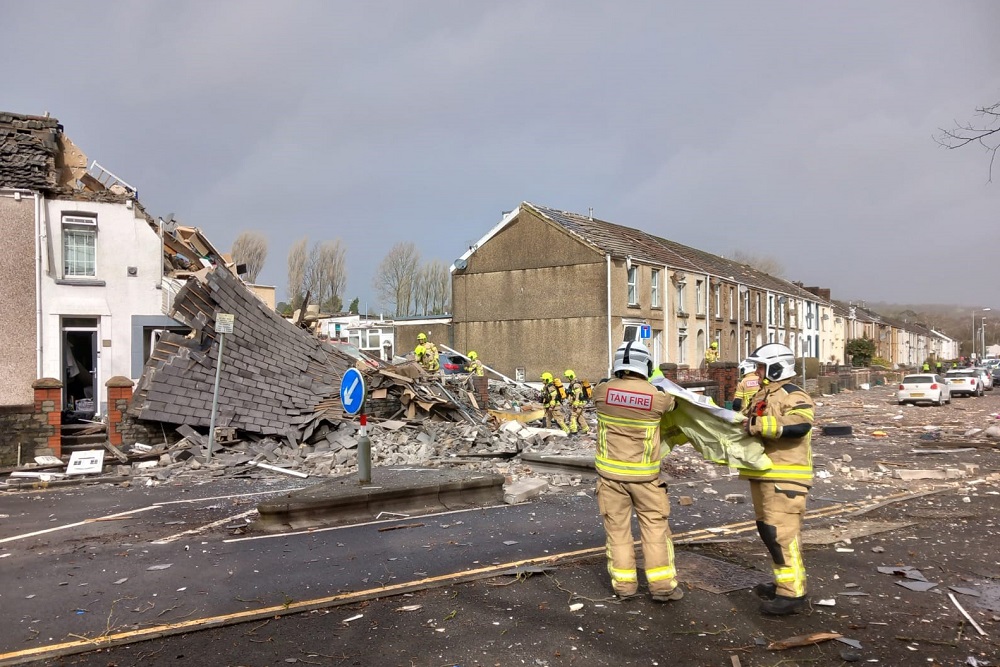 One person remains unaccounted for and three people have been taken to hospital following a suspected gas explosion in Swansea.
Emergency services were called at just after 11.20am on Monday to an explosion at an address on the junction of Clydach Road and Field Close in Morriston.
Images from the scene appear to show one house has collapsed and another is badly damaged, with debris strewn into the street.
South Wales Police said other neighbouring properties were also damaged by the blast, which shook houses miles from the scene.
A spokesperson for the force said: "Our thoughts are with everyone who have been affected by this morning's incident and we would like to thank the community for their support whilst this incident is ongoing."
Police have asked the public to avoid the area while they deal with the incident and a cordon is in place, with Clydach Road closed and traffic being diverted.
Donn and Donna Fernandez who live next door to the explosion told how they and other neighbours rescued a teenage occupant of the house who was taken to hospital.
Mr Fernandez said: "I came out of my house and saw the young teenager who lives next door in the wreckage of the house near the roof.
"Me and our neighbours got him out, he's only about 13.
"They're a lovely family, a family of three.
"We just can't believe this has happened."
Mrs Fernandez, an NHS worker, said: "We're just still in shock."

Rubble
Christopher Yeoman, 55, who said he lives three doors down from the blast, helped rescue a teenage boy and his mother from the rubble.
Mr Yeoman told the PA news agency: "I saw the debris explode outward into the street even before I heard it, then I heard this massive bang.
"The house exploded and everything flew out into the road hitting the postman who was driving by and the flats opposite.
"Everything shook and all my pictures fell off the wall, and I was first most worried about my 95-year-old mother who was downstairs.
"I ran into the street and we got a teenage boy who was in the debris out, and me and another neighbour ran in because we could hear a woman shouting from inside.
"When we got to her, she was hysterical and worried about her cat and dog but we managed to find the puppy in the crate and get it out as well.
"We got them both to a bus that had stopped to help, because this was before the ambulance and police had turned up.
"They were both hysterical but seemed to calm down once they were together.
"My head is still totally mashed."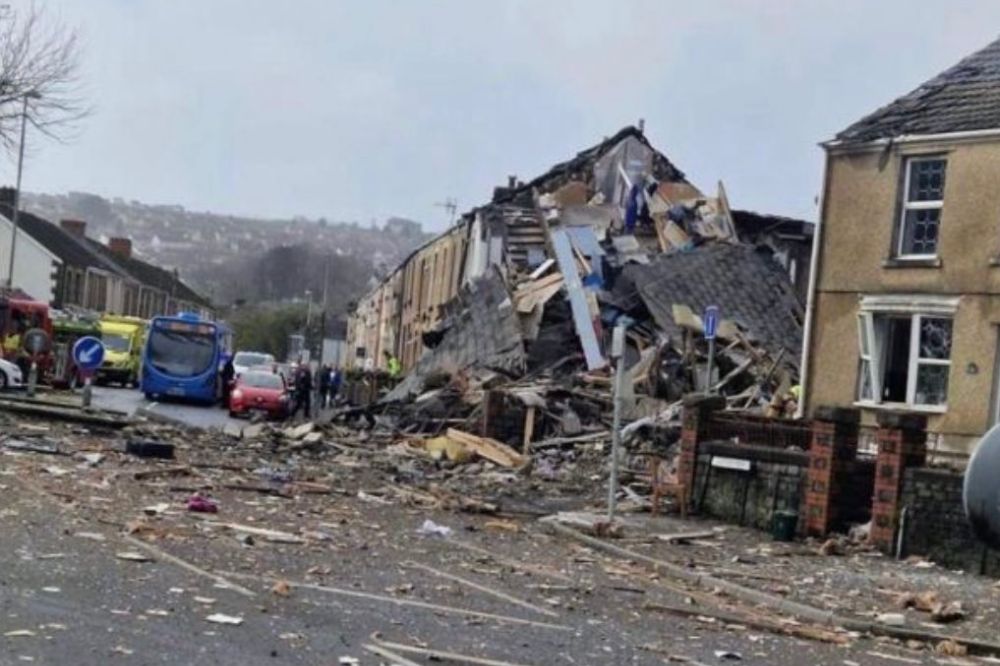 Jason Maynard, 43, from Morriston, said he was having breakfast with his partner in the nearby Red Lion pub when the explosion happened.
"Everything shook, my breakfast nearly went everywhere," he said.
"We came out and we were all confused but then we saw it, there was loads of debris and dust high into the sky, and tiles everywhere.
"You could tell it was really bad."
A police officer at the scene would not permit residents to go past the cordon, saying: "We're still not out of the woods with the gas. We're not safe from another explosion."
An emergency centre for residents has been set up in Morriston Memorial Hall, a nearby community centre.
Many have also gathered in the Red Lion Pub.
Ioan Humphreys lives eight miles away in Rhos, Pontardawe, and had just started a Microsoft Teams meeting when he heard the bang.
"The house next door to me is having lots of building work done, so initially I thought it was a massive skip being delivered and dropped on their drive – it felt that close," the 48-year-old Swansea University research officer told the PA news agency.
Abbie, a 26-year-old who did not wish to share her second name and lives half a mile from the scene, said the explosion sounded like a car had crashed into her home.
"I was working when we heard a huge bang, it sounded like a car had crashed into our garage and the impact shook the house," she told PA.
Major incident
Swansea Council leader Cllr Rob Stewart said a major incident was declared at noon, adding: "My thoughts are with the residents at this moment from what looks like an extremely serious incident, as we try and establish if everyone is safe.
"Our teams are on site and working with the emergency services."
In a statement, Wales & West Utilities, which maintains the gas network across Wales and the south-west of England, said: "We were called to reports of an explosion at a property in the Clydach Road area of Swansea and immediately sent a team of engineers.
"On arrival, we found that there had been severe structural damage to the property and the emergency services were in control of the scene.
"We are now working with them to make the area safe – as we do on all incidents of this nature.
"We do not yet know the cause of the explosion and our engineers will continue to support the emergency services as they carry out their work."
---
Support our Nation today
For the price of a cup of coffee a month you can help us create an independent, not-for-profit, national news service for the people of Wales, by the people of Wales.