News
Tony Blair's emotional tribute to Ann Clwyd: 'She stood up for what she believed was right until her last breath'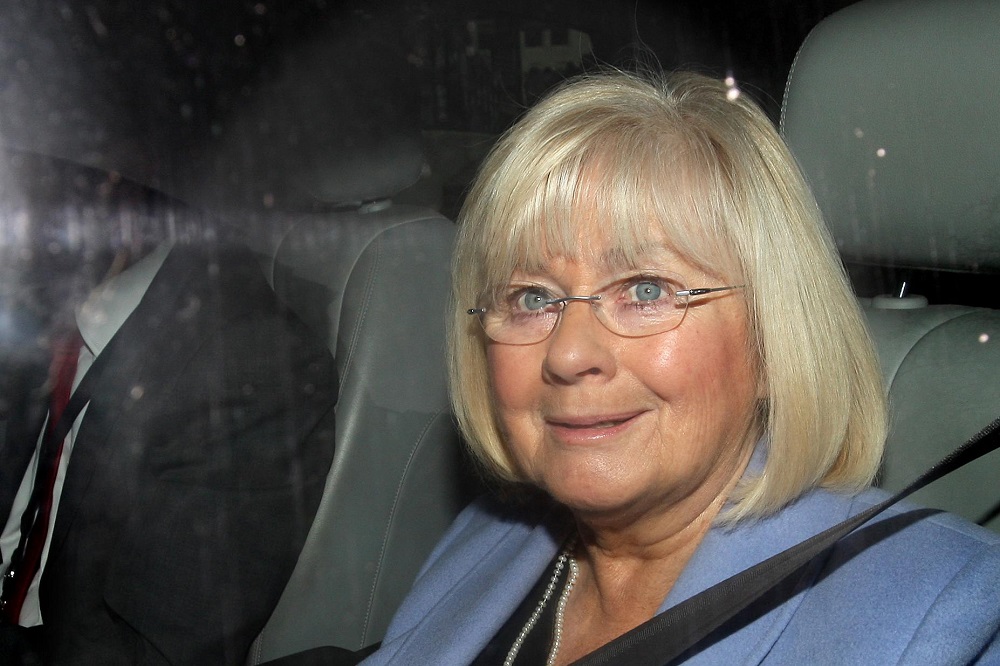 Martin Shipton
Former Prime Minister Sir Tony Blair told a memorial event for Ann Clwyd that the ex-Cynon Valley MP stood up for what she believed was right from a very early age to her last breath.
In an emotional video address shown to hundreds of people who packed into St Elvan's Church in Aberdare, Sir Tony described Ms Clwyd, who died in July at 86, as one of the most extraordinary people he'd ever met. She was the longest-serving woman MP Wales has had, representing Aberdare and then Cynon Valley for 35 years until 2019.
Sir Tony appointed her as his Middle East envoy after she supported the invasion of Iraq in 2003 because of the atrocities committed by Saddam Hussein against the Kurdish people, whose cause she espoused for many years.

Invincible determination
The former PM said:: "I'm so sorry I can't be with you in person today, but I want to record my appreciation for the life of Ann.and for all she did for the Labour Party, the country and for the wide world. Ann was a remarkable woman, and everyone who knew her understood that. One thing you can say is that she had an invincible determination to stand up for what she believed was right, to pursue what she perceived as just, and to be prepared to do that in the face of whatever obstacles came her way.
"She did this in many different guises. I remember her campaign for compensation for those who suffered working down the mines. She was relentless in her desire to get compensation paid to them, and some recognition of the sacrifice they had made for the country. She was the person, as much as any other, who pushed the government into acting, and even though it was a large bill it was one that I was glad to be part of accepting because of the advocacy of Ann.
"Then of course there was her long campaign on behalf of the Kurdish people, her understanding of the evil of Saddam Hussein and why he had to be dealt with, and the implacable case for removing him, despite all the difficulties and all the criticism that came her way.
"That was so typical of Ann, and even as she was herself ill towards the end of her life, she never retreated into self-pity. On the contrary, she went on the offensive on behalf of better health care and an improved health service. And that was absolutely typical of Ann – someone with huge integrity, determination and commitment to public service – and that's what I remember about her.
"From a very early age to her last breath, she stood up for what she believed was right, and she accomplished so much as a result of that need. I pay tribute to her today as one of the most extraordinary people I've encountered, who it was a privilege to know and a pleasure to work with.
"She will rest in peace, knowing that throughout her long life she contributed so much to so many people. So today I pay tribute to her, honour her memory and say to her: 'Thank you Ann, you were a great public servant and it was wonderful to know you'."
European Parliament
First Minister Mark Drakeford recalled how he had first met Ms Clwyd nearly half a century ago. In the spring of 1979 he was still a young man – his family lived in Carmarthen and he would go back there for the summer holidays. Ms Clwyd was campaigning for election to the European Parliament.
Mr Drakeford said: "I remember three things. 1979 wasn't the greatest year for the Labour Party. We had just lost a general election. A Labour candidate in that year needed a very strong and direct determination to represent the party. I remember that particularly that day. Despite the difficulties of that year, here was somebody determined to fly that Labour flag.
"Secondly I remember – and this was important to Ann throughout the whole of her life – just how confident she was to be in Carmarthen and surrounded by the Welsh language. She was so comfortable, so at home in that very, very Welsh context.
"And thirdly, I remember Ann herself. What a striking individual she was, in her 30s with that great shock of blonde hair. Despite the fact that physically she wasn't the tallest person in the room, how she dominated the space that was around her. And I think you can see those three points throughout the whole of her political life.
"They were certainly there in the weeks before she died, when she sent me the last text message that I received from her. Always in the Welsh language, always either about something she thought I needed to know or, more often, something she felt I needed to do.
"If I look back at the whole of that astonishing career, to that day in 1979, I can see her in my mind's eye as I saw her throughout the whole of that career: uncompromisingly Labour, uncompromisingly Welsh and uncompromisingly Ann."
Childhood hero
Cynon Valley MS Vikki Howells said: "Not many people can say that their childhood hero became a close friend, but I can, and I consider myself very lucky in that regard indeed.
"In my own role as a Member of the Senedd, I've found that if I'm unsure how to deal with a tricky situation, then asking myself 'how would Ann handle this?' usually helps me come up with the best approach to take.
"Ann was a politician who had complete dedication to party coupled with a razor-sharp ability to scrutinise the government, no matter which party was in power, to expose injustices and to campaign relentlessly on those injustices for the benefit of all those who do not have that voice."
The First Lady of Iraq, Shanaz Rashid, spoke warmly of her close friendship with Ms Clwyd and of her support for the Kurdish cause. She presented a gold medal to Ms Clwyd's family in recognition of the high esteem in which the late politician was held by the Kurdish community.
A park is also to be named after Ann Clwyd in the northern Iraqi city of Sulaymaniyah.
---
Support our Nation today
For the price of a cup of coffee a month you can help us create an independent, not-for-profit, national news service for the people of Wales, by the people of Wales.