News
Tories accuse Welsh Government of passing the buck over schools concrete scandal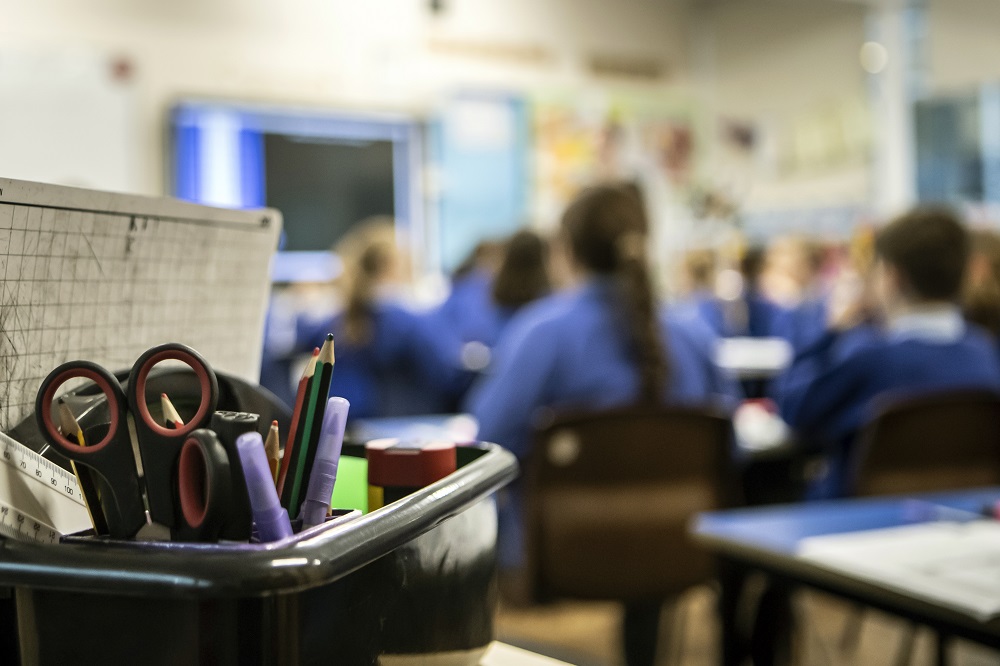 Emily Price
The Welsh Conservatives have accused the Welsh Government of passing the blame over the discovery of dangerous concrete in two Anglesey schools.
The afternoon, the education minister, Jeremy Miles announced that Reinforced Autoclaved Aerated Concrete (RAAC) had been found in Ysgol David Hughes and Ysgol Uwchradd Caergybi.
As a result, the schools will not open for their first day of term tomorrow pending further safety investigations.
The material was used in construction in many buildings between the 1960s and 1990s but safety experts have warned it is now beyond its lifespan and could collapse without notice.
In a statement the education minister today said that the Welsh Government had "repeatedly requested" details from the UK Government regarding RAAC risks and management but those details were withheld until around 7pm yesterday evening – less than a day before the new school term.
Welsh Conservative Shadow Education Minister, Laura Anne Jones MS hit out at the statement and accused the Welsh Government of taking their eye off the ball.
She said: "Students and parents don't want a statement saying, 'he said, she said' and trying to pass the blame to someone else. They want a Welsh Government which is going to take action to solve this problem and reassure communities that their schools are safe.
"The fact is that the Welsh Government have taken their eye off the ball on this, relying on councils to do the work that the UK Government was leading on in England.
"Whilst it's welcome that they've named the two schools that have RAAC, it's not reassuring for schools across Wales who are now having to urgently undertake these surveys because the Labour Government sat on their hands for a year."

Incidents
RAAC has recently been confirmed in a range of public sector properties across the UK including in over 100 schools in England.
UK Government Ministers have stated that a number of incidents happened over the summer period which led to there being a heightened safety risk.
However, the Welsh Government said that at no point was this new evidence flagged to them.
Surveys will take place by local authorities across Wales in the coming weeks to verify the extent of the issue.
Former president of the Institution of Structural Engineers, Dr John Roberts told the BBC the concrete should never have been used in any permanent buildings
He said: "I didn't think it was ever a material that I would be happy to use as a structural material spanning across openings. It doesn't resemble ordinary concrete in the slightest.
"I don't recall it being marketed as a short-life material. I think that is something that has been determined afterwards.
"I believe it was missold. I don't believe it should have been sold as effectively a pre-cast manufactured concrete product. It was inherently, in my view, a risky material to be using."
He said that in the 70s and 80s, the material was not being designed by consulting structural engineers, but being promoted by manufacturers in catalogues without much information.
Dr Roberts said it is "extremely difficult" to identify the crumbling concrete that is leading to the closure of schools.
"I think you need to have quite an amount of structural engineering knowledge to identify this material," he told the World At One.
"It's not normally directly visible."
Asked whether there needs to be a wider audit of public buildings, he said: "I can't see why they are unlikely to be limited just to schools. They're quite likely to be in a whole range of other public and perhaps private commercial buildings.
"But typically they provide the structure for a flat roof, so that would be the place that you would start looking for it if you wanted to be sure."
Asked whether manufacturers of the material should be held to account, he said they have all gone out of business and no longer exist.
"Wake-up call"
Plaid Cymru's Rhys ab Owen has previously warned against the potentially unsafe concrete in schools and is now calling for a comprehensive and urgent audit of all public sector buildings.
The MS for South Wales Central said: "The announcement by Ynys Mon council that two schools in Wales won't open this week because of safety concerns about Reinforced Autoclaved Aerated Concrete (RAAC) is a wake-up call for the Welsh Government.
"The council is quite right to put the safety of pupils and staff first.I am calling on the Welsh Government for a comprehensive and urgent audit of all public sector buildings for this type of concrete, not just our schools but our hospitals too.
"Cash strapped councils need support from the Welsh Government to carry out safety checks on their buildings.
"I warned about the issue of potentially unsafe concrete in schools in our capital, because according to a Freedom of Information request submitted by Cardiff Civic Society last month, Cardiff Council did not know how many of schools in the capital may contain Reinforced Autoclaved Aerated Concrete (RAAC).
"This concrete was deemed so dangerous in St David's Hall; it was used by the Labour run Cardiff Council to justify its transfer of the concert hall to the private sector to AGM/Live Nation.
"As the Labour party Deputy Leader of the Labour party Angela Rayner has said: 'If public safety is at risk, we need to know urgently.' – the same standard should apply to Labour Ministers in Wales as those responsible for public buildings over the border."
---
Support our Nation today
For the price of a cup of coffee a month you can help us create an independent, not-for-profit, national news service for the people of Wales, by the people of Wales.