News
Tory MSs criticised for posing alongside conspiracy theory and anti-net zero banners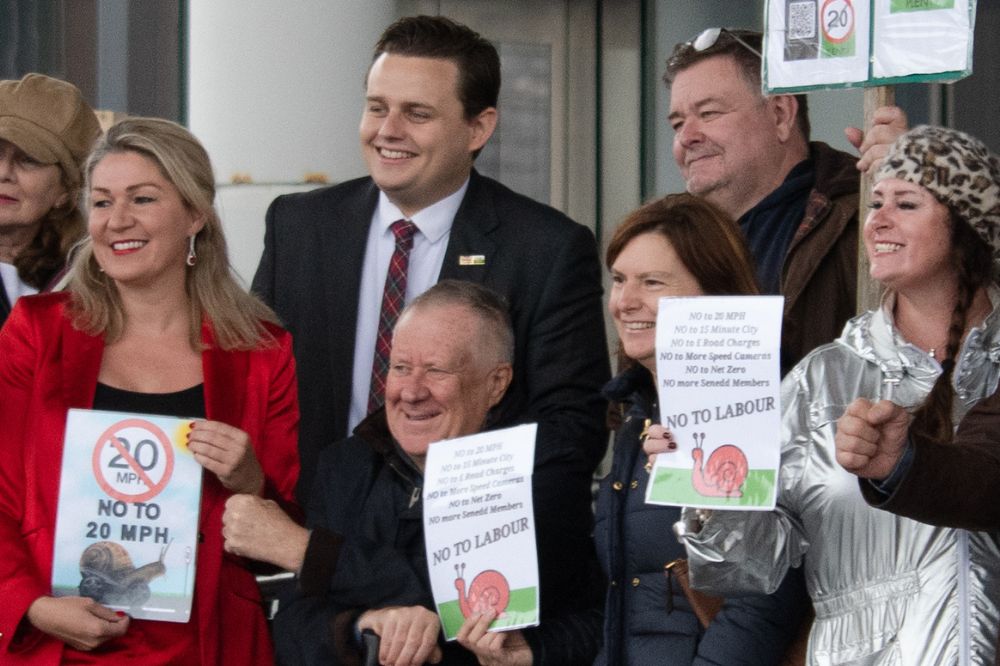 Emily Price
Welsh Conservative MSs have been criticised after they posed for photographs alongside banners which supported a conspiracy theory and opposed net zero – despite it being in the party's 2021 manifesto.
Anti-20mph demonstrators gathered on the steps of the Senedd on Wednesday (October 18) holding posters, placards and Welsh flags in protest against new default speed limit which was rolled out in Wales last month.
Several Tory MSs were photographed alongside protesters who were holding laminated posters which read: "NO to 20MPH. NO to 15 Minute City. NO to £ Road Charge. NO to More Speed Cameras. NO to Net Zero. NO more Senedd Members. NO to Labour"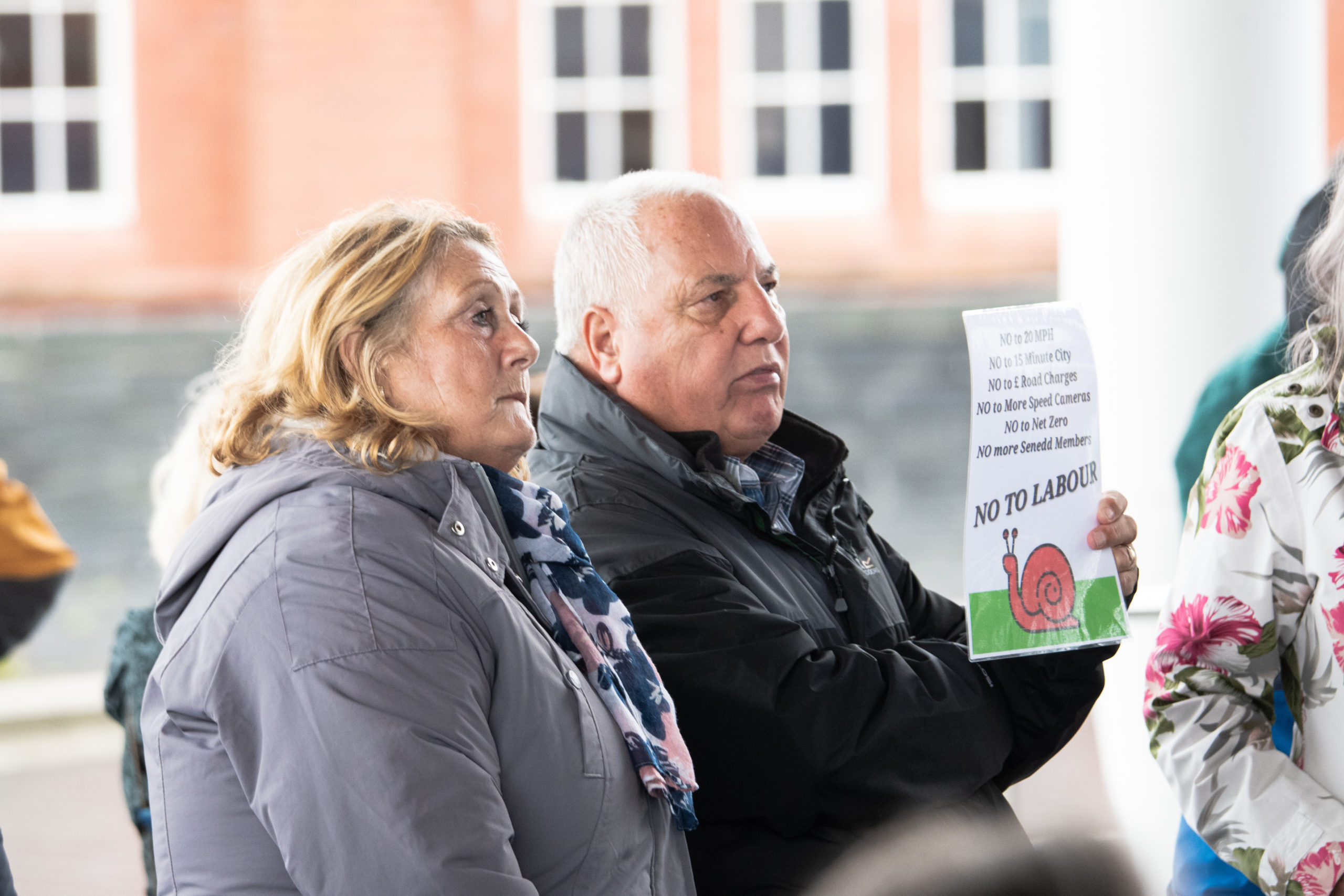 In an image posted to the social media platform X, Wales' shadow transport minister Natasha Asghar could be seen smiling whilst holding one of the same laminated posters.
The '15-minute cities' concept has gathered pace in recent years as local governments try to find ways to cut down on carbon emissions and traffic.
Some people believe it is a sinister plot to remove rights and stop people from leaving their neighbourhood.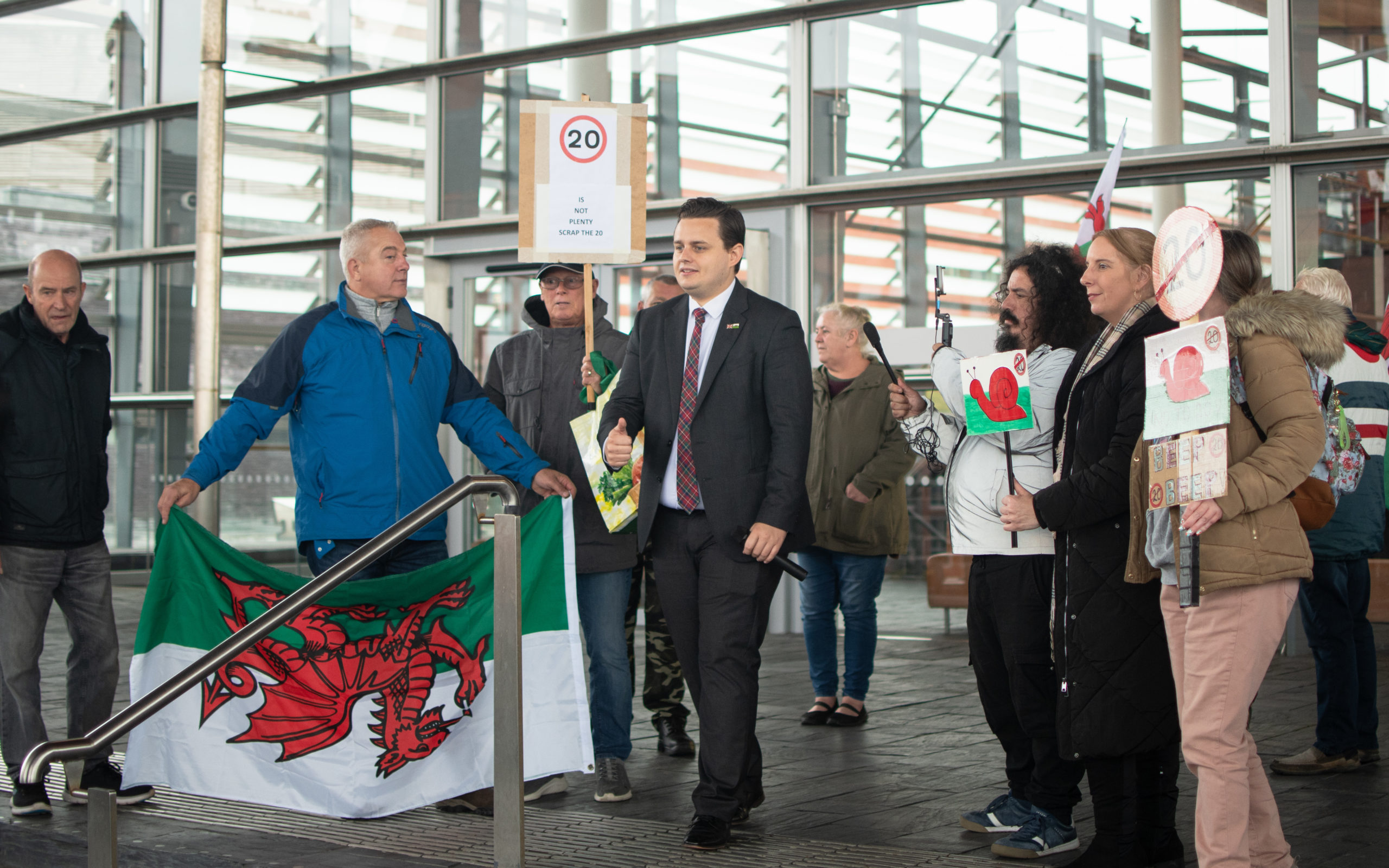 The placard saying, "No to Net Zero" is at odds with the Welsh Conservative's 2021 Party Manifesto which laid out Tory plans to make "Wales Net Zero by 2050, with investment in clean energy solutions to reduce carbon emissions, and creating 15,000 new green jobs."
🏥 Our #NHS is under immense pressure with waiting times spiralling out of control

🚙 Yet Labour ministers are focusing on rolling out #20mph speed limits & expanding the Welsh Parliament

🏴󠁧󠁢󠁷󠁬󠁳󠁿 Wales deserves better – and that was the message from today's protest! @WelshConserv pic.twitter.com/lI94bE0TDj

— Natasha MS (@natasghar) October 18, 2023
Also at the anti-20mph protest, demonstrators displayed Welsh flags upside down, one of which had been daubed with the message: "DRAKEFORD THE DICTATOR".
One Tory MS was asked by a protestor to hold the message for a photo opportunity but they declined.
Protestors were also seen attempting to cover the windows of the Senedd whilst people inside sat watching a lecture.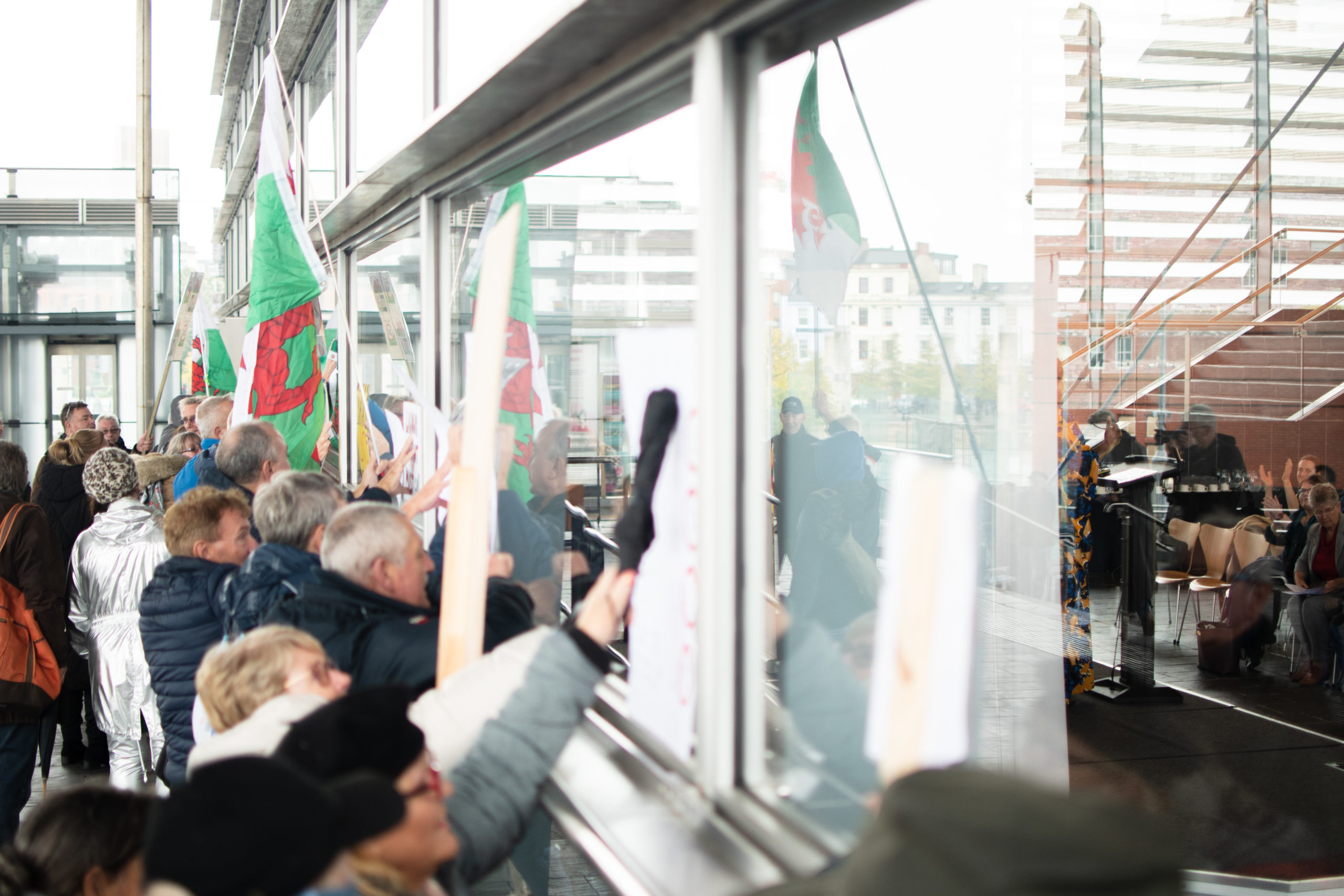 Extremism experts, HOPE not hate say campaigning against 15 minute cities is proving to be another avenue for far right activity.
David Lawrence Senior Researcher at HOPE not hate said: "Whilst of course there is scope for debate and discussion about new transport measures, at times these have been tinged with conspiratorial language or given way to misinformation. Given how heated debates can become, it's important to be aware of them.
"Conspiracy theories around the '15 minute city' schemes claim that shadowy elites are using these measures to control peoples' lives. This is of course a conspiratorial way of thinking, often linked to other conspiracy theories about climate change and COVID-19, but such notions are growing in popularity."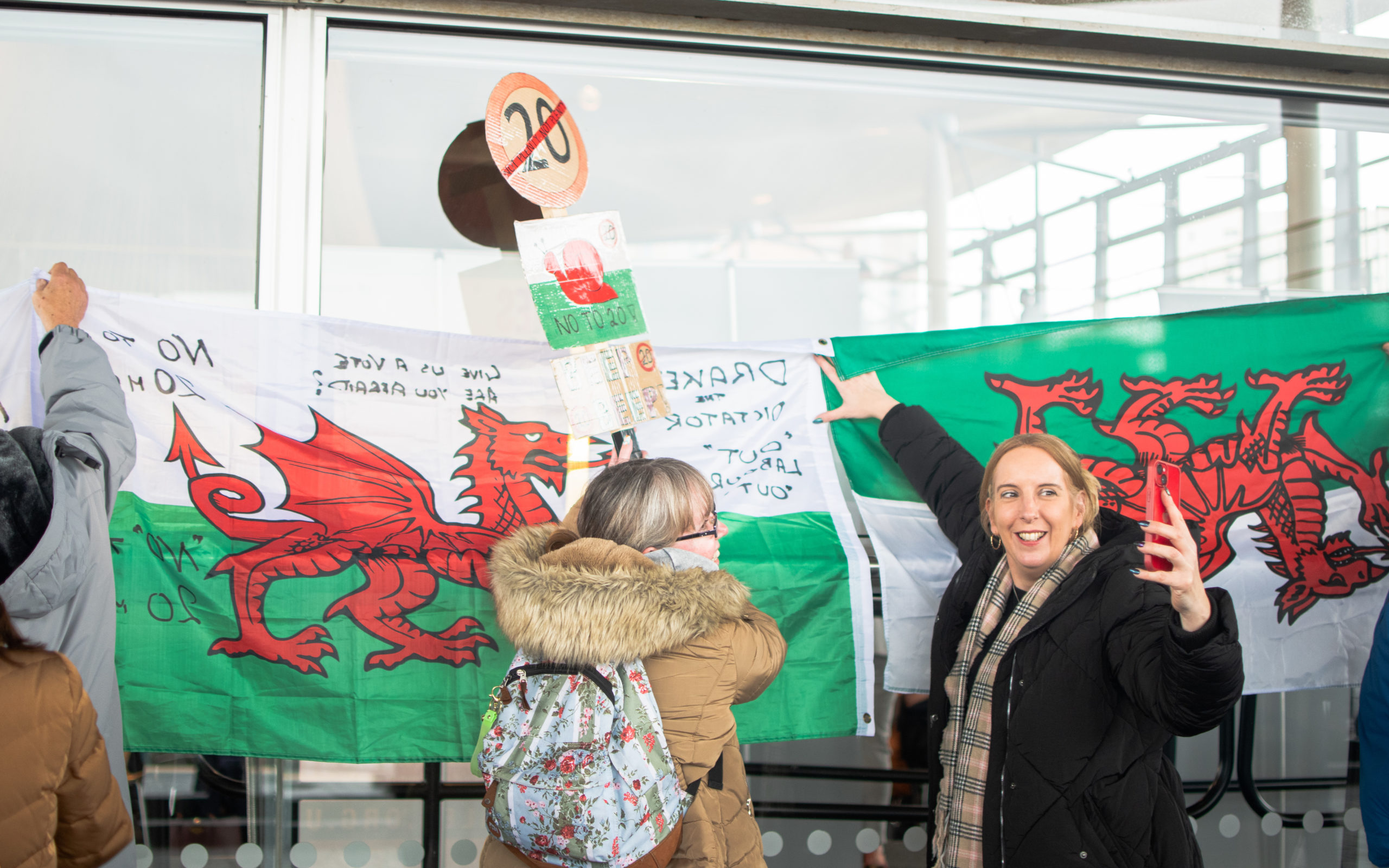 A Plaid Cymru spokesperson said: "The irony has not escaped us that Members of the Senedd can post on social media about needing to reduce pressure on the NHS, whilst showing a photograph of them campaigning against measures that will actually reduce road traffic accidents, and thereby the number of times ambulances will need to be called.
"We're used to seeing pantomime politics from Westminster, but we do not need this in Wales. But there is a more serious point at play here, and that is the suggestion that the desire to reach net zero is something to rally against.
"The climate challenge is one of the most gravely serious issues we face right now, and elected members should take their responsibility to treat with the gravitas the matter requires, not least when it's their own party policy."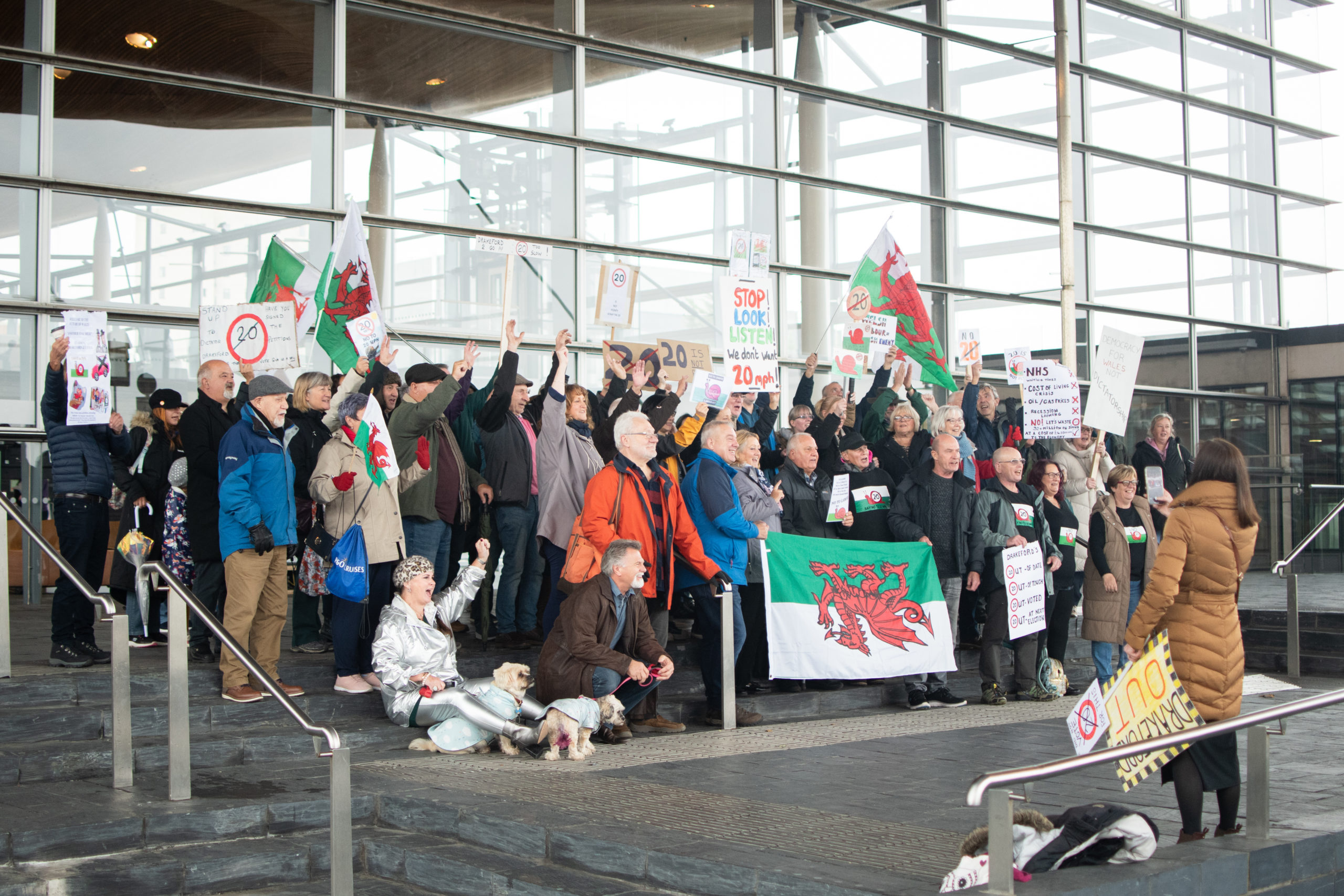 A Welsh Conservative Senedd Spokesperson said: "It is the Conservative Party that is taking net zero seriously and making sure that as a country we take the whole nation with us to reach this essential target to protect our planet for future generations.
"Labour's anti-car, anti-motorist and anti-worker agenda will do nothing to make sure we achieve our carbon targets. Let's not forget it is the UK Conservative Government which put achieving net zero into law and have put in place the Office of Environmental Protection.
"Labour in Wales have failed to do the same and we've seen just today their lack of action on Dŵr Cymru illegally releasing sewage.
"People have had enough and want the Welsh Government to lead."
---
Support our Nation today
For the price of a cup of coffee a month you can help us create an independent, not-for-profit, national news service for the people of Wales, by the people of Wales.