News
Trump mocked for 'Prince of Whales' tweet
//= do_shortcode('[in-content-square]')?>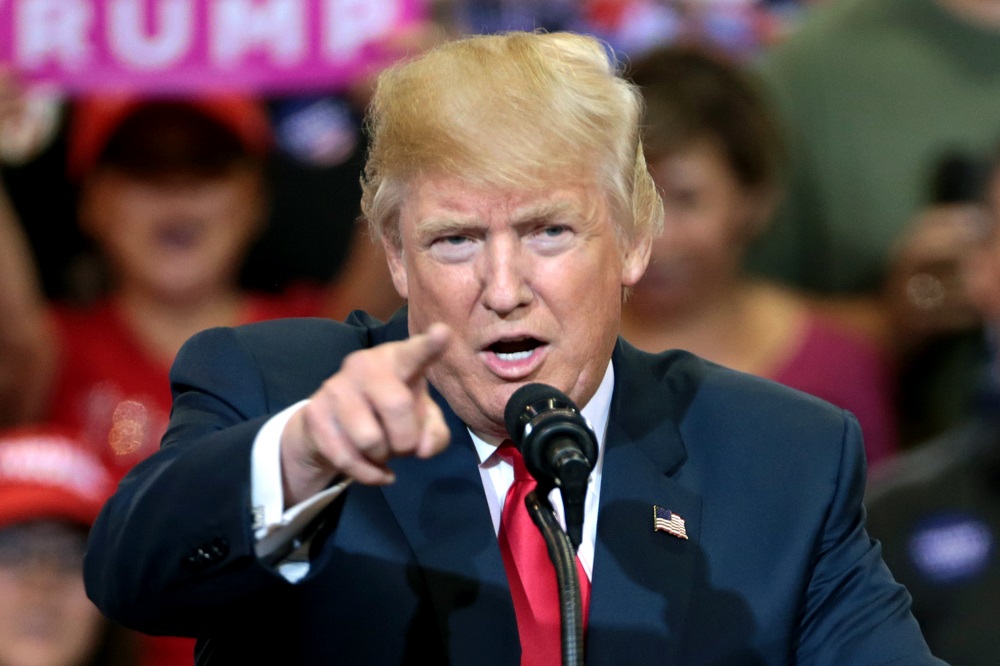 Donald Trump has been mocked after calling Wales 'Whales' in a tweet.
The US President posted the tweet this afternoon in which he spoke about meeting "the Prince of Whales" on his recent trip to London.
"I meet and talk to 'foreign governments' every day. I just met with the Queen of England (U.K.), the Prince of Whales, the P.M. of the United Kingdom, the P.M. of Ireland, the President of France and the President of Poland. We talked about 'Everything!'" Trump tweeted.
The tweet was defending an interview with ABC News in which he said he would be open to accepting information on election opponents from Russia or other foreign governments.


He deleted and reposted the tweet with the correct spelling an hour later.
It was too late however to stop the misspelling trending on the microblogging site from, as users made fun of the mistake.
We are now Labour for indy Whales.
Sorry. We don't make the rules.

We are also calling out to all our orca cousins to continue to support Whales for #indyWales
at this time of transition. pic.twitter.com/ZtfhLlzqae

— Labour For IndyWhales (@Lab4IndyWales) June 13, 2019
#hailtrump pic.twitter.com/i6cf6CpiVN

— Desolation Radio (@desolationwales) June 13, 2019
When Alun Cairns sees what they've done to his signs already, he's going to be absolutely TAMPING. #PrinceofWhales pic.twitter.com/iZUEziRnAQ

— Kelvin (@KelvinD) June 13, 2019
I am Jimmy Whales. You may have heard of my project, Whikipedia.

— Jimmy Wales (@jimmy_wales) June 13, 2019
I just met with the Prince of Whales ? pic.twitter.com/DlI3qkH7h3

— Schalke 04 USA?? (@s04_us) June 13, 2019
Ahab some issues with this one pic.twitter.com/Kz4CSsMpRv

— Jake Tapper (@jaketapper) June 13, 2019
"When I met with the Prince of Whales, he said that as president, it was my life's porpoise to build the wall. I told him wait till you sea it."

— hend amry (@LibyaLiberty) June 13, 2019
Prince of WHALES
I'm still laughing ? ? ? #PrinceOfWhales pic.twitter.com/hizuUeRdZ5

— ? (@manctacular) June 13, 2019
Big Prince of Whales fan pic.twitter.com/51emJ8ODEA

— General Boles (@GeneralBoles) June 13, 2019
First photos in from Trump's meeting with the Prince of Whales pic.twitter.com/MclQIT9G2A

— Hazel Shearing (@hazelshearing) June 13, 2019
Good grief. The Prince of "Whales." Narwhal, Beluga, or Humpback? Trump is an international embarrassment. This is going to be headline news in the UK, and he will be (rightly) ruthlessly mocked for it. pic.twitter.com/kBK53hVdtk

— Brian Klaas (@brianklaas) June 13, 2019
The Prince of Whales, pictured earlier today pic.twitter.com/GmnAiQuzwx

— Graeme Demianyk (@GraemeDemianyk) June 13, 2019