News
UK and Welsh governments launch body to regenerate Port Talbot after steel job losses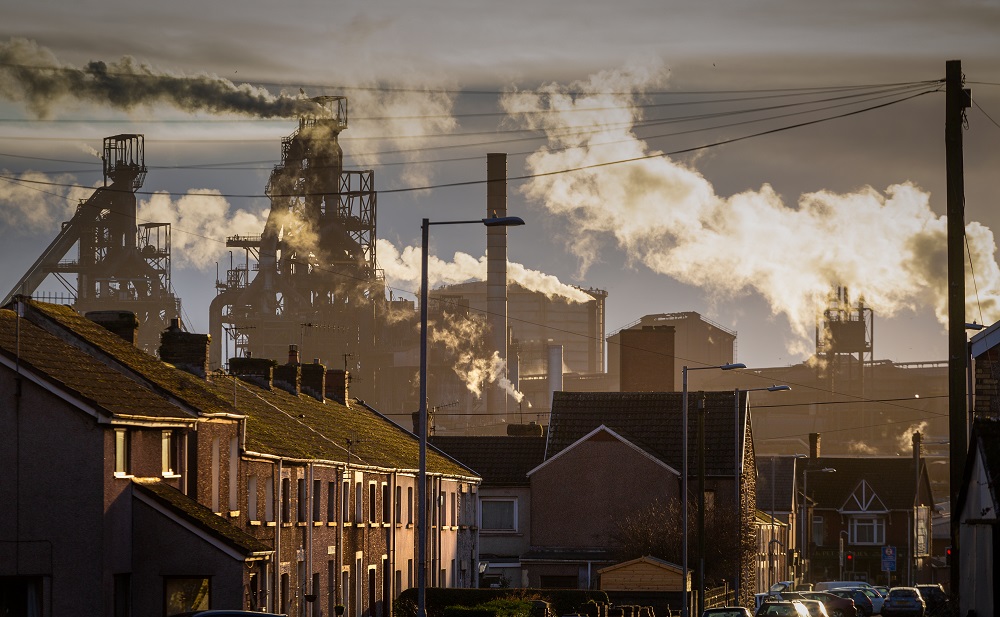 Martin Shipton
The UK and Welsh governments will jointly run a Transition Board in Port Talbot aimed at mitigating the likely loss of 3,000 steel jobs from Tata Steel, it has been confirmed.
The UK Government's decision to work with the Welsh Government to address the crisis contrasts with the exclusion of the Welsh Government from the distribution of post-Brexit regional aid.
In September the company announced proposals to invest £1.25bn, including a UK Government grant worth up to £500m, to enable greener steel production at Port Talbot.
A Transition Board has now been set up to support the people, businesses and communities affected by the proposed transition to low-CO₂ steelmaking.
About 3,000 jobs are expected to be lost across Tata's 8,000-strong UK workforce as a result of the deal, which involves shifting from coal-powered blast furnaces to less labour-intensive electric arc furnaces (EAF). Unions are attempting to avoid compulsory redundancies.
The Tata Steel/ Port Talbot Transition Board met for the first time on Thursday October 19 at the company's Port Talbot site where it agreed the ways of working, its terms of reference and membership of the board. The company and the UK Government's Department for Business and Trade will separately oversee the investment in low-CO₂ steelmaking at Port Talbot.

Regeneration programmes
The Transition Board will have access to up to £100m to invest in skills and regeneration programmes for the local area. It will focus on immediate support for the people, businesses and communities directly affected by the proposed transition to low-CO₂ steelmaking at Port Talbot; and a plan for local regeneration and economic growth for the next decade.
Secretary of State for Wales David TC Davies will chair the Transition Board, while the Welsh Government's Economy Minister Vaughan Gething and Michael Gove, the Secretary of State for Levelling Up, will be deputy chairs.
The Board members include Henrik Adam, Chair of Tata Steel UK; Rajesh Nair, Chief Executive Officer of Tata Steel UK; Cllr Steve Hunt, Leader of Neath Port Talbot council; and Stephen Kinnock, the Labour MP for Aberavon. Representatives from the trade unions also attend.
Mr Davies said: "I'm very pleased that the Transition Board has been established and today's meeting has been an important first step. It's vital that all the partners collaborate and work together to achieve the best possible outcome for the communities affected, and we've seen that work get underway today.
"We know that there are challenges ahead, but I'm clear that we have the right people around the table who will all be doing their absolute best to facilitate the transition to greener steel and the impact that has on the community."
Unacceptable
Stephen Kinnock, the Labour MP for Aberavon, said: "Over the past month I have made it absolutely clear that the Tata Steel-UK Government decarbonisation deal is unacceptable because it focuses narrowly on the EAF model, whereas it should also be ensuring that we continue to produce virgin steel in Port Talbot through low carbon technologies such as Direct Reduced Iron.
"The EAF-only strategy will lead to far more job losses than is necessary, so I fully support Community and the other steel unions as they seek to persuade Tata to think again.
"But in the meantime it is vital that where there are job losses the £100m that has been set aside for supporting the transition is spent wisely on behalf of the steelworkers of Aberavon and the wider community. I've therefore agreed to join the Transition Board, which will oversee the development of skills and regeneration programmes for the steelworkers who are going to be directly affected by the change that is coming.
"As a member of the Transition Board I will be straining every sinew to secure the best possible outcomes for the workforce, and for my Aberavon constituents in these difficult and challenging times."
Central role
Neath Port Talbot council released a statement made by its Independent leader Cllr Steve Hunt at the Transition Board meeting. He told those present: "I think the first important point I should make is that very little information has been shared with the council about the investment deal that has been struck between Tata and the UK Government. Please take what I am going to say this afternoon with that in mind.
"Steel is of huge importance to Port Talbot. It is also very significant for the wider economy and national security. I am sure everyone in this room understands that.
"The council believes that steel must continue to play a central role in developing our economy into the future. We have been working with Tata and other partners for many years now, through the City Deal and the South Wales Industrial Cluster. We have worked together on new innovations aimed at securing the future of steelmaking and all of its associated industries here in Port Talbot. We believe that there are new and nationally important market opportunities in front of us, such as floating offshore wind.
"The prospect of being able to manufacture green steel here, on this site that can be turned into turbines that will generate green power at scale in the Celtic Sea and elsewhere, is something we are very excited about. We look forward to seeing how this investment will not only secure
existing market opportunities. We hope to see new markets exploited bringing with it well paid, sustainable jobs here in Port Talbot and the wider supply chain.
"It is for all of these reasons that I welcome the news that there will be investment in transitioning steelmaking from its current technologies to a greener alternative. But what is also clear is that there will be an impact on jobs, businesses and our wider community during the transition period. At a time when many people across our communities are experiencing hardship, we must all work together to minimise those impacts.
"We must also commit to a long term plan that will place our economy on a stronger and sustainable footing. I can assure you that the council will play a full and active role in helping
to make this happen. But it will take all of us in this room to deliver a just transition – as well as our wider partners and the community itself."
The next meeting of the Transition Board will be held in November.
---
Support our Nation today
For the price of a cup of coffee a month you can help us create an independent, not-for-profit, national news service for the people of Wales, by the people of Wales.