News
UK Government accused of 'contempt' for Wales after axing northern phase of HS2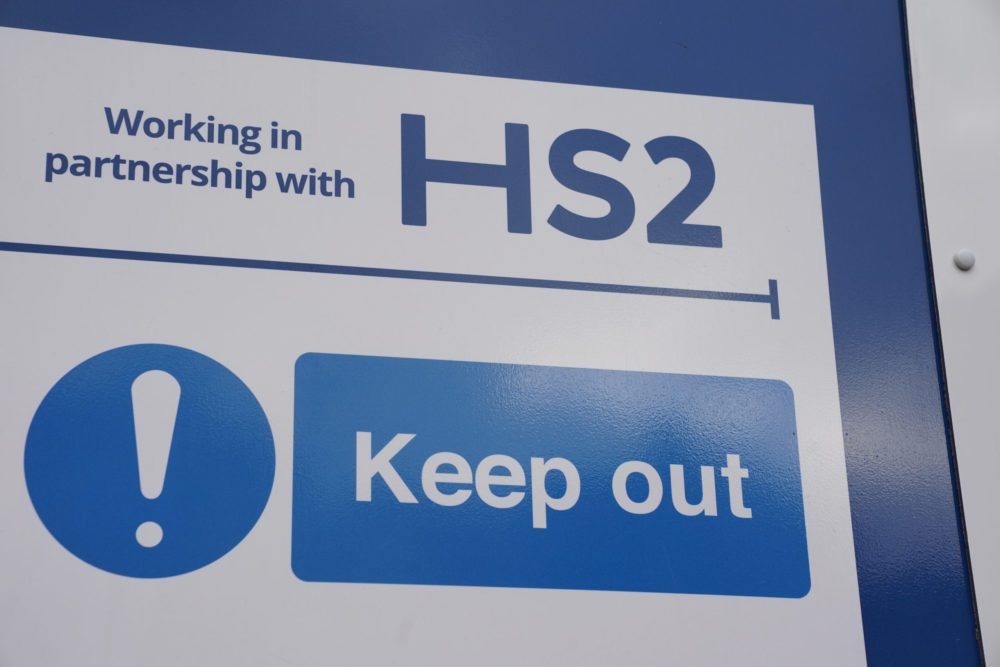 The UK Government has been accused of displaying 'contempt' for Wales following the scrapping of the northern leg of HS2 railway project due to spiralling costs.
Prime Minister Rishi Sunak confirmed that HS2 will go no further north than Birmingham in his Tory conference speech earlier today (4 October), but also announced the 1 billion electrification of the main railway line in north Wales.
The announcement comes after years of controversy following the UK Government's decision to classify the HS2 high speed line in England as an "England and Wales" project.
That designation was justified with the assertion that there would be benefits to parts of Wales, including reduced journey times when the £180 billion project reached Crewe.
Earlier this year Tory ministers announced that construction of HS2's Birmingham to Crewe section (phase 2a) and the Euston terminus in London would be delayed by at least two years to reduce costs.
The estimated delivery date for HS2's phase 2b western leg from Crewe to Manchester had been put within the range of 2035 to 2041 and the bill for phase 2b was still going through parliament.
Opposition politicians have argued that the decision has effectively robbed Wales of up to £5bn in rail infrastructure investment that it would have received if the project had been designated as a project only affecting England.
Under the devolution settlement, both Scotland and Northern Ireland are entitled to a proportion of rail infrastructure funding in England, but that does not apply to Wales.

Shambles
Reacting to the axing of HS2's northern extension, the Chief Executive of YesCymru, Gwern Gwynfil said: "The HS2 shambles exposes the contempt with which Wales is always treated by Westminster.
First, we were denied over £5 billion of our money by their lies and trickery and now we're thrown some piddling promises about long overdue electrification.
"Enough already Rishi bach, show us the money!"
Plaid Cymru's Westminster leader Liz Saville Roberts said the Prime Minister's pledge does not replace the billions of pounds Wales should have already received in Barnett consequentials for the first phase of HS2.
She said: "High-speed rail for London, crumbs from the table for Wales.
"Electrifying the North Wales Main line is said to receive around £1bn. Plaid Cymru will not accept that this pledge replaces the more than £2bn Wales should have already received in Barnett consequentials for the first phase of HS2.
"It's only thanks to Plaid Cymru's decade-long demand for Wales to receive our fair share from HS2 that Rishi Sunak now feels pressured to give empty promises of the most modest of benefits to Wales.
"We cannot believe a word the Conservatives have to say on electrification. For years, the Tories promised electrifying the south Wales line between Cardiff and Swansea, before it was scrapped.
Potential
Welcoming the announcement, Secretary of State for Wales David TC Davies said: "Today's announcement will unlock North Wales' unique potential by transforming its economy and infrastructure.
"For too long the people of north Wales have been ignored by an incompetent Labour Welsh Government in Cardiff Bay – but the UK Government is correcting that wrong.
"Under the Conservatives, north Wales is being given the attention it righty deserves."
Welsh Affairs Committee chair, Stephen Crabb MP, added: "The Prime Minister's announcement today of a £1 billion cash injection for the electrification of the North Wales Main Line is very welcome.
"Two years ago our Committee reported that experiences of passengers across Wales would be greatly improved by more investment in Welsh rail infrastructure, and that electrification would help meet our decarbonisation goals.
"It is critical that the UK and Welsh Governments work together on this important – and long overdue – project to electrify the North Wales Main Line. I look forward to hearing more from the Government on the timescale as to when work will begin and when the electrification of the line will be completed."
In an exchange in the Senedd this afternoon with Lee Waters, the minister responsible for Transport,  Welsh Conservatives Shadow Transport Minister, Natasha Asghar MS called for reassurances that  extra money coming to Wales would be allocated to transport infrastructure.
She said:"This afternoon the Prime Minister has set out ambitious plans for the country to boost transport connections across the UK with £36 billion.
"As a direct result Wales will get further funding through Barnett consequential from investment in local projects in England, as well as £1 billion to electrify the North Wales line.
"I sought reassurances from the Minister that any money received would be spent on improving transport infrastructure and not on Labour's never ending vanity projects such as £40 million on a disastrous blanket 20 mph rollout and £120 million on more politicians.
"Unfortunately, the Minister refused to commit to funding infrastructure which fills me with dread, as Labour will waste this money as they have done consistently over the past 25 years."
---
Support our Nation today
For the price of a cup of coffee a month you can help us create an independent, not-for-profit, national news service for the people of Wales, by the people of Wales.