News
UK Government warned to abandon plans to detain and send children to Rwanda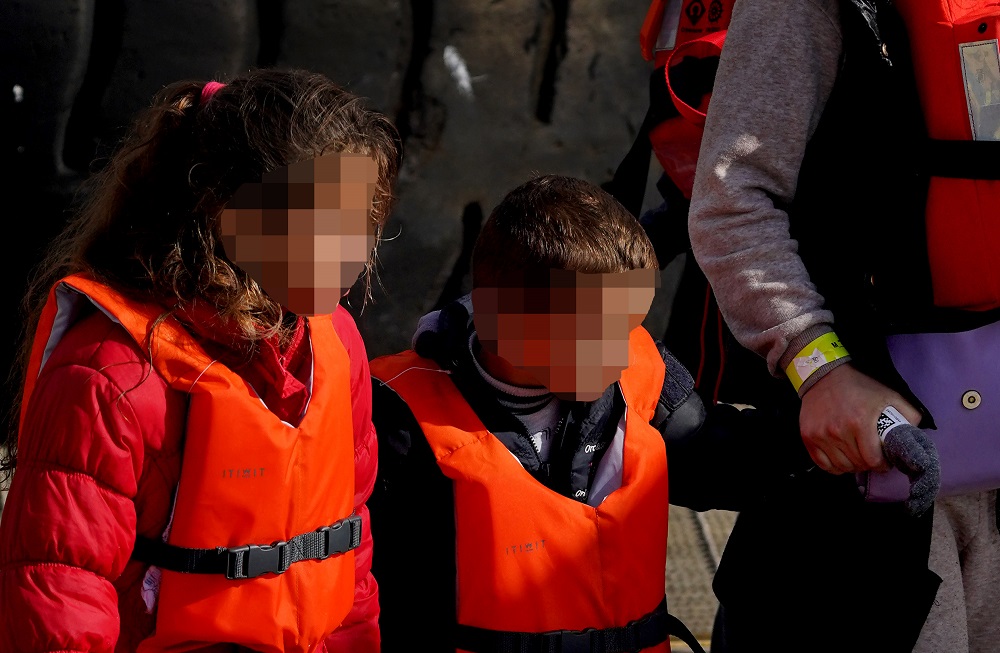 Any intention to detain children or send them to Rwanda under controversial new migration laws should be abandoned, MPs have warned.
The risks of harm to asylum-seeking children outweigh any risk of damaging the Government's aim of deterrence through its Illegal Migration Bill, the Women and Equalities Committee said.
The Bill, which is back in the House of Lords on Wednesday, would see the law changed so that people who come to the UK illegally through a safe country are not allowed to stay – instead being detained and removed, either to their home country or a safe third country such as Rwanda.
But the committee's chairwoman, Conservative MP Caroline Nokes, said one of the biggest concerns is the treatment of children in the asylum system, as she urged the Government to abandon any intention of detaining and forcibly removing them.
The critical report is the latest in mounting pressure on the Government to change its approach to the treatment of asylum seekers, especially children.
It comes a week after a coalition of leading medical organisations warned that child migrants detained under controversial new laws could be at risk of post-traumatic stress disorder, clinical depression and suicidal behaviour as they condemned the child detention provisions set out in the Bill.

Demonstration
Ahead of the Bill's return to the Lords, schoolchildren were due to gather outside Parliament on Tuesday, writing messages of support on giant teddy bears in a demonstration organised by campaign groups Citizens UK and Together With Refugees.
The committee's report on equality and the UK asylum process concluded that people with particular vulnerabilities could see their risks of harm rise under recent and proposed changes to the Home Office's management of the asylum process.
It stated: "People with vulnerabilities arising from Equality Act-protected characteristics, including women with histories of gender-based violence and abuse, children, lesbian, gay, bisexual and transgender (LGBT) people, and disabled people, experience unnecessary risks under the Home Office's management of the asylum process.
"Recent and proposed changes to the system are likely to increase those risks. The Home Office must demonstrate it is taking effective steps to mitigate unequal effects."
The MPs said it is "unacceptable that the Home Office remains unable to set out a clear plan to monitor and mitigate" those unequal effects, and demanded an updated equality impact assessment be published within three months in relation to the Nationality and Borders Act's asylum provisions.
The committee said prolonged detention of people who pose no threat to the public and for whom there is little prospect of removal from the UK is "potentially harmful, impractical and costly", and warned of MPs' deep concerns that planned reforms "risk turning back the clock on policies intended to ensure detention is used only as a last resort, and to reduce the risks of harm to vulnerable people".
Mitigating risk
The MPs recommended the Government set out its planned approach to mitigating risks of harm to vulnerable adults in detention, abandon any intention to detain and deport children, and collect and publish data on the protected characteristics of detained asylum seekers, including where they are detained and for how long.
It stated that a "significant number of vulnerable people, to whom the removal process would very likely be harmful" have received notices of the Home Office's intention to remove them to Rwanda, and called for such notices to be suspended with no new ones issued "until all legal challenges to the policy are complete".
The wide-ranging report also called on the Home Office to "stop the dangerous practice of moving pregnant women and new mothers between asylum accommodation settings", saying the department is "too often failing to comply with guidance" on this issue.
It said an urgent review of safeguarding is needed, describing plans to accommodate asylum seekers in barges as "unacceptable from both safeguarding and equalities perspectives".
It stated: "There must be an urgent review of safeguarding, including steps to prevent LGBT hate crime and violence against women, across all types of asylum accommodation, including the newly acquired accommodation barges."
Disturbed
Ms Nokes said: "We were disturbed by the Home Office's inadequate management of risks of harm to asylum seekers with protected characteristics, including women, LGBT people, children and disabled people. Alarmingly, these risks will increase under the Government's recent and planned reforms.
"One of our biggest concerns is the treatment of children within the asylum system.
"Any intention to detain child asylum seekers under the Illegal Migration Bill and forcibly remove them to Rwanda must be abandoned. The risk of harm to children outweighs any perceived damage to the effectiveness of the Government's policy agenda."
A Home Office spokesperson said: "Through the Illegal Migration Bill, we will stop the boats by detaining those who come to the UK illegally and swiftly returning them to a safe third country or their home country.
"It is only right that we protect the most vulnerable by not creating incentives for criminal gangs to target specific groups.
"We have amended the Bill to make clear that an unaccompanied child under 18 can only be removed in very limited circumstances. Where a removal decision is made, detention will be for the shortest possible time with necessary support provisions in place."
---
Support our Nation today
For the price of a cup of coffee a month you can help us create an independent, not-for-profit, national news service for the people of Wales, by the people of Wales.