News
UN warns Illegal Migration Bill 'extinguishes' most refugees' right to seek asylum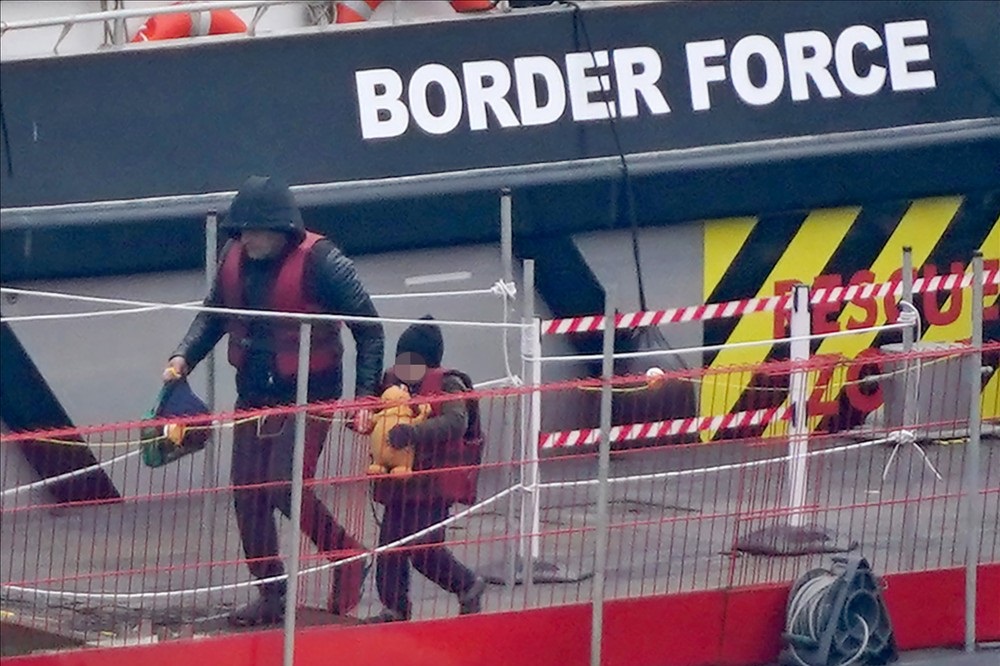 The United Nations refugee agency's representative to the UK has warned that the Government's Illegal Migration Bill "effectively extinguishes the right to seek asylum in the UK for all but a very few refugees".
The controversial Bill, aimed at tackling Channel crossings, returns to the House of Commons on Monday for its committee stage, and MPs will scrutinise it over two days.
Vicky Tennant, of the UNHCR, told Sky News' Sophy Ridge On Sunday programme that the proposed legislation is "in breach of international law" and "the UK's obligations under the International Refugee Convention."
She said: "Well, we're very concerned that this sets a global precedent, it effectively extinguishes the right, as you've said, to seek asylum in the UK for all but a very few refugees.
"We know that those coming across the Channel broadly reflect the nationalities of countries affected by crisis, by persecution globally.
"So we're talking about countries like Syria, Afghanistan, Eritrea, Iran, Iraq, Albania, several of these, as I've said, countries that are producing high numbers of refugees."
She added: "We think the focus of attention really needs to be on the asylum system, on asylum processing, getting that working properly so people are able to present their claims.
"If they're not refugees decisions can be made quickly, they can be returned to their own countries, and if they are refugees, then they're able to embark on that integration journey.
"We think that's in everyone's interests, not just the refugees interest, but also the interests of the British public."

Asylum ban
The Bill aims to stop people claiming asylum in the UK if they arrive through unauthorised means, but the UNHCR has called it an effective "asylum ban".
Pressed on what action the UNHCR might take if a country is found to be in breach of international law, she said "there is no sanction as such" but claimed violations have "an impact globally".
Ms Tennant added: "You know, we have to remember that the vast majority of refugees are hosted in countries neighbouring their own.
"So more than 69/70% are in countries neighbouring their own.
"Now, if you're a country like Turkey, hosting more than three million refugees or Bangladesh hosting, you know, just short of a million refugees with all the impact that has on your economy, on your infrastructure on your services.
"And then you look at a country like the UK much further away, much less impacted, many fewer refugees, that sends a really unfortunate signal.
"So we believe that if this goes ahead, if other countries were to follow suit, it really would have a very significant impact on refugee protection globally."
Home Office guidance states that "the Illegal Migration Bill will change the law so that those who arrive in the UK illegally will not be able to stay here and will instead be detained and then promptly removed, either to their home country or a safe third country", such as Rwanda.
It claims the Bill will "stop illegal migration into the UK by removing the incentive to make dangerous small boat crossings" and "speed up the removal of those with no right to be here".
The Bill's other objectives are to "crack down on the opportunities to abuse modern slavery protections, by preventing people who come to the UK through illegal and dangerous journeys from misusing modern slavery safeguards to block their removal" and "ensure the UK continues to support those in genuine need by committing to resettling a specific number of the most vulnerable refugees in the UK every year".
The Home Office has been approached for comment.
---
Support our Nation today
For the price of a cup of coffee a month you can help us create an independent, not-for-profit, national news service for the people of Wales, by the people of Wales.