News
Wales 'not as prepared as it could have been' for pandemic, says Mark Drakeford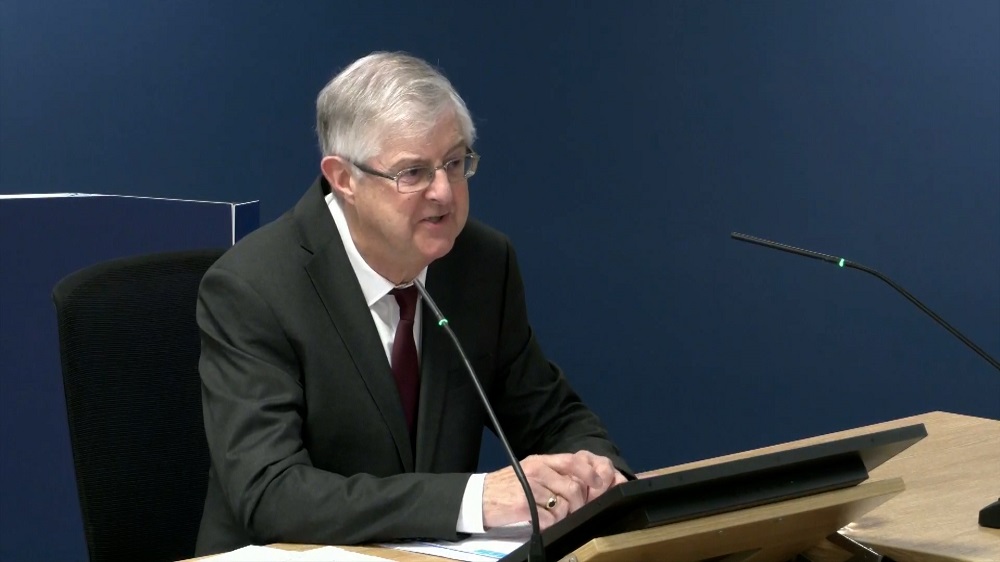 Mark Drakeford has admitted Wales was "not as prepared as it could have been" for a pandemic.
The First Minister of Wales, in his evidence to the UK Covid-19 Inquiry on Tuesday, also said the UK-wide strategy for dealing with a civil emergency – which the Welsh Government relied on – was "inadequate" and "did not stand up to its major test".
But he defended the devolved administration's position when asked if there were "significant failings" to address gaps in pandemic preparedness in the eight years before coronavirus hit, claiming such an assessment was "unduly bleak".
Mr Drakeford echoed the evidence of other Welsh Government officials, saying resources had been diverted away from pandemic planning because of the need to prepare for the threat of a no-deal Brexit.
He claimed his first cabinet meeting on entering office in 2018 was "almost entirely" about leaving the European Union without a deal, but said on balance it was necessary due to the dangers posed.
After it was pointed out that a review of civil contingency structures initiated in 2018, after powers were devolved to the Senedd, did not take place until this year, he said it was a "matter of disappointment".
Former health secretary Vaughan Gething had told the inquiry that strained relationships between ministers in the Welsh and UK governments "hampered" pandemic planning.
Mr Drakeford agreed with Mr Gething, telling the inquiry the political system should not rely on the willingness of "individual players" to cooperate.

Inadequate
Mr Drakeford said: "The [UK] plan was an inadequate basis of dealing with the events that subsequently unfolded, but not wholly inadequate. There were aspects of it which were still useful but it clearly did not stand up to its major test.
"There's no doubt at all that there were failings. But I think that the way you set them out would, in my mind, give an unduly bleak account of some of the things that had happened over that period.
"While some things had failed to be followed through, it was a failure in part rather than in whole."
He insisted the system's effectiveness to deal with a major event had been tested as recently as February 2020, only a month before the UK went into its first coronavirus lockdown.
He added: "So while I don't dissent at all from your general conclusion that there were things that ought to have been done, and could have been done, and hadn't been done, I think to describe it entirely in those terms is to overlook some of the things that positively had happened and the successful way in which the system in Wales demonstrated its ability to respond when real emergencies arose."
Counsel to the inquiry Hugo Keith KC said he did not question the remarkable individual responses to the pandemic or the Welsh Government's efficient response, but said that was separate from whether adequate structures were in place to deal with a pandemic.
He said: "And therefore, the Welsh Government was not as prepared as it could have been. Would you agree?"
Mr Drakeford said: "Put like that, I would agree. Yes."
Lack of communication 
Earlier in the day, Mr Gething said a previous lack of communication between politicians in the Senedd and Westminster, which he said included UK cabinet ministers not replying to his emails or calls, meant the situation was "sub-optimal" for co-working when the pandemic began.
The current economy minister admitted he could have "sped up" preparedness for a pandemic if he had put more time and interest into it, but said his focus was on more immediate issues facing the health and social care sector in Wales.
Mr Gething agreed Wales' stockpile of personal protective equipment (PPE) was "woefully inadequate", telling the inquiry "it did not stand up against reality".
A chart shown during the hearing showed the amount of PPE available was only projected to last the country 10 weeks in a pandemic scenario when established plans for an influenza outbreak recommended at least 15 weeks worth be kept ready.
In an emotional part of his evidence, Mr Gething spoke about how the country was not prepared to deal with the excess deaths resulting from the pandemic, including increased mortuary and crematorium capacity.
Asked by the counsel for the bereaved families if the country's lack of preparedness had led to more suffering for individuals and families, Mr Gething said: "One of the things I found most difficult was the question around dignity in death.
"All of these plans were not fully completed and that meant when Covid came we were not as prepared as we could and should have been and that did lead to additional pain for bereaved families."
Arrogance 
Anna-Louise Marsh-Rees, from Covid-19 Bereaved Families for Justice Cymru, said: "If you just listened to him [Mark Drakeford] you'd think everything in Wales was well prepared for.
"Our lived experience would differ."
Turning to Mr Gething's evidence, she added: "He hadn't read anything. He hadn't asked anything. He wasn't inquisitive. He wasn't interested. The arrogance was unbelievable. No wonder it all went wrong. He knew nothing. He didn't care about anything.
"In contrast to Mark Drakeford, who was fully aware of the risks, he hadn't even looked at them, and wasn't aware of them.
"It has come to something when Vaughan Gething makes Matt Hancock look prepared."
Responding to the Covid Inquiry evidence Plaid Cymru spokesperson for health and care, Mabon ap Gwynfor MS said: "It is clear from the evidence heard to date that the pandemic planning in Wales was seriously inadequate, and there was much Welsh Government could and should have done to enable us to be better prepared.
"World experts were warning of an influenza style pandemic – even Hollywood made a film about it!
"If Hollywood knew about it, then I would expect Welsh Government to have read anything that would have helped them better prepare for a global pandemic. The Exercise Cygnus Report – with 'Pandemic Influenza' on the front cover is one such example.
"Plaid Cymru has been clear since the early days of the pandemic that the decisions made in Wales should be scrutinised in Wales. The fact we're barely scratching the surface in this UK Covid Inquiry points again to the fact that we deserve our own, Wales-specific Covid inquiry."
"Damning"
Commenting on the latest developments, Welsh Conservative MS, James Evans said: "Today's findings at the COVID-19 inquiry are damning for First Minister Mark Drakeford, having refused to have a specific COVID inquiry at home in Wales. He and the former Health Minister have been called to London, when they should be giving evidence here in Wales, being held accountable by the Welsh Media and the families of all those who want answers on the decisions taken by the Welsh Labour Government."
"What's been shown today is a level of arrogance and complacency from former Health Minister Vaughan Gething who admitted to not reading some of the most basic frameworks which could have aided in saving unprecedented levels of excess deaths in Wales.
"Let there be no doubt, the failings found today go beyond the public's expectations of some small inadequacies and brings into question the suitability for Welsh Labour to govern to the standard we should expect after having been in power for almost 25 years. To learn that the former Health Minister failed to read documents related to pandemic planning nor the national risk register while in post, summarises the amateur nature of standards upheld by the Welsh Government at the time.
"I sincerely hoped that through this process, a clear pattern of coherent strategy and vision was adopted by officials in the Welsh Government to counter the spread of COVID-19, but that faith has all but gone and now what's on show is a Welsh Government under pressure and under the microscope for failing to act with due-diligence and care."
---
Support our Nation today
For the price of a cup of coffee a month you can help us create an independent, not-for-profit, national news service for the people of Wales, by the people of Wales.