News
'Wales will still have a steel industry thanks to this deal', says David TC Davies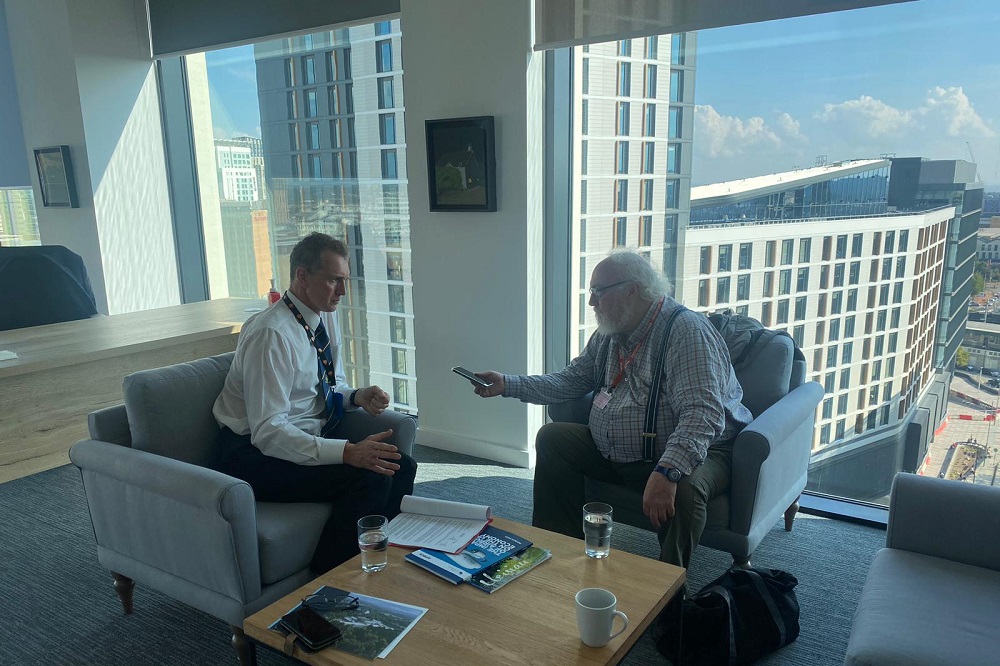 Martin Shipton
Wales will continue to have a steel industry despite the devastating news that there will be thousands of job losses, the Secretary of State for Wales has insisted during an interview with Nation.Cymru.
David TC Davies said that was why Prime Minister Rishi Sunak had signed off on a deal that will see the UK Government give Tata Steel a grant of £500m to build a new electric arc furnace in Port Talbot to replace the existing loss-making blast furnaces, which will be shut down.
Asked whether the announcement of a package that will also involve the loss of up to 3,000 jobs effectively means the end of primary steel production in Wales, Mr Davies said: "We're talking about the end of primary steel production in blast furnaces in Wales, and it is correct that a number of people are going to lose their jobs. Three thousand is the figure that's being quoted, which I don't think is unrealistic, but obviously I can't give an exact figure at the moment. There has to be a proper consultation, so for legal reasons I can't fully confirm it. But that is the reality – yes.
"There were only two options . Option 1 was that the blast furnace closed and the whole of the site was shut with it, and that Tata pulled out of the UK, which would immediately have cost 8,000 jobs and then on top of that we estimate there could have been another 12,000 to 17,000 jobs in the supply chain. So that would have been well over 20,000 people losing their jobs.
"The other option was for us to support Tata in building an electric arc furnace to maintain most of the jobs in steelmaking in the UK and to maintain the wider supply chain, and to ensure that steelmaking continued – and on top of that to ensure it continued in a low carbon fashion.
"There was no third option. There has been talk of a third option using CCUS (Carbon Capture, Usage and Storage) or hydrogen. These are not valid options at the moment. There is only one small experimental site in Sweden involving hydrogen, and it can't be rolled out in a commercial way at the moment. Tata were clear about that. And nobody's ever managed to attach carbon capture infrastructure to a blast furnace."

Losing money
Mr Davies said it was no secret that Tata had been losing money – over £1m a day on the blast furnaces: "In fact, people have been aware of the threat to the future of the furnaces for some time because of that," he said. "No company can afford to take losses of more than £400m a year, So the government and Tata entered negotiations. Some of these negotiations have been leaked to the press, with various figures bandied around.
"All I can say is that those negotiations were going on. Some of the stories in the press were not wide of the mark.But anyway a figure has now been agreed on which I think represents good value for the taxpayer, and does at least mean that we save the majority of jobs in steel and continue to see steel being made."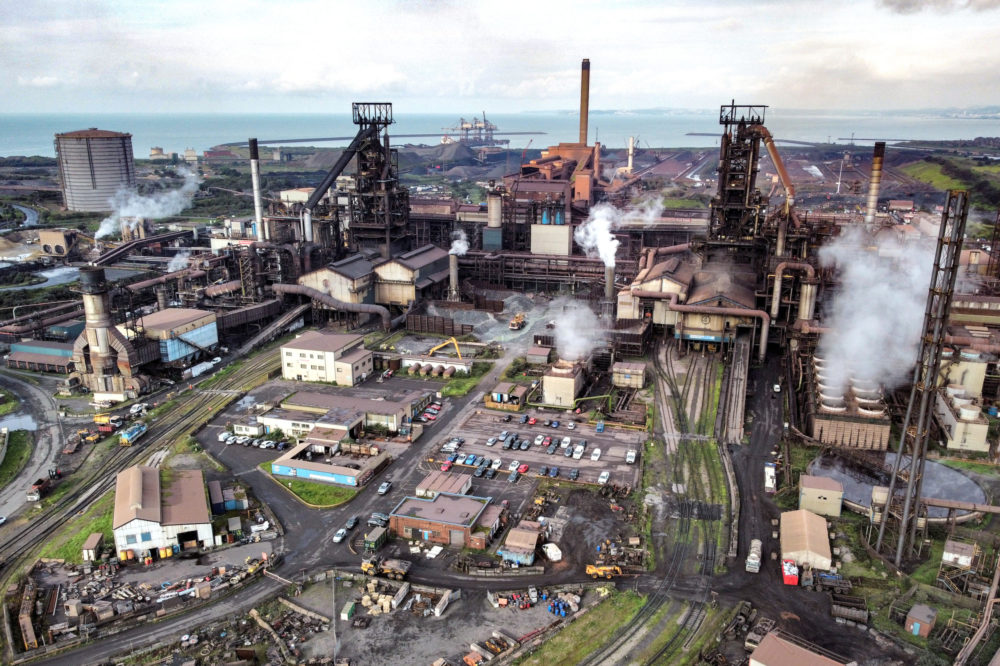 When it was pointed out to Mr Davies that there were 4,000 employed at Port Talbot and 3,000 could go, he said: "It's difficult to say exactly where they'll go because it's a bit more complicated than that. But around 3,000 overall is around the figure I would expect. Don't forget they were looking to pull out of the UK entirely."
Asked what the announcement meant for Port Talbot, Mr Davies said: "It's a huge blow for Port Talbot – there's no hiding this. It's not as big a blow as if Tata had decided to pull out of steelmaking in the UK, because jobs will continue at the site and steel will at all times be processed on the site in one form or another.
"But it is a big blow for Port Talbot and that's why in addition to the £500m that we are putting towards the electric arc furnace, we are also putting together a fund and a transformation board which will have up to £100m to spend on helping to retrain people for other careers and also if necessary on other things around Port Talbot which can help bring the town through this."
Redundancy packages
Mr Davies said he wasn't aware of the details of redundancy packages that would be offered by the company, but he added: "There is a hope that a lot of those will be voluntary redundancy packages, which would suggest that Tata are hoping that the terms will be good, and that's certainly what I hope as well."
When it was pointed out to Mr Davies that the outcome would be that job prospects would be diminished in the future for those living in the Port Talbot area, he said: "Well obviously there will be different types of jobs, working on the electric arc furnace, in the future. Electric arc furnaces are not as labour intensive as working on a blast furnace, but it is a technology which is seen as being much more fit for the 21st Century than the blast furnace, in that it doesn't emit carbon in anything like the same quantity.
"I don't want to suggest for one moment that this is anything other than very concerning news and bad news for Port Talbot, but what I want to emphasise is that we are trying to make the best out of a bad situation, and rather than see Tata pull out with the devastation that would cause Port Talbot, we've come forward with a plan which does at least mean that there will be jobs going forward, and careers for people in Port Talbot in steel."
Mr Davies said he couldn't say whether jobs would only be going in Port Talbot or elsewhere as well: "I've got a view about that, but I think it's not going to be entirely straightforward. I think the losses will be mainly in Port Talbot, but not necessarily all."
Asked to respond to criticism from Aberavon MP Stephen Kinnock and relevant trade unions that there should have been more consultation with the unions before the announcement, Mr Davies said: "I think the unions have been well aware for some time of the losses being made and the threat to the blast furnaces, and they've made that point themselves.
"In terms of the actual negotiation, that has had to be kept very commercially confidential. There were reasons for that and there was a reason why the announcement was timed to coincide with the closure of the KIndian stock market., It was a bit disappointing that various people seemed to be tweeting about it and talking about it – people who might have been briefed in confidence. I know the Welsh Government were briefed about this and it seemed to be all over the press which was disappointing.
"A negotiation like that can't be conducted by committee. There were two parties involved. It was Tata Steel who had to put most of the money in and agree to go ahead. And it was the UK Government that had to agree to part-fund that. So those were the only two parties involved in the negotiation."
Rishi Sunak
Mr Davies said the deal had to be signed off at the very top of the government. Asked whether that meant Rishi Sunak, he said: "Well – yes. It was looked at by Number 10 as well as by the Treasury, DBT (the Department for Business and Trade) and myself."
Asked why, given that there was a continuing need for steel, Britain was in the position of seeing a drastic reduction in the number of people employed in the industry, Mr Davies said: "What has been said to me is that the infrastructure used for primary steelmaking was quite dated and this is why it wasn't able to make a profit. At the same time the UK is exporting scrap steel to countries across the world, and it didn't make any sense financially.
"Originally Port Talbot had been built there obviously because of the access to coal, but if you no longer have a blast furnace that no longer necessarily needs to be the case. But we've got that big site there and we've got a freeport there as well. Tata were persuaded that with the investment the UK Government is making, they could have a profitable business making steel using electric arc furnace technology.
"I'm also told that there's been a previous concern that steel from electric arc furnaces isn't of the same quality, and that while there may be some truth to that, by adding various different things to it, actually very high quality and different grades of steel can be made using electric arc furnaces."
Mr Davies said it wasn't true, as has been suggested, that the raw material would largely come from overseas: "The raw material will come from within the UK," he said. "We're exporting scrap steel at the moment, so the expectation is it will be mainly UK scrap steel that's being recycled."
Freeport
Asked whether the development of a freeport locally was linked to what was happening at the steelworks, Mr Davies said: "That's an interesting question. The proposal is that when that freeport is up and running, one of the main businesses there is going to be putting together the large floating offshore wind turbines that will be going out in the Celtic Sea.
"At the moment, the steel that's being produced by Tata wouldn't be suitable for it. Although I asked that same question – if we had an electric arc furnace, would that be suitable – the answer that came back was not automatically so, but there's a lot of discussion going on now between floating offshore wind engineers and people in Tata to work out how that could be achieved'. So in some ways the question is a very relevant one, slightly tangential to the immediate issue of what's going on, but there are a lot of people looking to do that, because it would make absolute sense.
"If you've got a steel site in exactly the same place as a facility for putting together large structures made of steel, clearly it's in everyone's interest to make sure if possible that's the steel that's used. I understand we're not quite there yet on that."
Committed
Asked whether, as part of the deal, Tata had given any undertakings about being committed to staying in Port Talbot for a certain period of time, Mr Davies said: "They have said that. They've said they are committed and they've pointed out that they were willing to run losses of over £1m a day because of that commitment.
"An electric arc furnace would take around two years to build and there would be a process to get ready for it, so we can expect to see some announcements over the next year about what the exact timetable is for building it.
"People are losing their jobs. That's not a good thing, and far from trying to gloss over that I want to be really upfront about it. I don't know who exactly is going to be losing their jobs. That's a decision for Tata and they have to go through a process. The assumption has been that everyone working on the blast furnaces will lose their jobs and everyone else will keep a job. I don't think it's quite as straightforward as that. Obviously there will be jobs created over a number of years in creating an electric arc furnace.
"There will be a lot of construction going on, so there will be other jobs created at the same time as some are being lost. The hope is that some of the people who will be facing the loss of one job will go into one of those. Obviously when the construction period is over, some of those jobs will be lost but then there will be other jobs – a smaller number – working in the electric arc furnace."
In terms of whether existing jobs will be retained until the electric arc furnace is operational, Mr Davies said: "That's also a question I asked of Tata. My understanding is there will still be processing going on at the plant. So in other words, there will still be people working there producing steel, even though that steel might have been brought in from elsewhere, from the rolling mills."
Asked what the practical possibilities there were of creating new jobs outside the steel industry in the area, Mr Davies said: "It's difficult to create jobs in an area. You have to attract people in and let them create the jobs. So I think the transformation board will be looking at training opportunities for people, possibly in infrastructure if any is needed. But I don't think there's any suggestion that it would plough money into an industry itself and hope that it soaked up the job losses. I don't think that would be possible.
"But obviously we're hoping that the Welsh Government will get on board with this with the local authorities and with the trade unions. I understand the anger that trade unions have – they have to stand up for their members. I would say my door is absolutely open to the trade unions. There were trade unionists trying to stop the car today [at the Tata plant] and my instinct was to get out and talk to them. We're not wanting to see people out of work. We want quite the opposite – we want everyone in work. So if those people who wanted to stop the car or their representatives want to come in and talk, I'd be happy to hear it and I hope they may want to play a role on that board."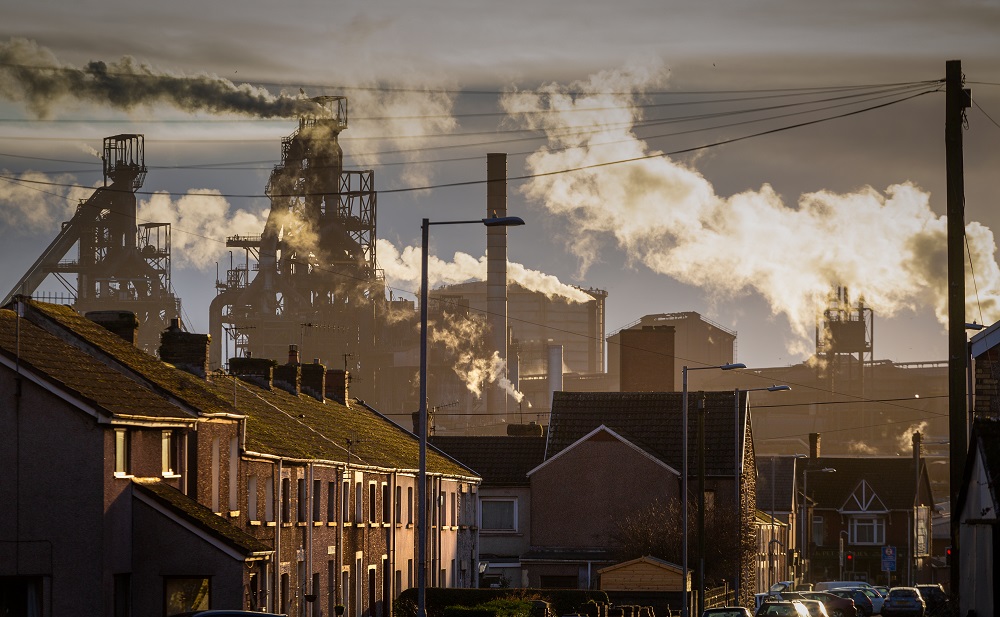 When it was put to Mr Davies that if British Steel had not been privatised 35 years ago by Margaret Thatcher, the UK Government would be in a position today where it could keep the steelworks open, he said: "It was a long time ago. My first job after leaving school [in Newport] was with British Steel, albeit as a filing clerk. My view is ultimately that if it was a public sector company, that would mean that senior politicians like myself would be in charge of it, making these decisions.
"I, in all honesty, don't think I could have done a better job of making steel than the sort of people running Tata at the moment. At the end of the day, this was an operation that was losing £1m a day. No government, no company can take a loss like that. Is somebody seriously saying that David Davies could have done a better job of running a steel company? Of course not.
"The best people to run a steel company are the experts who have spent their lives running steel companies. If anyone can make money out of it, they'll make money out of it. What they've done is look at this and they've said they can't make anything out of it with the blast furnaces, but they could if they had an electric arc furnace.
"Let's not forget the environmental argument as well. If this had been a government-run company, I suspect the greens and the environmentalists would have been jumping up and down for years, saying you've got to shut this thing down.
"The Tata steelworks was the largest emitter of carbon dioxide of any industrial plant in the UK. It's the biggest one. It's slightly frustrating that some of the people who were saying we should keep this open were the same people who, dare I say it, were suggesting we should shut down all the oil and gas industry of the UK because it emits CO2. This is the paradox of being a Labour politician.
"This was a loss-making operation that couldn't be sustained – not with the sort of losses it was making. Yet we have the opportunity to build something that can make a profit, that could create jobs, not as many jobs, but still jobs and careers for people for decades to come. And that's what we've chosen to do. I'd hate to see 3,000 people losing their jobs – that's devastating. But it's better than 17,500 people losing their jobs."
Asked why, if it had been losing so many millions for years, remedial measures hadn't been implemented before, Mr Davies said: "That's more of a question for Tata, but I think the model that was being used here was unprofitable. Tata have shown a commitment to the UK by allowing that operation to continue despite the losses it was making.
That's why I# feel that commitment is there and look forward to the electric arc furnace."
Was he confident they would be around for the foreseeable future?
"Yes, I am confident," he said. "I looked them in the eyes today and they absolutely stated that commitment is there."
---
Support our Nation today
For the price of a cup of coffee a month you can help us create an independent, not-for-profit, national news service for the people of Wales, by the people of Wales.