News
Wales would now vote to Remain in the EU, according to two new polls
//= do_shortcode('[in-content-square]')?>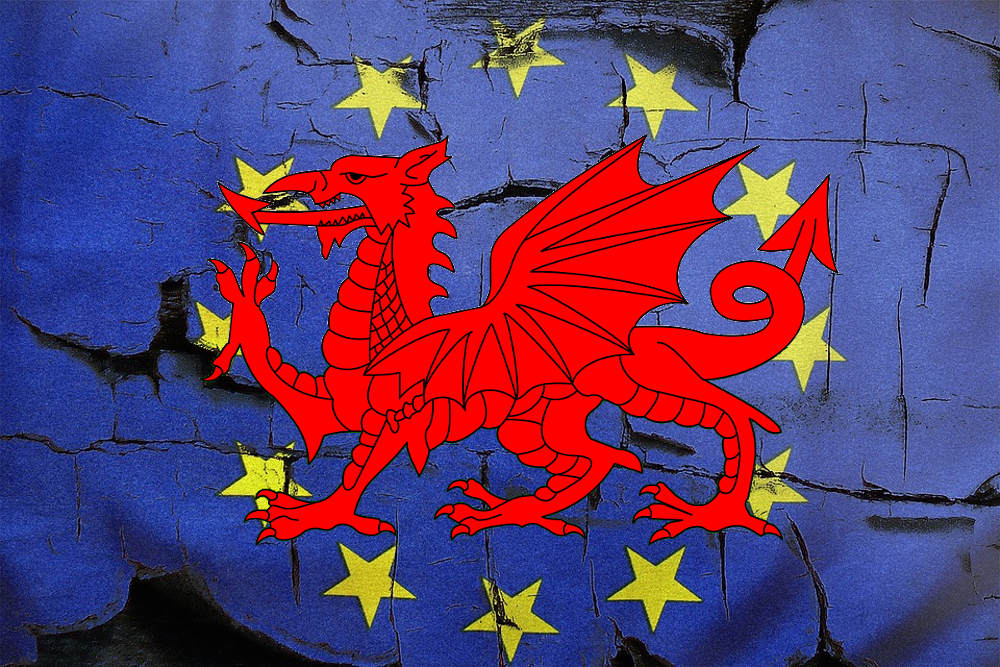 Wales would vote to remain in the EU if the poll was re-run, according to the projections of two new polls published today.
A Survation poll projected that only Pembrokeshire, Torfaen, Flintshire and Wrexham would vote to Leave the EU today, and by small margins of 50.29%, 51.3%, 50.53% and 51.53%.
A YouGov poll for ITV and Cardiff University also projected that 51% would now vote to Remain in Wales, with 20% voting to leave with a deal and 30% with no deal if voters in Wales were offered those three options in a hypothetical referendum.
However, only 41% supported a second referendum in the YouGov poll, with 49% in opposition.
In July 2016, 854,572 (52.5%) voters in Wales chose to leave the EU, compared with 772,347 (47.5%) supporting Remain.
Only five areas – Gwynedd, Cardiff, Ceredigion, the Vale of Glamorgan and Monmouthshire – voted for Remain.
Survation's survey of 20,090 people living in the UK, across every parliamentary constituency, was featured as part of a live discussion programme on Channel 4, "Brexit: What The Nation Really Thinks".
According to the survey, the average Leave vote across Wales would be 46%. Here is the full breakdown of figures for Wales from the Survation poll:
| | | | | |
| --- | --- | --- | --- | --- |
| Local Authority | Leave share 2016 | Estimate leave share 2018 | Change in support for Leave | % would accept the deal |
| Isle of Anglesey | 50.94% | 44.17% | -6.77% | 42.80% |
| Gwynedd | 41.95% | 36.47% | -5.48% | 42.90% |
| Conwy | 53.98% | 48.27% | -5.71% | 45.00% |
| Denbighshire | 54.00% | 49.25% | -4.75% | 44.50% |
| Flintshire | 56.37% | 50.53% | -5.84% | 45.80% |
| Wrexham | 59.04% | 51.53% | -7.51% | 43.70% |
| Ceredigion | 45.37% | 37.08% | -8.29% | 44.00% |
| Pembrokeshire | 57.14% | 50.29% | -6.85% | 45.80% |
| Carmarthenshire | 53.75% | 45.04% | -8.71% | 42.70% |
| Swansea | 51.51% | 43.16% | -8.35% | 42.20% |
| Neath Port Talbot | 56.84% | 46.46% | -10.38% | 40.30% |
| Bridgend | 54.64% | 46.70% | -7.94% | 43.20% |
| Vale of Glamorgan | 49.27% | 45.85% | -3.42% | 44.50% |
| Cardiff | 39.98% | 35.24% | -4.74% | 41.80% |
| Rhondda Cynon Taf | 53.70% | 43.49% | -10.21% | 41.20% |
| Caerphilly | 57.63% | 47.58% | -10.05% | 41.30% |
| Blaenau Gwent | 62.03% | 49.07% | -12.96% | 40.10% |
| Torfaen | 59.78% | 51.30% | -8.48% | 42.60% |
| Monmouthshire | 49.56% | 46.47% | -3.09% | 45.70% |
| Newport | 55.99% | 48.25% | -7.74% | 42.70% |
| Powys | 53.74% | 49.10% | -4.64% | 47.60% |
| Merthyr Tydfil | 56.44% | 47.03% | -9.41% | 40.30% |
| | | | | |
| --- | --- | --- | --- | --- |
| Local Authority | % think goods checks acceptable | % think live/work in other countries acceptable | % think manufacturing regulations acceptable | % think limits of trade deals acceptable |
| Isle of Anglesey | 43.40% | 74.70% | 60.40% | 21.50% |
| Gwynedd | 45.10% | 75.00% | 64.30% | 23.40% |
| Conwy | 43.40% | 73.00% | 58.30% | 19.80% |
| Denbighshire | 42.90% | 73.20% | 59.00% | 21.10% |
| Flintshire | 42.80% | 70.30% | 57.30% | 21.10% |
| Wrexham | 44.70% | 71.00% | 58.90% | 22.20% |
| Ceredigion | 43.90% | 78.20% | 64.00% | 23.20% |
| Pembrokeshire | 43.60% | 73.60% | 57.70% | 21.20% |
| Carmarthenshire | 45.60% | 71.60% | 59.70% | 22.80% |
| Swansea | 43.60% | 74.60% | 60.60% | 23.10% |
| Neath Port Talbot | 45.10% | 71.10% | 60.20% | 24.10% |
| Bridgend | 42.60% | 72.70% | 58.70% | 22.60% |
| Vale of Glamorgan | 40.00% | 74.50% | 59.90% | 20.50% |
| Cardiff | 43.10% | 77.40% | 65.60% | 24.80% |
| Rhondda Cynon Taf | 43.90% | 73.90% | 60.80% | 23.60% |
| Caerphilly | 42.10% | 70.60% | 59.00% | 22.50% |
| Blaenau Gwent | 47.30% | 71.30% | 58.50% | 23.80% |
| Torfaen | 43.60% | 71.80% | 57.80% | 22.30% |
| Monmouthshire | 39.70% | 74.40% | 58.40% | 18.90% |
| Newport | 44.80% | 71.10% | 58.90% | 22.60% |
| Powys | 41.20% | 74.70% | 58.30% | 20.10% |
| Merthyr Tydfil | 43.50% | 71.40% | 59.60% | 23.00% |