News
Watch: Care home residents sing happy birthday to iconic Yma o Hyd singer as he turns 80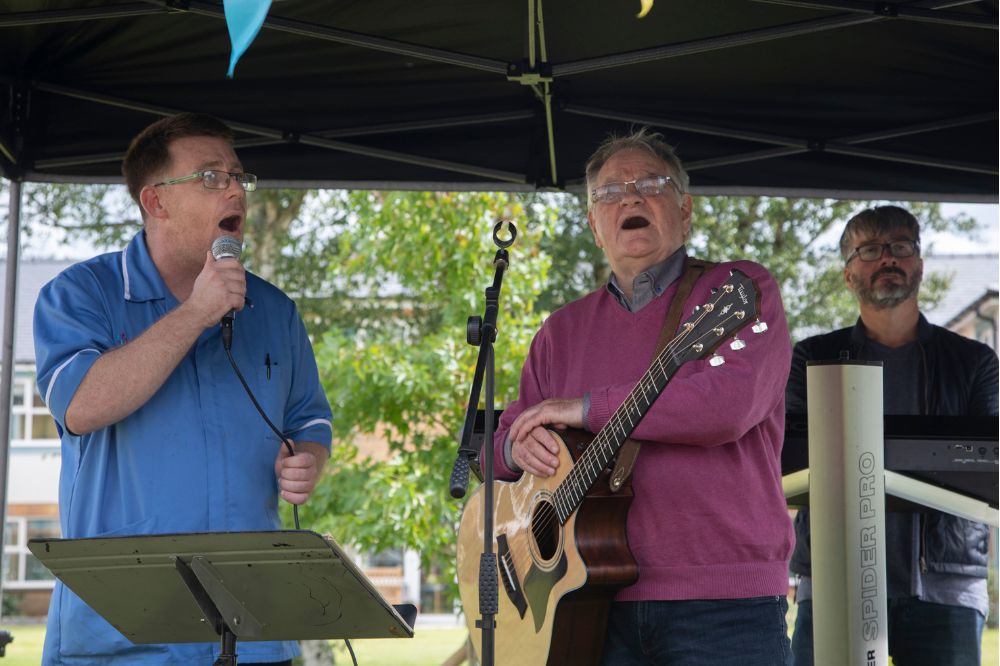 Iconic Yma o Hyd singer Dafydd Iwan was touched when care home residents burst into song to wish him a happy 80th birthday.
The rousing rendition of Penblwydd Hapus took place during a fun day at Pendine Park's Bryn Seiont Newydd care home in Caernarfon where Dafydd was the star attraction.
Two songs into his set the gig was interrupted for an "announcement" by Pendine's creative practitioner, Emyr Gibson, and musician in residence Nia Davies Williams, whose husband Pwyll ap Sion was accompanying Dafydd on the keyboard.
Staff and relatives then joined the residents with musical congratulations for Dafydd on reaching the landmark birthday.
He was a regular visitor to Bryn Seiont before Covid and his hugely popular anthem was adopted by the fans and the Welsh FA during Wales's campaign in the football World Cup which boosted the singer's popularity to stratospheric levels.

Spirit 
Dafydd Iwan said: "I've never been one to make too much of a fuss about birthdays but it's struck me that 80 sounds terribly old.
"You have to adjust your attitude towards age and the singing helps to keep me young of spirit so I don't feel 80 – although the voice feels like that sometimes.
"It was lovely having my old friends at Bryn Seiont singing happy birthday – it was nice to come here today to see some familiar faces.
"It was great to come back and see them responding to the songs. It was a very special experience.
"It's been a while since I was here last because of Covid and everything else but I am going to try and come here more regularly now.
"I have sung to lots of people who are disadvantaged in different ways and singing is a way to connect with them.
"Several different songs break through and lights up the memory for different reasons. I enjoy this experience. It's amazing that people who can't remember their own names can remember words to the songs.
"Someone explained to me that's the last part of the brain to go, the bit that remember things like words of songs, and I find that very interesting.
"You will meet some people who are unable to have a conversation who will sing every word to a song, and that's remarkable. I get a great deal of pleasure from sessions like this.
"It's good that a place like Bryn Seiont Newydd exists for the residents."
Lovely
Emyr Gibson said: "It's been a lovely day and the sun came out so everything came together well.
"We even had people from the local community joining us even though they don't have a relative at Bryn Seiont.
"The icing on the cake was having Dafydd Iwan here – he is a real national hero."
Nia Davies Williams said: "It's been a fantastic afternoon and it's been wonderful having Dafydd back here.
"He was a regular visitor before Covid struck and then everything went bonkers after Yma o Hyd was adopted as the anthem for the Wales football team during the World Cup campaign.
"Dafydd wasn't available to come on the original date we had arranged the fun day but we had to postpone everything for the weather and we were thrilled that he was able to come today and that we were able to help him celebrate reaching his landmark birthday.
"He is a very special man who has time for everybody and after singing he took the time to chat to the residents and their families.
"Dafydd isn't far off the age of many of our residents and the song Yma o Hyd means something special to us here at Bryn Seiont.
"Despite living with dementia, the residents are still here and enjoying the singing."
---
Support our Nation today
For the price of a cup of coffee a month you can help us create an independent, not-for-profit, national news service for the people of Wales, by the people of Wales.