News
Watch: Council meeting descends into chaos after 'Indigenous population' claim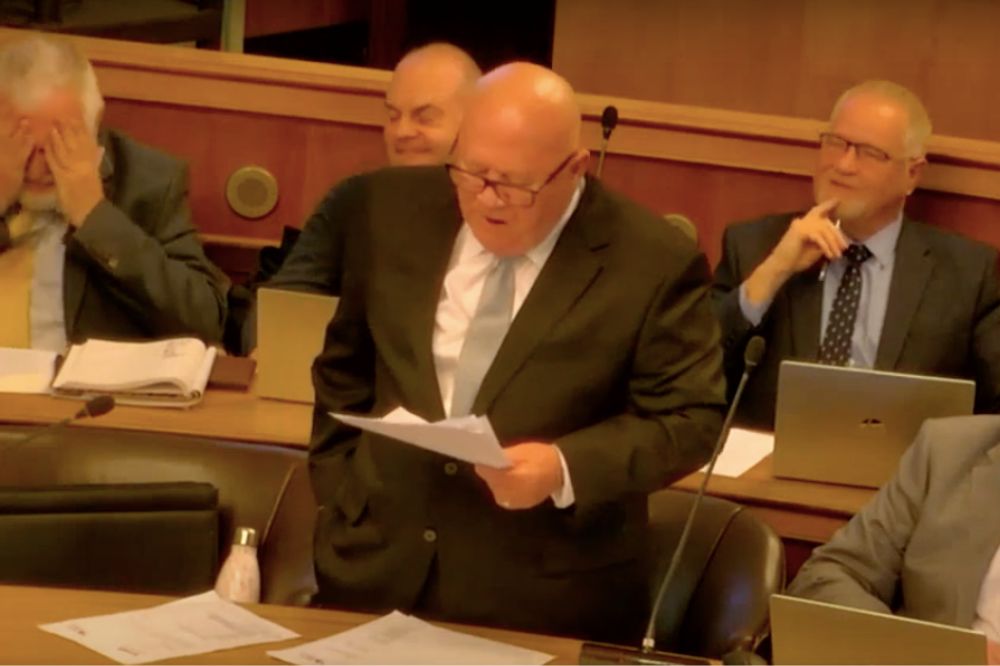 Emily Price
A council meeting descended into chaos this week after a Tory councillor described the people of Wales as "Indigenous" during a rant about asylum seekers.
During a Newport City Council meeting on Wednesday (25 April) councillors debated the implication of the UK Government's controversial Illegal Migration Bill.
Cllr Emma Stowell-Corten introduced the 'city of sanctuary' item and formally moved the motion.
She called on the leader of the council, to write to Prime Minister, Rishi Sunak "in the strongest possible terms" to outline concerns regarding the new legislation which proposes to detain and remove anyone who arrives to the UK by a small boat.
Cllr Stowell-Corten said: "This council also notes the language that is being used to support this bill which has the potential to cultivate and provide a platform for a culture of abuse, racism and even violence against refugees and minorities.
"As an experienced dispersal area, the council has made a firm commitment in our corporate plan to establish Newport as a city of sanctuary.
"This council calls into question the action of the UK Government in bringing forward this legislations and calls upon the Prime Minister and his Ministers to withdraw these proposals.
"We would also request the leader of the council commits to ensuring that Newport City Council gives full support to all partners and stakeholders in Newport currently working towards city of sanctuary status."
Debate
Councillors were then invited to debate the motion.
A number of councillors stood to voice their support for the motion and Cllr Deb Davies shared her own Jewish heritage describing her family members who were forced to flee from Eastern Europe in the early 1800's.
Cllr Davies said: "I am the descendant of refugees, who moved not just for economic purposes, but were asylum seekers who came to the UK seeking sanctuary and were given a place of safety and an opportunity to rebuild their lives."
Councillor Laura Lacy joined in the debate labelling the Tory Government "useless".
When Conservative Councillor William Routley was invited to take the floor, the debate descended into disarray.
"Petty"
Cllr Routley branded the motion a "political posturing distraction" and said there was a housing crisis and "lack of basic needs and services" that needed to be addressed as a matter of urgency.
He said: "Newport has a long long history of providing sanctuary. However I cannot stress enough that the needs of our own Indigenous population must comes first.
"We must priorities their needs and ensure they're not left behind in the pursuit of refuge for others."
Councillor Paul Cockeram called a point of order and asked Mr Routley sit back down.
Off camera, another councillor could be heard saying: "Councillor Routley is becoming far too over emotional to make his point clearly and succinctly."
Cllr Routley stood again and began to argue with fellow councillors branding them "petty petty petty".
Cllr Paul Cockeram intervened again telling Cllr Routley to "leave it there".
After pausing for a few seconds, Cllr Routley responded: "It's still petty" as one councillor seated behind him cradled his head in his hands and others attempted to stifle giggles.

"Cast aside"
Cllr Paul Cockeram raised his voice and said: "Councillor Routley, Councillor Routley, are you kidding? Don't come back with this all the time ok?"
After wrestling with the microphone, the Tory councillor continued his debate.
He said: "Newport citizens must never be overlooked and cast aside as you would suggest an open door policy here.
"For just because of political posturing we must make sure there's enough education spaces, which we don't have, we must make sure there's enough health care spaces, which we don't have.
"We've got tens of thousands of people who are desparelty seeking proper accommodation. I want to have a policy that is meaningful but there's no good bringing refugees here if you can't house them, educate them and look after them."
Although Cllr Routley voted against the calls for Newport City Council to give full support to all partners and stakeholders currently working towards city of sanctuary status, the motion was still carried due to the majority of councillor's voting in favour of it.
Nation.Cymru contacted Cllr William Routley and asked what he meant by "Indigenous" but he did not respond.
---
Support our Nation today
For the price of a cup of coffee a month you can help us create an independent, not-for-profit, national news service for the people of Wales, by the people of Wales.