News
Watch: The extraordinary videos of an English woman who woke up Welsh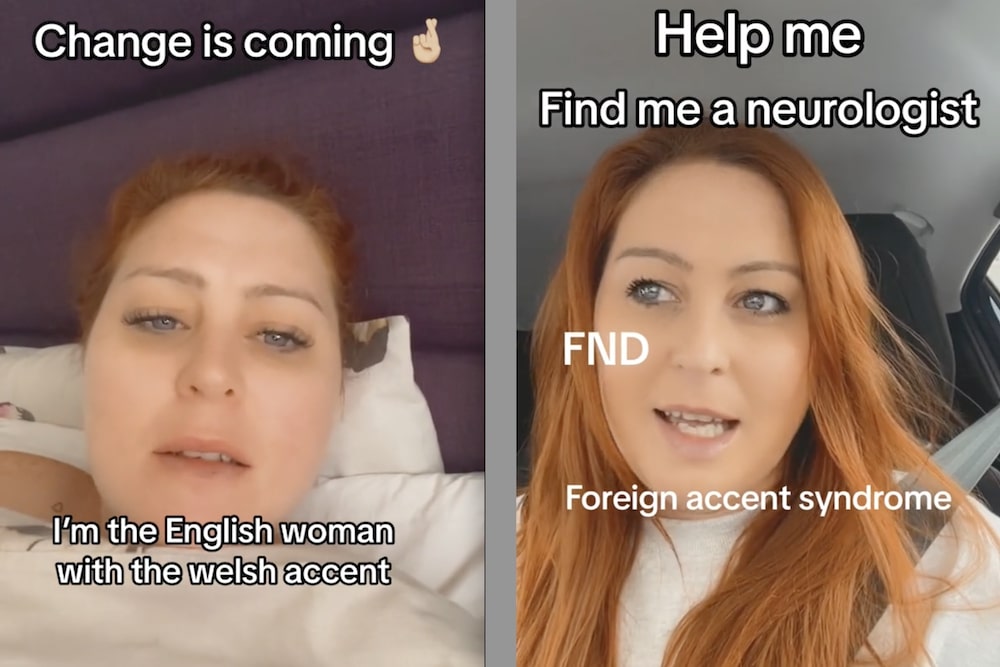 A TikTok video in which a women says she abruptly woke up with a Welsh accent has attracted global attention.
In a video posted on their social media platform this week, Zoe Coles from Lincolnshire, revealed how she had to stop working her job in a pub due to her vocal changes when her voice transformed from her original accent, to German and then into Welsh.
She was diagnosed with Functional Neurological Disorder (FND) in 2022 and now believes she has Foreign Accent Syndrome (FAS) – a speech disorder that gives native speakers the feeling they sound like they're speaking in a foreign accent.
"Is there any neurologist out there who would want to work with me?" she asked in the video. "Is there any neurologist who'd want to help figure out what's going on in my brain?
"I woke up with a Welsh accent six weeks ago," Zoe added. "Something isn't right up there, and I want you to figure out what it is, please."
In the weeks since she says she woke up involuntarily sporting a Welsh accent, Zoe has posted numerous TikTok videos seeking assistance and guidance from the public. She has also been posting about foreign accent syndrome.
"I'm not sure when it's going to leave," she said. "Never in my life have I been able to mimic an accent, and here I am, acing it."
"It won't go away, I think it's stuck."
After she appealed for medical help when her TikTok videos went viral she has been inundated with messages and offers of support.
In her latest video titled 'Change is coming', a clearly emotional Zoe said: "What a 24 hours I've had. So many DMs, so many private messages, emails, phonecalls, comments, my video is all over. It's all over the internet, the socials, it's everywhere and I'm so glad that it is, because this is my step forward to getting help.
"Hopefully a neurologist will step forward, or a couple of them. We'll team together and we'll work on this and hopefully, fingers crossed, we can start helping others as well."

---
Support our Nation today
For the price of a cup of coffee a month you can help us create an independent, not-for-profit, national news service for the people of Wales, by the people of Wales.