News
Watch: University political meeting with Tory MS descends into chaos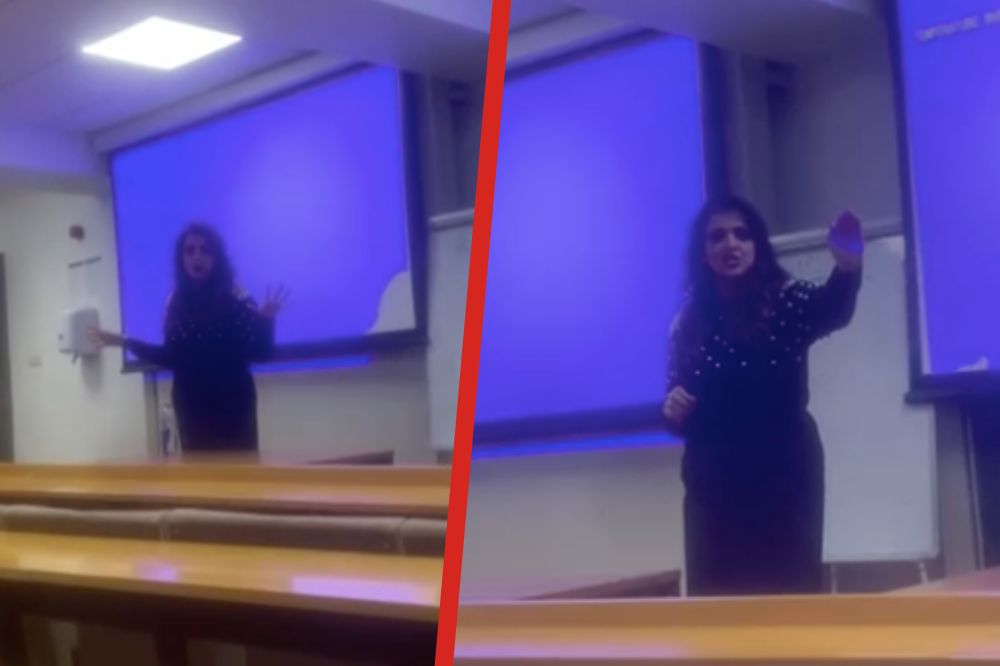 Emily Price
A political meeting at Cardiff University descended into chaos after protestors challenged a Tory MS for failing to back a Plaid Cymru motion calling for a ceasefire in the Middle East.
The Welsh Conservative shadow minister for transport, Natasha Asghar MS was invited to appear as a guest at the Cardiff Politics Society on Monday evening (November 13).
Students picketed the meeting outside the building and in the corridor whilst others attended the event to question Ms Asghar on her decision to vote against Plaid Cymru's motion which was debated in the Senedd last week.
In the days leading up to the debate, an amendment was tabled by Tory MS Darren Millar proposing that the word 'ceasefire' was removed from the motion and the term 'suspension of hostilities' was used instead.
However, this amendment was not voted through and Welsh Conservative MSs subsequently voted against Plaid Cymru's motion calling for a ceasefire.
Video footage obtained by Nation.Cymru shows protestors with banners chanting, "Natasha, Natasha, you can't hide, you support genocide" and "shame on you".
In one of the clips Ms Asghar accuses Plaid Cymru of "sheer racism".
She can be heard saying: "If you notice, there are parties like Plaid Cymru, who have had Muslim members before. But they've had the highest number of defections why? Because of sheer racism.
"And for that purpose it's really important that Muslim communities realise this that for a party that has unfortunately been really really badly behaved towards Muslims, here in Wales, here in the United Kingdom, it's very very sanctimonious for that very same party to be standing there saying that we're really going to support the Palestinian Muslims when they can't even treat the ones here properly with respect and dignity."
Plaid Cymru has refuted these allegations.
A spokesperson said: "Elected members should be treated with respect and feel safe when undertaking their duties. Similarly, Members should set an example themselves by not resorting to slurring their opponents and lowering the tone of debate.
"The allegation levelled at Plaid Cymru in this instance is a terrible slur. She should withdraw it and the Conservative party should distance itself from her comments. Plaid Cymru is proud of being a party for everyone and will continue to work towards a Wales that is fair and inclusive for all."
Tensions have been rising since the Gaza Strip was hit by devastating Israeli air strikes in retaliation to Hamas militants who launched an attack on Israel on October 7.
Critics have accused Israel of indiscriminately killing civilians and committing war crimes by cutting off essential supplies like food, water and fuel.
Hundreds of thousands of marchers congregated in London and across the UK at the weekend calling for an end to hostilities.
The Senedd along with the Scottish Parliament have both called for a ceasefire.
In the video however, Ms Asghar could be heard telling students that Welsh politics has "zero influence on international relations".

Crises
Adam Johannes from Cardiff Stop the War Coalition said: "Polls show that the majority of people in Britain favour an immediate ceasefire, but the majority of politicians want the slaughter to continue. This is creating a crisis in the political system.
"In one month, Israel has dropped more bombs on the tiny prison that is Gaza than the US dropped on Afghanistan in an entire year at the peak of the war. 40% of the slaughtered are children.
"Many students and young people are shocked at what is happening, and there was anger and pain and trauma at Natasha Asghar's vote to continue a genocidal war.
"Students picketed the meeting outside to show the level of anger, many also attended the talk to challenge the Tory politician."
The Senedd regional member for South Wales East told Nation.Cymru she attempted to answer questions put to her by students but she was forced to run from the building via a back stairwell.
Video footage shows Ms Asghar running down some stairs whilst someone off camera can be heard saying, "I hope you have your running shoes on Natasha."
In a statement Natasha Asghar, Member of the Senedd for South East Wales, said: "Whilst I accept people have the right to protest, the scenes which unfolded at Cardiff University last night were totally unacceptable, and I am deeply troubled to see some of those protesters painting a very one-sided view on social media.
"Chanting all sorts of hateful messages including calling me a 'murderer', ramming doors to try to gain access to the room I was in, and pounding on the walls from start to finish is absolutely uncalled for.
"Most of the students in the room were there because they have a passion for politics and wanted to genuinely learn about my role as a Member of the Welsh Parliament and the work we do. I feel incredibly sorry for them that they had to endure this and that a vocal few attempted to ruin their evening.
"Despite repeated attempts to explain my point of view following last week's vote, and answer their questions, many of the protesters simply would not listen and engage and instead continued disrupting the event because they didn't like my answers.
"I am not prepared to be bullied and intimidated into not attending important events like these, and I would like to say a huge thank you to my team, the police and the university's security team for keeping me safe.
"Nevertheless, it was an absolute joy to speak to students from the Politics Society, who asked me some fantastic questions, and I have no doubt many of them have bright careers ahead of them in the political arena."
---
Support our Nation today
For the price of a cup of coffee a month you can help us create an independent, not-for-profit, national news service for the people of Wales, by the people of Wales.