News
'We don't want to be forgotten' – unpaid carers' appeal to the Senedd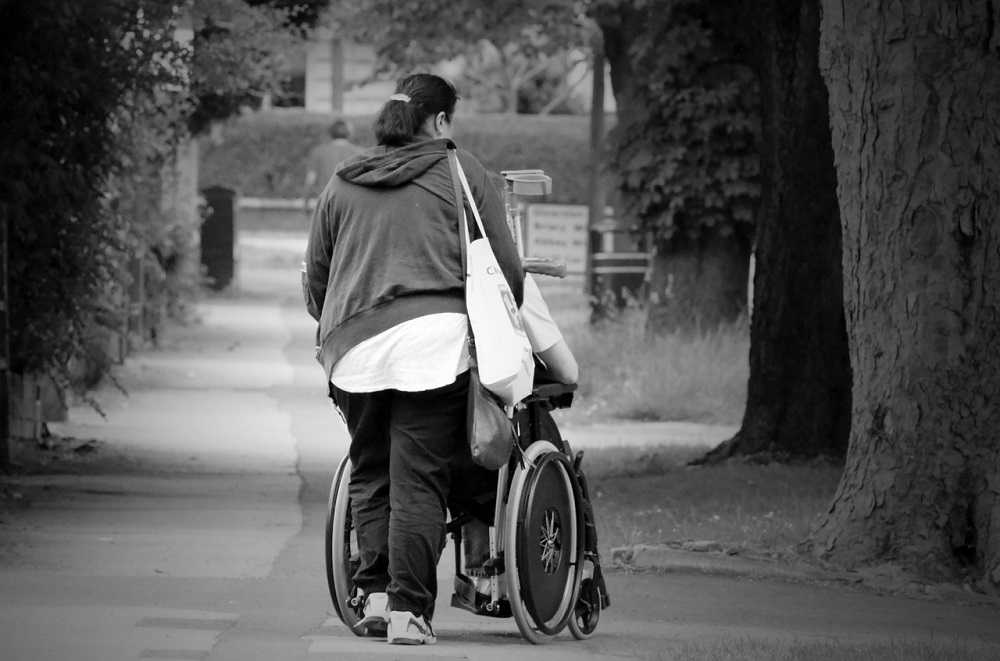 Welsh politicians will be asked to open their eyes and hearts to the experiences of unpaid carers from across Wales at an exhibition in the Senedd today.
The innovative event, 'Caring Craftivists: Stitching Threads of Change', is the culmination of months of work by unpaid carers who are sharing their deeply personal and moving experiences of the physical and financial toll caring has on them.
The project is designed to address the invisibility many carers feel and has been coordinated by We Care – a grassroots campaign run by and for carers – and Oxfam Cymru, with the support of renowned textile artist Vanessa Marr.
80 unpaid carers have been stitching their experiences of caring onto lowly yellow dusters, which will be hung and displayed on a simple washing line in the Senedd's Nuadd.
The exhibition on Tuesday (October 24) comes ahead of the first ever UN backed International Day of Care and Support on October 29th, which aims to raise awareness of the work of unpaid carers globally.
Clare Cremona, from Pembrokeshire, is an unpaid carer for her two autistic children, one of whom has complex needs.
Clare says her duster, which is dominated by a powerful question; 'I care, do you?' has a double meaning, and represents both people's roles as carers alongside how carers are valued.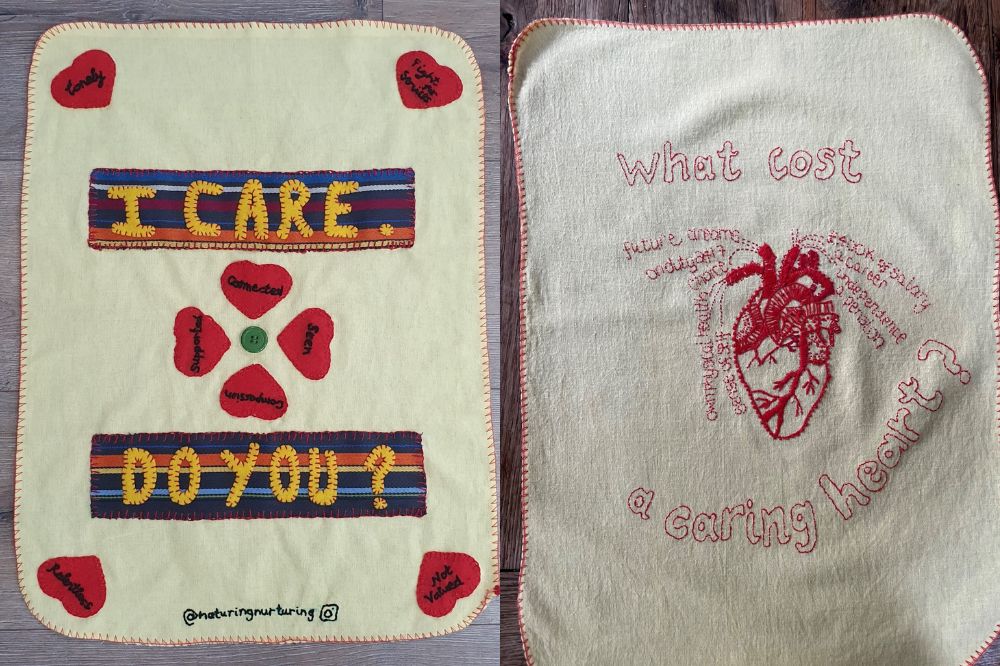 Clare said: "Being a carer is a 24/7, very difficult job and you can often feel forgotten about and very isolated. People rarely ask you how you are, but if they did, stretched and stressed would be the answer a great deal of the time.
"Most of us will become carers at some point in our lives, yet our contribution to society is completely undervalued. Carers need to feel connected, supported and seen and for that to happen we need compassionate leaders who treat us with respect; who see us, value us and support us."

Overlooked
It is estimated that 10% of the Welsh population are unpaid carers, yet Oxfam Cymru and We Care say carers' wellbeing and contributions to Wales are too often overlooked.
Katy Styles, founder of We Care, is urging the Welsh Government to listen to the experiences of carers and to act on calls from carers' organisations to introduce an official register for unpaid carers in Wales.
Katy said: "Throughout our project, we often heard of the crushing loneliness that can be a consequence of caring. Today's exhibition seeks to thread together carers' isolated experiences into a beautiful, powerful insight into what it's like to be a carer in Wales today.
"By bringing carers' voices to the corridors of power, we hope to push carers' needs higher up the political agenda through opening Senedd Members' eyes and hearts.
"We know that across Wales many people who are looking after others don't even consider themselves as an unpaid carer: they're just doing whatever's needed to look after a person that they love.
"Introducing a carers' register in Wales would not only shine a light on the invaluable work of unpaid carers, but it would also help people access the advice and support they're entitled to."
According to Carers Wales' research, the vast majority of carers are not having their needs assessed or getting the support needed, with only 15% of carers in Wales had received a carers needs assessment, despite carers having a right to an assessment under the Social Services and Wellbeing (Wales) Act 2014.
We Care and Oxfam Cymru say the creation of a national carers' register would also help deliver the Welsh Government's Loneliness Strategy: which cites the identification of unpaid carers as a key priority.
According to the Welsh Government's own data, unpaid carers of all ages are at increased risk of experiencing loneliness and social isolation and are seven times more likely to say they are always or often lonely compared with the general population.
The organisations say that the Welsh Government must do more to support the nation's carers and tackle the isolation they face.
Sarah Rees, Head of Oxfam Cymru, said: "All over the world societies and economies are built on the backs of unpaid carers; most of whom are women. Every day, unpaid carers are going over and above to look after the people they love, despite the high personal and financial cost caring can entail.
"While today we're exhibiting carers' creations on a simple washing line, too often it is carers themselves who are left hung out to dry: by politicians, employers and a society that systemically undervalues and under rewards their crucial work.
"Carers' contributions to Welsh life are invaluable, but invisible; and the Welsh Government must do everything in its power to recognise and reward their efforts and build the caring country we all want to live in."
---
Support our Nation today
For the price of a cup of coffee a month you can help us create an independent, not-for-profit, national news service for the people of Wales, by the people of Wales.