News
Welsh ballet dancer to take on London Marathon in aid of Parkinson's Cymru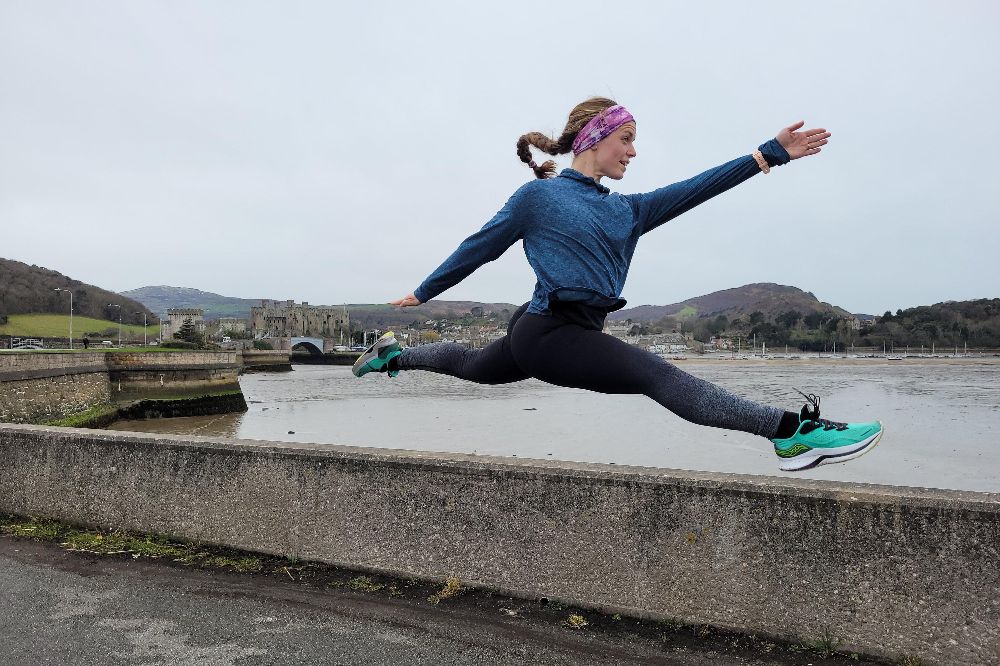 A top Welsh ballet dancer is planning to take on the London Marathon this year in aid of Parkinson's UK Cymru.
Angharad Harrop, has been inspired by the determination of members of her dance and movement class who have Parkinson's and she plans to undertake the gruelling run on April 23.
The mother of three leads the National Dance Company Wales and English National Ballet as well as the Dance for Parkinson's classes at the Pontio centre in Bangor.
She will take on the 26.2 mile run despite breaking her cruciate ligament twice.
"I was looking for a new challenge after submitting my PhD and a message came through from Parkinson's UK asking people to run the London Marathon on behalf of the charity. I've never even run a half marathon before. I've only ever run a 10k.
"I tore my cruciate ligament when I was 15 so that put a stop to my running as a teenager. I tore it again just after having my daughter Dalyth and I had to have surgery to fix it. The surgeon told me afterwards 'Don't run any marathons and you'll be fine!'
"But after having children I needed some time outside of the house so I started jogging during the lockdown. I thought if I built it up slowly it might be fine. That's what I've done and it's been okay so far.
"The most I've run in a day so far is 16 miles. The week after that it'll be 18 miles, and the week after that it'll be 20 miles. That's the cut off point. After that you're tapering – if you can run 20 miles you can run a marathon."

Motivation
Angharad explained her motivation to run the marathon has been the people she's met through the Dance for Parkinson's programme.
She said: "When you speak to people you find that there are more people out there who have Parkinson's, some of whom don't want to tell anyone they have the condition. But if they come to something like Dance for Parkinson's, the gentle movements help them so much.
"It helps them move, but also to meet other people who have the condition so they don't feel like they have to deal with it alone. The members of the class come not because it's necessarily in their comfort zone but because they know that it's good for them to come.
They've also made friends and that's why they come back. We want to build up our group in Bangor to get more people in.
"I want to raise awareness of Parkinson's UK and what they do to help people who have the condition as well as raise money for the charity.
"The members of the dance class have inspired me to do this. I wanted to do something that was totally outside of my comfort zone.
"I've also asked my family to donate money to Parkinson's UK through my fundraising page instead of giving me birthday or Christmas presents this year."
Parkinson's is the fastest growing neurological condition in the world and almost 8,000 people are currently living with the condition in Wales.
The Parkinson's community is currently gearing up for World Parkinson's Day on April 11, which will be marked by a series of events across the country to raise awareness of the condition – and shine a light on the determination and creativity of many of the people living with it.
Grateful
Keri McKie, Regional Fundraiser for Parkinson's UK Cymru said: "On behalf of Parkinson's UK Cymru, I would like to thank Angharad for what she is doing to raise money for the charity.
"As a charity, we're very lucky to have a number of runners taking part in the London Marathon this year and we're very grateful to them for their efforts.
"Parkinson's is the fastest growing neurological condition in the world. There's currently no cure. But as the largest European charitable funder of Parkinson's research, we're determined to change that. We've invested over £100m in vital research that has delivered groundbreaking discoveries, new medications and better care.
"The money that is donated will go towards improving the lives of people who have Parkinson's and funding important research into the condition which has the potential to lead to better treatments. We wish Angharad good luck for the marathon."
---
Support our Nation today
For the price of a cup of coffee a month you can help us create an independent, not-for-profit, national news service for the people of Wales, by the people of Wales.