News
Welsh Conservative 'International Men's Day' motion receives cross party support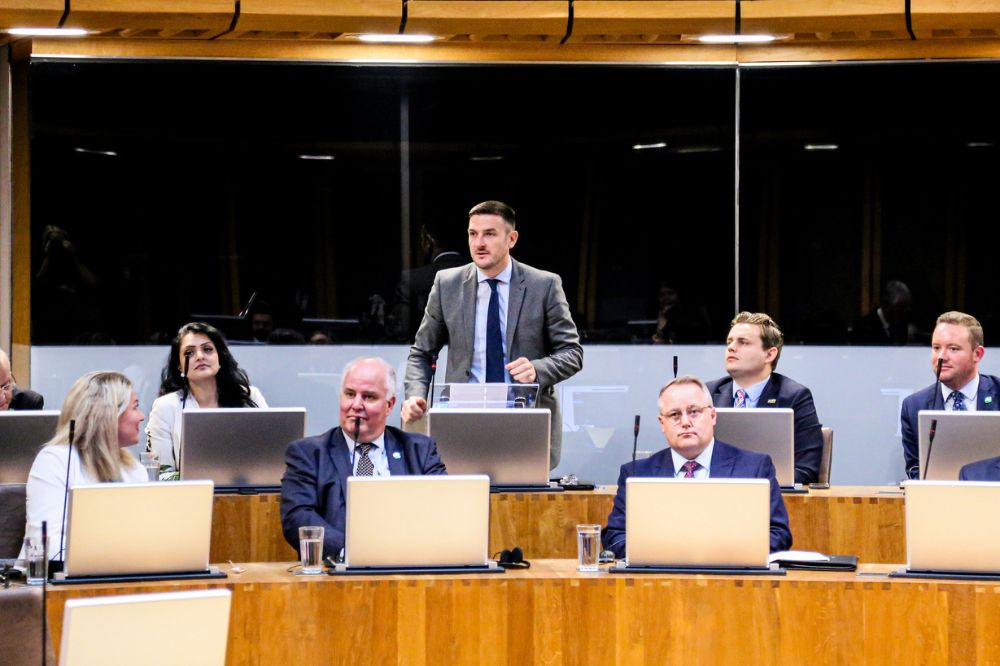 Emily Price
A motion brought by the Welsh Conservatives to mark International Men's Day has received unanimous cross party support in the Senedd.
International Men's Day falls on Sunday, 19 November and celebrates worldwide the positive value men bring to the world, their families and communities.
In a first of it's kind debate held on Wednesday evening (November 15), Members of the Senedd gathered in the chamber with some disclosing their own personal experiences of mental health.
Opening the debate, Shadow Minister for Mental Health, James Evans MS Senedd said: "Mental health issues amongst men is a topic rarely spoken about, and I welcome the opportunity today to highlight this.
"According to a report, one in every eight men experience a symptom of mental health, and 35.2 per cent of men believe that they have had a diagnosable mental health condition at some point in their lives, and that statistic is shocking.
"It does highlight the grave impacts that mental health can have on men's lives."
Labour's Jack Sargeant MS joined the debate and touched on his own experiences of losing loved ones to suicide.
He said: "I have lost far too many people personally to suicide. Six years ago last week, I lost Dad. Fourteen months ago tomorrow, I lost my best friend of 20-plus years.
"It's the biggest cause of death in men under 50; dad was 47, Jamie was 28. I must say that without the support network of my friendship group, my girlfriend and my family, me coping on a day-to-day basis may be very different.
"And believe me, I have my own dealings with mental health and struggles with mental health quite regularly. I've said before that I take medication on a daily basis to help with my depression and post-traumatic stress disorder."
Welsh Conservative MS, Gareth Davies also pointed to his own mental health struggles.
He said: "I share quite openly the mental health problems I have had and continue to have, and have spoken in this Senedd Chamber in great detail in the past.
"The reason I wanted to raise that is not for self-promotion or publicity; that was to use my role as a Member of the Senedd to highlight those problems, to increase awareness and help men and people in general who don't feel like they have a voice to speak up to contact their local GP or mental health services and to share their issues in a safe environment with the right people at the right time."
Plaid Cymru's Mabon ap Gwynfor MS pointed to the issue of "toxic masculinity".
He said: "From a wider societal perspective, it's also our moral duty to challenge toxic masculinity wherever it's found and to promote a modern version of masculinity that's inclusive, emotionally well rounded and which views efforts to achieve gender parity in all walks of life as something to be celebrated rather than a threat.
"Gender equality benefits us all. Let this be our rallying cry for International Men's Day this year."

Suicide
Deputy Minister for Mental Health and Well-being, Lynne Neagle MS contributed to the debate saying: "As Members have said, the global theme for this year's International Men's Day is zero male suicide.
"Preventing and reducing suicide is a top priority for me, and whilst the causes of suicide are complex, suicide is preventable and is not inevitable.
"We know that men are three times more likely to die by suicide than women, with the highest rates among men aged between 40 and 49."
At the end of her statement, she added: "Whilst our ambition is to promote and support the mental and physical well-being of everyone in Wales, we recognise that certain groups have particular needs, including men.
"As the proud mother of two boys, I can tell you that I constantly talk to my boys about their feelings and I will continue to do so.
"We must all ensure that we support our brothers, fathers, sons and friends to speak up about their mental and physical health and to seek help when they are concerned."
Welsh Conservative MS Laura Anne Jones closed the debate saying it had been "interesting, informative and concerning in equal measure".
She went on to reference the impact of mental health on young farmers and praised the work carried out by charities such as the Samaritans, Royal Agricultural Benevolent Institution, the Farm Safety Foundation.
Ms Jones ended by saying: "I hope that on this International Men's Day that we will now all be redoubling our efforts to ensure that no man is left behind.
"This debate today is for your sons, fathers, uncles, grandfathers, friends, and I therefore urge all of you to support our motion today."
The Welsh Conservatives Senedd motion received unanimous support from Labour, Plaid Cymru and the Liberal Democrats.
Speaking after the debate, Mr Evans said: "The Welsh Conservatives tabled this important debate ahead of International Men's Day to ensure that the issues disproportionately affecting men were recognised and discussed in the Senedd. 76% of suicides in Wales are committed by men, with it being the biggest killer of men under 35.
"Highlighting International Men's Day is a positive way of raising awareness of men's mental health issues, which is exactly how we begin to address them. The vital point being that we must encourage people to come forward and seek help when they need it.
"I was grateful to be able to bring this motion forward in the Senedd and proud of the cross-party support it received."
---
Support our Nation today
For the price of a cup of coffee a month you can help us create an independent, not-for-profit, national news service for the people of Wales, by the people of Wales.