News
Welsh councils back RSPCA measures to help combat fireworks fear
The majority of Welsh local authorities have introduced RSPCA endorsed rules and policies aimed at keeping animals and people safer this Bonfire Night.
In recent years, the animal welfare charity has been working with local authorities across Wales urging them to introduce specific measures aimed at improving public awareness and preparedness around the Bonfire Night celebrations.
Many councillors have put forward RSPCA-backed notices of motion to council meetings urging their local authority to adopt the measures, while others have amended council rules and regulations in the aim of offering more support to vulnerable people, pets, livestock and wildlife.
Across Wales, 14 local authorities have introduced some RSPCA-backed measures to help protect animals from fireworks. In addition, a number of councils have also downloaded the RSPCA's dedicated toolkit for local authorities to support their work locally.

Necessary precautions
Measures adopted include public awareness campaigns about the impact of fireworks on animals, ensuring all displays on council land are advertised far in advance so residents can take necessary precautions.
The sale of quieter or low-noise fireworks has also been promoted to local businesses.
Lee Gingell, RSPCA public affairs manager for local government, said: "It's really positive that so many local authorities have taken proactive steps to help protect animals during the fireworks season – and we hope these measures will ease the stress and fear many animals experience at this time of year.
"We've worked with councils across Wales and England on a suite of policies aimed at helping pet owners feel prepared, and ensuring our communities are planning ahead and considering the risks to animals."
He added: "From awareness campaigns, to encouraging businesses to stock lower noise fireworks, and advertising displays in advance, there's loads of great work going on at a local authority level ahead of this Guy Fawkes Night.
"Many councils have helped us by urging the UK Government to take further action too. It's a great reminder of what we can achieve together for animal welfare.
"We'd like to thank all the councillors and councils across Wales and England who've worked with us – and would urge others to consider best practice and ensure these positive measures are implemented in all local communities across England and Wales."
Welsh local authorities
Welsh local authorities which have implemented RSPCA-backed measures:
Caerphilly County Borough Council
Carmarthenshire County Council
Conwy County Borough Council
Denbighshire County Council
Flintshire County Council
Gwynedd Council
Isle of Anglesey County Council
Neath Port Talbot County,
Newport City Council
Pembrokeshire County Council
Rhondda Cynon Taf County Borough Council
Swansea Council
Torfaen County Borough Council
Wrexham County Borough Council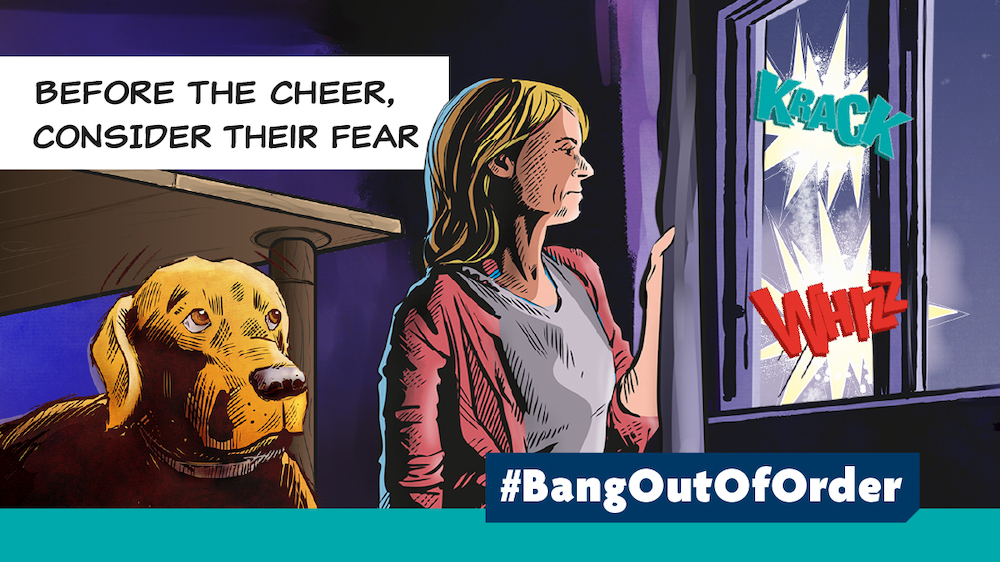 Push for UK Government action
In addition to its work with councils, the RSPCA is urging the UK Government to amend fireworks regulations to better protect pets, wildlife, and farm animals.
The charity wants the UK Government to limit the sale and use of fireworks to one week around Bonfire Night, and other traditional dates – such as Diwali, Chinese New Year and New Year's Eve/Day, meaning 'firework season' would last for a much shorter timespan than is currently the case.
The charity is also calling for the UK Government to support firework control zones, prohibiting displays near horses' habitats, sensitive wildlife areas, farms, zoos and animal centres.
Carrie Stones, campaign manager at the RSPCA, added: "Fireworks are impacting animals each and every year – both during firework season when marked to celebrate traditional events and – more unexpectedly – out of season for other occasions.
"While many people enjoy watching displays, for many animals the dazzling spectacle of fireworks often becomes a terrifying ordeal.
Ms Stoned added: "Sadly we are inundated with calls each year about welfare concerns for animals connected to fireworks and we hear first-hand how frustrated the public are that the Bonfire Night period seems to last longer than ever before."
Top tips for pets
The RSPCA has also re-issued its top tips for pet owners ahead of the Bonfire Night weekend.
Storm Ciaran could hit many organised displays this year – and the RSPCA fears this will lead to more impromptu, DIY displays at home which can add to the stress and risk for animals.
The RSPCA's top tips for animal owners are:
Update your pets collars and ID tags checking the information is correct, in case they manage to escape and become lost during fireworks.
Microchip your pets and ensure that their details are up-to-date, so they can be easily reunited with you if they go missing.
Seek expert help – If your pet has a severe fireworks fear then speak to your vet now to come up with a plan or to discuss whether there are any treatment options to help them. If necessary, your vet can refer you to a professional clinical animal behaviourist.
Introduce changes to your pet's routine slowly – The RSPCA recommends walking dogs during daylight during fireworks season so if this is different to your normal routine, begin to alter the time of your pet's walk to get them gradually used to it. For equine owners, it's also sensible to keep your horse in a familiar environment, following their normal routine with their usual companions. If you're planning to bring your horse or livestock into a stable or barn overnight during fireworks, start to introduce the change of routine now to get them used to being in.
Provide your dog or cat with a safe haven – Create a doggy den in a quiet area of the house and make it a special safe place by placing tasty treats and favourite toys inside. Make sure your cats always have access to plenty of places around the house to hide.
Prepare a designated safe room for small animals like rabbits and guinea pigs, ensuring that they have plenty of bedding to hide in.
If your horse is particularly anxious, consult a veterinarian about the use of a calming supplement or sedation during firework displays.
Consider desensitising your pets to the sound of fireworks by gradually introducing recordings at low volume and gradually increasing it over time.
The RSPCA recommends Sounds Scary which comes with guidance on how to use it.
Check for local firework displays advertised or planned in your area, and plan your walks or trips outside accordingly to avoid areas with loud noises.
Speak to neighbours – If you want to plan for dates of local displays then check local press and websites and speak to your neighbours and local councils/schools etc to find out dates ahead of time so you can plan now to help your pet. Ask organisers to site fireworks well away from your horse and aimed in the opposite direction. Instead of having your own fireworks display, attend a public display instead, but, if you are having a backyard display, be neighbourly and notify your neighbours well in advance, especially those with pets, horses and livestock or those who may be vulnerable to loud noises.
During fireworks displays
Bring pets inside – If you're planning to bring them indoors to better protect them then start to make this change ahead of fireworks night to get them used to the new sights, smells and sounds inside.
Soundproof your house – Simple steps like closing windows and curtains can help your house seem safer to your pet and reduce the sound and visual stimulation from the fireworks.
Pop the radio on – tune into Classic FM's 'Pet Classics' programme, in partnership with the RSPCA, on Saturday 4 and Sunday 5 November – so your pet can enjoy soothing and comforting classical music, handpicked by Classic FM to help calm and settle any anxious pet.
Stay at home with your pets if possible during firework displays to provide comfort and reassurance.
Consider pheromone diffusers – Speak to your vet about using a calming collar or diffuser which disperses calming pheromones which may help your dog or cat feel more secure.
Provide extra bedding – Rabbits, guinea pigs and other small animals who live outside should have extra bedding to burrow into or you can cover their housing with a blanket for extra sound-proofing. Begin to introduce this now.
Create a distraction for your pets by engaging them in interactive play or giving them puzzle toys that dispense treats.
Avoid bringing your pets to fireworks displays, as the loud noises and crowds can be overwhelming and stressful for them.
Keep horses or livestock secure in a well-fenced area during fireworks events
Give your pets plenty of exercise during the day to tire them out, as this can help reduce anxiety and stress in the evening.
Use positive reinforcement techniques to help your pets associate firework noises with something enjoyable. Offer treats, playtime, or cuddles during quieter moments so they can form positive associations with the sounds of fireworks.
To find out more visit: www.rspca.org.uk/adviceandwelfare/pets/general/fireworks
---
Support our Nation today
For the price of a cup of coffee a month you can help us create an independent, not-for-profit, national news service for the people of Wales, by the people of Wales.