News
Welsh cultural figures criticised for taking part in 'Putin propaganda event'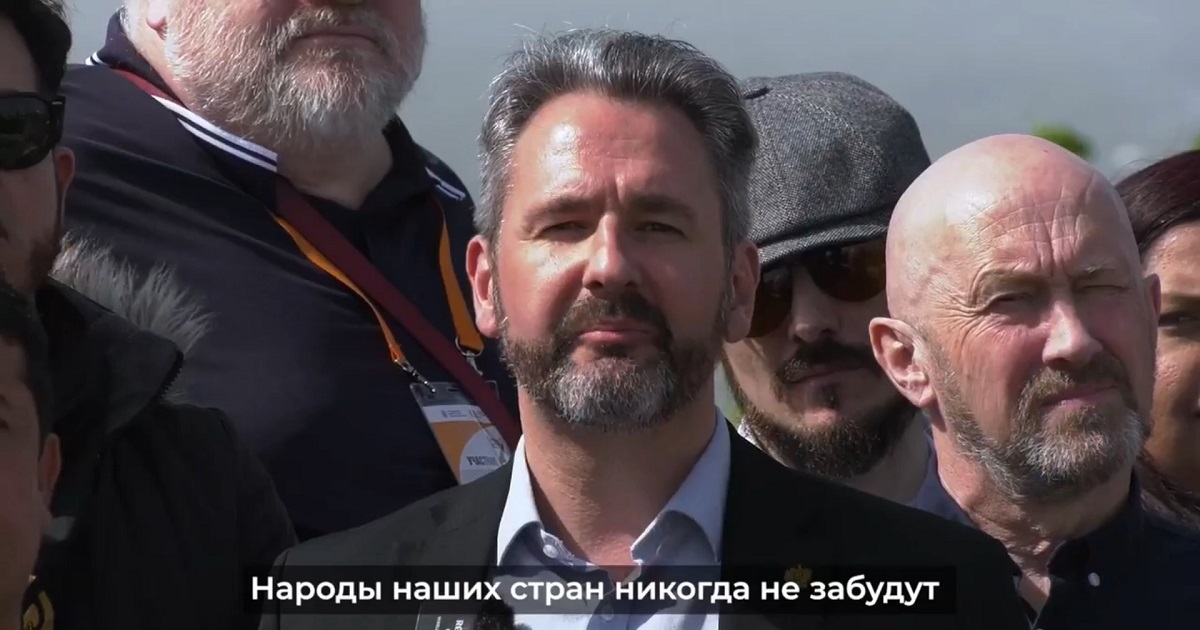 Martin Shipton
Two members of Wales' cultural community have been strongly criticised after travelling to Russia and participating in what has been described as a propaganda event aimed at boosting support for Vladimir Putin's invasion of Ukraine.
Musical conductor Craig Roberts and children's author Mike Church went to Samara, a city about 600 miles southeast of Moscow, for an "anti-fascist song festival" during which invited artistes performed on a stage emblazoned with the letter Z, the symbol associated with Putin's "special military operation".
Independent journalists who covered the event said Russian Army recruiters were present, trying to sign up volunteers to join the war on Ukraine.
According to the independent newspaper Novaya Gazeta, the festival was sponsored by the Moscow Caledonian Club, a Scottish cultural centre that operates with official sanction, as well as by the Kremlin.
The closing "gala concert" was headlined by a Scots piper called Jimi McRae, and the army recruiters were reportedly targeting men who watched him perform.
In Scotland SNP and Conservative politicians have condemned the decision by Mr McRae, from Galashiels, to take part in the event alongside performers and organisers who repeatedly referred to the war in Ukraine as an operation against Nazis.

Evil
Novaya Gazeta, an independent newspaper, reported that the head of the Moscow Caledonian Club, Vitaly Mironov, took to the stage to say that anti-fascist songs would once again inspire the fight against evil.
Although Mr McRae did not respond to requests for comment from The Times newspaper, he has previously written about a previous trip he undertook to Russia, also courtesy of the Moscow Caledonian Club, at the end of last year. Stressing that he was a piper not a politician, he wrote in a blog: "I was brought up to believe that there are always two sides to a story. Indeed, as the current European crisis demonstrates, there are probably multiple perspectives on any complex situation."
At the latest event, Mr McRae as well as Mr Roberts and Mr Church took part in a video manifesto repeating core Putin messages about the Russian people facing "complete annihilation" and referring to an unnamed Western fascist power.
Novaya Gazeta reported that Mr Church had caused discomfort when he cited western views of the war on Ukraine during a discussion at Samara University which took place as the festival was underway. The newspaper said that an interpreter did not translate his remarks accurately.
The paper said that Mr McRae had been a "people's favourite" in Samara and that his renditions of Russian folk songs had gone down well. However, it added that Mr McRae, who calls himself Jimi the Piper, "in the best traditions of music festivals did not always appear to be completely sober".
Manifesto
Mr McRae also fronted a video "manifesto" citing Putin's justifications for his invasion of Ukraine, including the claim that the existence of the Russian people was under threat. The two Welsh participants are also in the video.
"Today fascism is once again raising its head," according to the statement read by festival participants. "Once again the leaders of another western power talk of the exceptionalism of their nation, of their right to rule the world."
It continued: "We once again hear of the collapse of Russia, of the cancellation of Russian culture and history, of the destruction of the entire Russian people. And that means that once again the motherland is in danger."
There was no explicit reference to Ukraine in the manifesto. The western power cited was not named. Russians would have understood that it meant America, however.
Appalling
Mick Antoniw, the Counsel General for Wales and Labour MS for Wales, is the son of an immigrant from Ukraine and has been prominent in organising relief missions for Ukraine as it defends itself against Putin's merciless aggression. He said: "It is appalling that these people have gone on this freebie and allowed themselves to be used for propaganda purposes by Russia. I don't know whether they are just extremely naive, but Putin will certainly regard them as useful idiots."
Mr Roberts' website describes him as a "conductor, events manager and creative consultant" and states that he is "business development & marketing officer to St Elvan's, Cynon Valley, musical director of Lewis Merthyr Band, City of Bristol Brass Band and Symphonic Brass Wales; and director of the Estes Park International Tattoo in Colorado, USA". He is currently also vice chair of the Cross Party Group for Music at the Senedd, vice chair of international twinning for Rhondda Cynon council, a consultant to the Musikfest der Bundeswehr of Dusseldorf, Germany and a trustee of the famed Grimethorpe Colliery Band.
Responding to our request for a comment, he sent us a statement which said: "For my own part, I have been travelling to Russia and participating in cultural events there for over 15 years. In 2013, I was fortunate to visit Ukraine also.
"The current situation in the Donbass, and the conflict that has been raging in that region for eight years now, is a tragedy. I firmly believe that it is deeply important that channels of communication – particularly cultural – remain open however, particularly at times like this, between all nations, and that greater dialogue and mediation is required to resolve the current crisis
"At some point – hopefully soon – this conflict will end, and bridges between nations will need to be rebuilt. Hopefully at that point culture, and the links retained during these challenging times, will be able to play a role ."
We also asked Mr Church to comment but he did not respond to our message.
---
Support our Nation today
For the price of a cup of coffee a month you can help us create an independent, not-for-profit, national news service for the people of Wales, by the people of Wales.