News
Welsh firefighter describes 'heartbreaking' scenes amid earthquake rescue efforts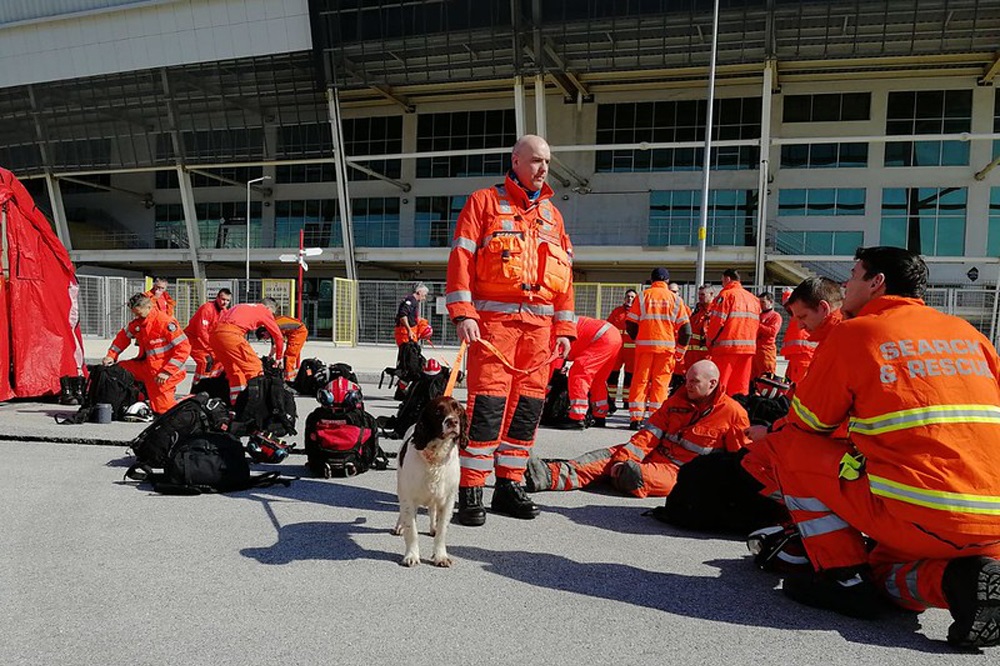 A Welsh firefighter who is part of the search and rescue team deployed to Turkey following a deadly earthquake has described the "heartbreaking" scenes he has witnessed while pulling casualties from the rubble.
Steve Davies, 51, from Gower, Swansea, was one of 77 specialists sent as part of the UK International Search and Rescue Team (UK-ISAR) to provide lifesaving support to the country.
The father of two, who has worked in a number of disaster areas, said it is one of the most "horrific" he has seen.
The 7.8-magnitude quake hit on Monday and the death toll has since risen to more than 21,000 people.
Mr Davies said: "I've got two daughters and you can't help putting yourself in the position the earthquake survivors are in, desperately hoping to find family.
"It is heartbreaking. It has been tough.
"Everybody is saying how totally horrific this one is and how widespread the impact is.
"That's the hardest part as a rescuer – having to walk past sites where people are begging you to try and go in and look for their family but we know our dogs have been over and there's no chance of us saving a life.
"We've got to try and save as many people as we can because time is so precious."

Protracted
The deputy team leader, who works for Mid and West Wales Fire and Rescue Service, said the team worked for three days straight after touching down in the city of Gaziantep on Tuesday.
He is one of five experts from his area and South Wales fire services that were deployed through the Foreign, Commonwealth & Development Office after the Turkish government requested help.
They have since been working in the town of Antakya in Hatay Province, using specialist search equipment including seismic listening devices, concrete cutting and breaking equipment, and propping and shoring tools.
"We've pulled a few dead bodies out but our focus is live casualties," Mr Davies said.
"We've just had another live hit on our work site, so hopefully that's potentially two more casualties we will pull out.
"We believe one of them is a male police officer and we think he's got a female member of his family stuck in there with him as well.
"We're desperately trying to get them out but it's going to be a protracted and long one that will involve rotating teams right through the night trying to dig down to get to them."
Search and rescue dogs
Also with them are four specially trained search and rescue dogs who the firefighter said were "incredible".
Colin, Davey, Sid and Vesper are being used to sniff out even the vaguest signs of life from underneath the toppled buildings.
Mr Davies said: "Our first and our best equipment is our dogs.
"We put the dog over the rubble pile and if the dog reacts we know we've got a viable live casualty. It saves us hours of work and they are just absolutely incredible animals.
"Once we get a hit with the dog we start using some of our specialist kit to back it up and then off we go."
He added: "It's great for the whole team when we get someone out. It doesn't matter if you are the person lifting her out or you are in the command tent back at the base. It is a success for all of us.
"That's why we're here and that's what gets us through and keeps us going really."
He said the terrain has been perilous to work in as aftershocks continue to reverberate through the country.
"If you're working on a rubble pile you've got to have your wits about you because situations can change dramatically," he said.
"Some of the buildings are teetering but we have a structural engineer with us keeping an eye on that.
"We've only had a couple of minor injuries you get from walking on uneven ground but nothing serious.
"A couple of our dogs have had cuts to their feet, which we've had to stitch and things. You are working on very sharp and uneven ground, so it is difficult."
Lifesaving items
The UK Government is providing additional lifesaving items to Turkey and Syria – including thousands of tents and blankets to help people keep warm and sheltered in the freezing conditions.
An appeal to help the victims of the earthquake in Turkey and Syria has raised more than £30 million in just 24 hours.
Donations from the King and Queen Consort, as well as the Prince and Princess of Wales, have helped the Disasters Emergency Committee's (DEC) fund soar to £32.9 million, including £5 million from the UK Government in matched funding.
International development minister Andrew Mitchell said: "It is thanks to the generosity and compassion of the British people that the DEC Turkey-Syria Earthquake Appeal has reached within a matter of hours the extraordinary total of £32.9 million, which includes £5 million of match funding from the British taxpayer.
"This would not have been possible without the kindness and support of the British people. Thank you.
You can donate to support the DEC's relief effort here……
---
Support our Nation today
For the price of a cup of coffee a month you can help us create an independent, not-for-profit, national news service for the people of Wales, by the people of Wales.