News
Welsh firm wraps up new long term deal with global packaging giant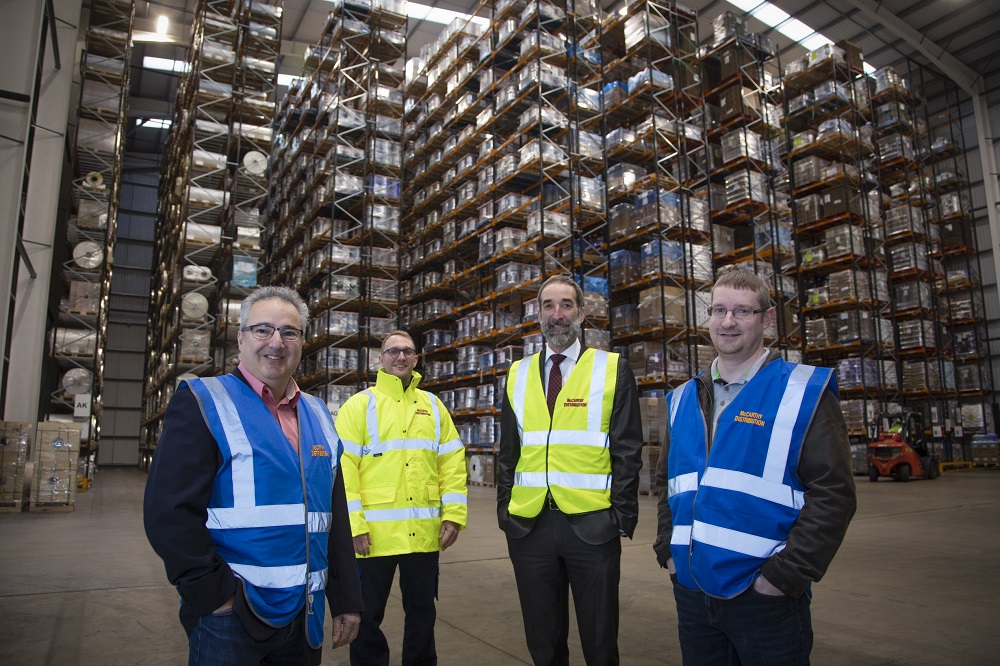 A Welsh warehouse and distribution firm has clinched a new long term deal with a global packaging company.
Wrexham-based McCarthy Group has signed a three-year extension to its contract with Wipak UK, which has a manufacturing base in Welshpool where it makes packaging films for preserving and protecting food products.
Wipak, which has 11 factories world-wide, is part of a large, family owned conglomerate called Wihuri that's headquartered in Nastola, two hours north of the Finnish capital, Helsinki.
The company opened the Wipak factory in Welshpool in 1996 and recently invested over £5 million in a new state of the art production line at the Buttington Cross Enterprise Park, which is expected to create 50 new jobs for the local area in the coming years.
According to McCarthy Managing Director Mike McCarthy, the contract extension was a real "feather in the cap" for his 90-strong team.
It also underlined, he said, the value of investing in their new Elm Point HQ complex on Wrexham Industrial Estate, where the firm is now building an 18,000 sq ft extension and doubling the size of its truck parking yard.

Organic food
As well as having a coveted AA rating from the British Retail Consortium, McCarthy also has accreditation to store organic food.
Managing Director Mike McCarthy said: "This is fantastic news for the company. We're delighted that our contract with Wipak has been extended and they have chosen us as their partner going forward.
"It's a real vote of confidence in the whole team here, including Steve Jones, the warehouse manager, who have delivered on all our promises to ensure that the level of service has been excellent.
"We've worked well together over the last three years and they have significant expansion plans so we are really pleased to have them as a really important client of ours.
"We are well placed to grow with them and support them with their expansion plans.
"The values of two companies are well aligned. Our culture is similar because we both believe in doing things to the highest possible standard and creating good team work between two companies.
"We really see it as a partnership rather than a customer-supplier relationship, in terms of the facilities here as well as the level of service we provide."
Wipak's parent company, Wihuri, began as a small family business over a century ago and has grown into a multi-industry leader, with links to the wholesales goods, aviation, the technical trade industries, as well as packaging.
Powys Business of the Year
Last October Wipak UK was named Powys Business of the Year and is aiming to be carbon neutral by 2025.
Peter Stavrou, the Wipak Group's Logistics Manager, said: "We were introduced to McCarthy and evaluated them and saw them potentially as a really good long term partner.
"What impressed us first and foremost was the quality of the facilities here. Secondly it's about their processes which means they're safe and efficient in what they are doing and thirdly they're also capable of growing with us which means we have the potential to scale up here as well.
"They were also able to offer not only an outbound process to distribute to our customers but also an inbound process bringing raw material back into our factory.
"The high standards here are very important because we will not use any warehouse that is not BRC accredited.
"These are exciting times for both companies. We've really been happy with the partnership, hence why we signed the extension and we're really looking forward to continue to grow with them.
Mr Stavrou added: "Mike McCarthy takes a very keen personal interest and he's been directly involved in the process right from the beginning.
"I'm very impressed with what I have seen of the new extension and we are also impressed that they take the environmental impact into consideration with everything they do.
"That's also a core of our strategy to be carbon neutral as an organisation by 2025. We're very ambitious in that project and we're a long way down that road already."
It was a proud moment for McCarthy Warehouse Manager Steve Jones who added: "Myself and the team here work hand in hand with Wipak and that partnership can only get stronger and stronger.
"They rightly demand and expect high standards and we are delivering for them. We pride ourselves on what we can achieve for our customers. The whole team here buys into that culture."
---
Support our Nation today
For the price of a cup of coffee a month you can help us create an independent, not-for-profit, national news service for the people of Wales, by the people of Wales.