News
Welsh Government denies Tory claims of further speed limit changes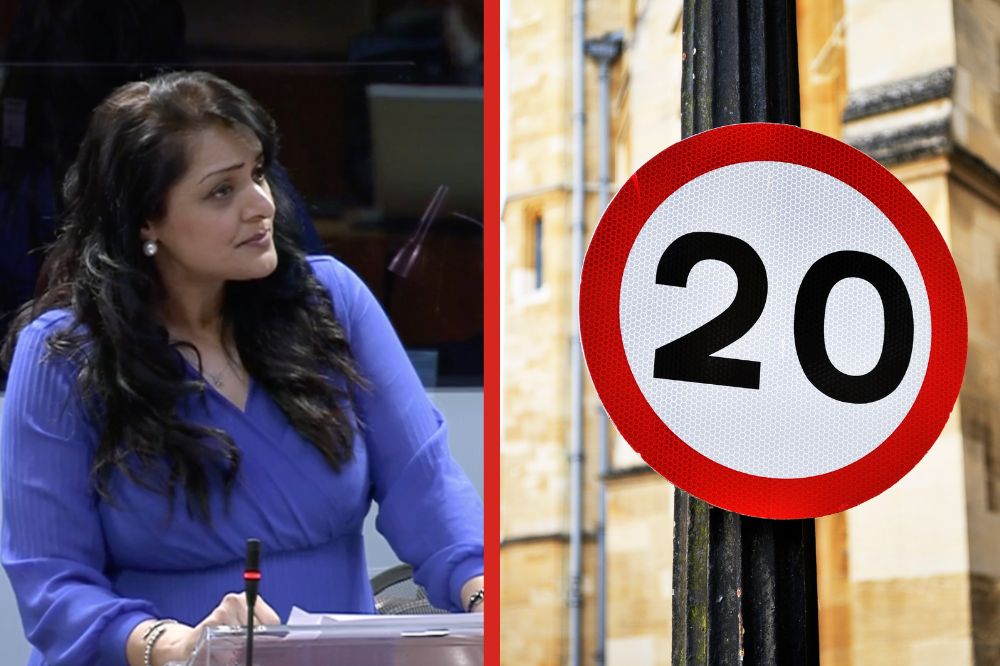 Emily Price
The Welsh Government has denied claims by the Tories that further plans are being made to alter other default speed limits in Wales.
On Wednesday evening (September 13) the Welsh Conservatives forced a vote in the Senedd in an attempt to scrap the new road regulation which will see the default speed limit on restricted roads in Wales change from 30mph to 20mph.
Following the debate, Welsh Conservative Senedd Members voted against the new 20mph default speed limit, whilst Labour and Plaid Cymru MSs voted in support of the roll out
The new default speed limit will officially come into force on Sunday (September 17).
During the debate, Shadow Minister for Transport, Natasha Asghar asked the Deputy Minister for Climate Change, Lee Waters whether more alterations would be made to other default speed limits in Wales.
The shadow transport minister said she had asked the question a number of times but had not received an answer.

Reform
Ms Asghar referred to an email she had received from a Welsh council which indicated that over the coming months further guidance would be released by the Welsh Government on possible changes to other speed limits.
She asked: "Are 20 mph limits just the tip of the iceberg, and should residents expect to see this Government ramp up its anti-driver agenda going forward?
"I ask, because for anyone who missed this yesterday, a councillor in north Wales e-mailed a resident, saying, and I quote, 'Over the next 12 to 18 months, further Welsh Government guidance is going to be provided to enable further speed changes to be reviewed, for example, for 40mph, 50mph, and national speed limit roads.' I hope that an answer is forthcoming from the Deputy Minister about this today."
During the debate, the Deputy Minister did not confirm or deny whether the Welsh Government planned to change other default limits.
Mr Waters said the Conservatives had been against "every progressive reform" in the country.
No plans
He said: "They were opposed to the creation of the NHS, they opposed the creation of minimum wage, they were against the ban on smoking in public places. They were even against votes for women. They are always on the wrong side of history and they never learn."
Following the debate, Nation Cymru asked the Welsh Government: "Are there any further plans to alter other speed limits?"
A Welsh Government spokesperson responded with one line: "We don't have any plans to change other default limits."
In response, Natasha Asghar, Member of the Welsh Parliament for South East Wales, and Shadow Minister for Transport, said: "Labour's anti-driver agenda has been laid bare for all to see with this deeply unpopular and expensive blanket 20mph speed limit plan, its ban on road building and mooted congestion charge scheme.
"Many fear this is just the tip of the iceberg with more drastic changes looming after a council let slip the Welsh Government is set to release details 'to enable further speed changes to be reviewed for example for 40mph, 50mph and National Speed Limit Roads.'
"Instead of trying to find a way to punish drivers at every available turn, Labour ministers must hit the brakes on their war against motorists and work to provide a top-quality transport network for all."
Economy
An ITV Wales poll this week revealed that two thirds of people in Wales oppose the new 20mph default speed limit.
The Welsh Government expects it to result in 40 percent fewer road collisions, saving six to 10 lives every year and avoiding 1,200- 2,000 people being injured.
The Welsh Conservatives have warned the new speed limit will cost the economy in Wales billions of pounds.
But speaking at a Welsh Government press conference on Monday (September 11) Mark Drakeford said although there will be a one off cost of £32m, the road safety reform would save the NHS three times as much every year.
---
Support our Nation today
For the price of a cup of coffee a month you can help us create an independent, not-for-profit, national news service for the people of Wales, by the people of Wales.