News
Welsh Government in dark over what pay deal in England means for NHS staff in Wales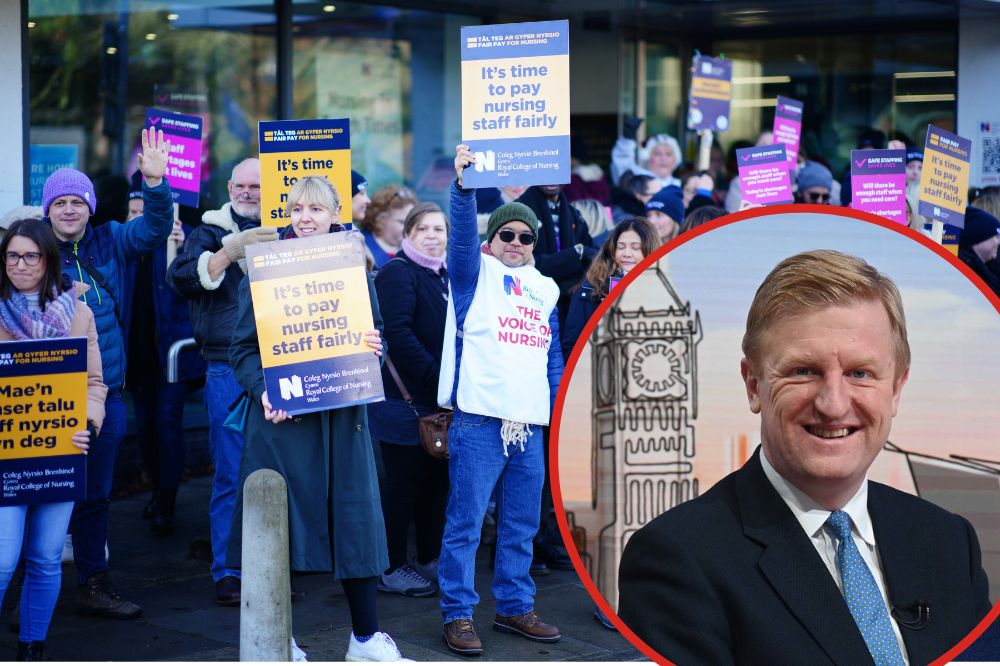 The Welsh Government still has not received clarity on what the UK Government's new pay offer for England will mean for NHS staff in Wales.
Last week, the UK Government put an offer on the table for NHS workers in England following months of industrial dispute over pay and working conditions.
The significant pay offer to end the strikes in England included two one-off payments, a 2% bonus and 4% Covid payment as well as a pay rise of about 5% from April with the lowest-paid receiving a significant boost to increase minimum pay in the NHS to £11.45 an hour.
Although the Welsh Government made a pay offer to NHS staff for 22/23 of an additional 3%, 1.5% consolidated and 1.5% non-consolidated on top of the increase paid earlier in the year, some unions are still in dispute about pay and conditions and negotiations are ongoing.
In February, the Health Minister, Eluned Morgan said she would commit to making a further pay offer to NHS staff in Wales should the UK Government make an increased offer to NHS staff in England resulting in a Barnett consequential.
It is still not known if Wales will receive any extra funding as a result of the Barnett Formula which matches public expenditure in Wales, Scotland and Northern Ireland with that in England.
The Chancellor of the Duchy of Lancaster, Oliver Dowden was asked about the pay talks with teaching unions and junior doctors, and how the pay offer for nurses would be funded.
Mr Dowden, who has played a key role co-ordinating the Government's response to strikes, said: "Finding this money is not easy.
"But we think that in this context of ensuring that we reward nurses properly and we prevent disruption, that we can find the money to do this but it won't be easy."
He suggested the money could come from the £160 billion NHS budget or from within "wider Government spending".
"Given the pressure that health services around the world are under, we're not going to take services away from the front line," he added.

"Unacceptable"
If the UK Government were to use money from the existing budget to fund the new pay offer, then Wales might not be entitled to a Barnett consequential.
But if the money to fund the pay deal is additional and not from the current budget, it will entitle Wales and other devolved nations to fresh funding too.
In a statement RCN Wales said: "The new pay offer in England came about as a result of pressure from nursing staff and tough negotiations; our colleagues in England have been vindicated for taking the difficult decision to strike.
"Members there will need to look closely at what the offer means for them, and they will be given their say on it in due course."
"If the UK Government's offer to NHS staff in England results in additional money coming to Wales, the Welsh Government has committed to discussing this as part of our ongoing talks."
Director of the RCN in Northern Ireland, Rita Devlin said the announcement of an NHS pay offer for nurses in England, had left nursing staff in Northern Ireland wondering where they stand.
She said: "We will be requesting a meeting with the Department of Health at the earliest opportunity to clarify if this offer, in the absence of the Northern Ireland Assembly and Executive, can be applied here also.
"Last year RCN members in Northern Ireland voted alongside colleagues in England and Wales to take strike action over pay.
"It will be completely unacceptable to our members if they are not offered the same pay award as nursing staff working in England.
"Falling out of pay parity was exactly why our members first took strike action in 2019 and they will not be prepared to accept this again.
"We would urge the Secretary of State to support nursing staff in Northern Ireland to receive a pay offer and to learn from the mistakes of the past."
RCN Scotland said it's considering the detail of the pay offer for NHS England and the implications for NHS pay in Scotland if it is accepted and will immediately demand that the Scottish Government to act on the re-opening clause agreed with the RCN as part of the roadmap to dispute resolution.
RCN Wales said it had taken part an initial discussion about the impact of England's pay announcement, but noted it was unclear whether there would be any consequentials available as a result.
No notification
When Nation.Cymru approached the Welsh Government for comment, a spokesperson said they still hadn't received any notification from the Treasury on how the pay offer in England will be funded.
A previous statement issued by the Minister for Health and Social Services, Eluned Morgan on February 28 following a meeting with trade unions said: "We would like to reiterate that should conversations in England result in an offer for NHS staff in England which will mean consequentials coming to Wales, these will of course be passed on to NHS staff in Wales."
A Treasury source suggested to The Guardian that existing UK budgets allowed for a rise of 3.5% increase, and the rest would be paid through efficiency savings by the Department of Health and Social Care which could also bid for more funding in the coming months.
---
Support our Nation today
For the price of a cup of coffee a month you can help us create an independent, not-for-profit, national news service for the people of Wales, by the people of Wales.