News
Welsh Government's future pandemic planning criticised, Covid-19 inquiry hears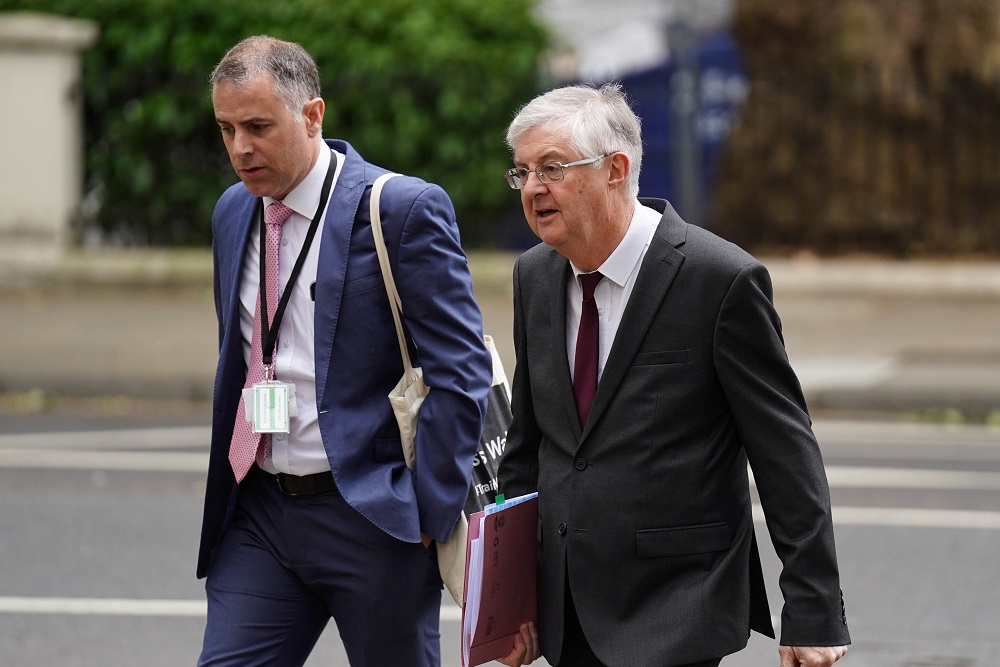 The Welsh Government has been accused of "locking the stable door after the horse has bolted" in its planning for a future health pandemic.
The UK Covid-19 Inquiry heard the Welsh Government had carried out a review earlier this year which found there remained flaws in Wales' civil contingencies system, including around leadership, training and learning lessons.
Dr Andrew Goodall, the permanent secretary to the Welsh Government, said "work was under way" to ensure the identified issues in civil contingency planning were addressed.
But Hugo Keith KC, counsel to the inquiry, suggested to the witness: "Dr Goodall, would you agree that many of those issues have been raised consistently and continuously from 2012 onwards that is an egregious example of locking the stable door after the horse has bolted?"
Dr Goodall replied: "We have had to learn many lessons and adapt, and we need to ensure that we keep addressing the issues from our planning and also from our recent experiences as well."
The inquiry heard some civil contingency planning powers were transferred from Westminster to the devolved Welsh Government in 2018, but Dr Goodall said planning for a no-deal Brexit had diverted resources away from that focus.
Dr Goodall, who was chief executive of the NHS in Wales during the Covid-19 pandemic, told the inquiry: "While we had done the sector resilience oversight and we had expanded the team with the new responsibilities coming over, our attention and activity had simply moved across to Operation Yellowhammer and the EU exit arrangements and that meant the resilience team was embedded in that work as well as a very large part of the organisation as well.
"The discharging of those responsibilities as we intended was put on pause even though we were using it and deploying the civil contingency mechanisms for EU exit."

Assumptions
Dr Goodall told the inquiry he agreed a 2011 pandemic strategy had a "number of assumptions" and it resulted in the Welsh Government not planning for measures it might have needed to respond to a coronavirus outbreak.
"There were a number of assumptions in there that directed us to not plan for a range of areas and that might have included mass gatherings, non-pharmaceutical interventions," he told the inquiry.
"I do agree that there were a range of areas in which we're not looking to contain mechanisms and therefore, more focus on those non-pharmaceutical interventions would have genuinely helped in the response."
Mr Keith had put it to him that the 2011 pandemic flu strategy had a "number of flaws".
He went on: "The inability to carry out that review, of course, and inability which existed prior to Wales being struck by the pandemic has been described by one of your own ministers as 'extremely disappointing'.
"And even after the pandemic struck when the review of civil contingencies in Wales took place in 2023, did it then become apparent that there were still flaws in the civil contingency system, in particular in relation to leadership capacity, effective and continuous training and exercising, a system for the systemic capture of lessons from exercises, the need of an establishment of minimum standards, for competency, skills and qualifications, training and development?"
Dr Goodall replied: "Yes, they remain the themes in those areas and that work is under way to ensure they are resolved.
"There is a system that captures the lessons learnt now which is held at an all-Wales level by Public Health Wales and that is a new introduction since 2017.
"We do need to make sure we embed those arrangements and deal with the actions as well as the culture and behaviour of those issues as well."
Review
Anna-Louise Marsh-Rees, from Covid-19 Bereaved Families for Justice Cymru, said: "Following this morning's session, all I can say is that we certainly do things differently in Wales.
"The UK Government kept influenza pandemic on the top right of their risk register. However, Wales removed it from theirs and they put it into a different risk register.
"We believe there needs to be a root and branch review of what the Welsh Government did. Things need to be simplified and consolidated.
"There needs to be a cultural change of ownership and accountability as well. More doing and not just deliberating.
"We as a group have little confidence that there are any lessons learned to date. Nothing seems to be progressed beyond the discussions."
The inquiry continues.
---
Support our Nation today
For the price of a cup of coffee a month you can help us create an independent, not-for-profit, national news service for the people of Wales, by the people of Wales.