News
Welsh Government's glass deposit scheme will 'wreck businesses'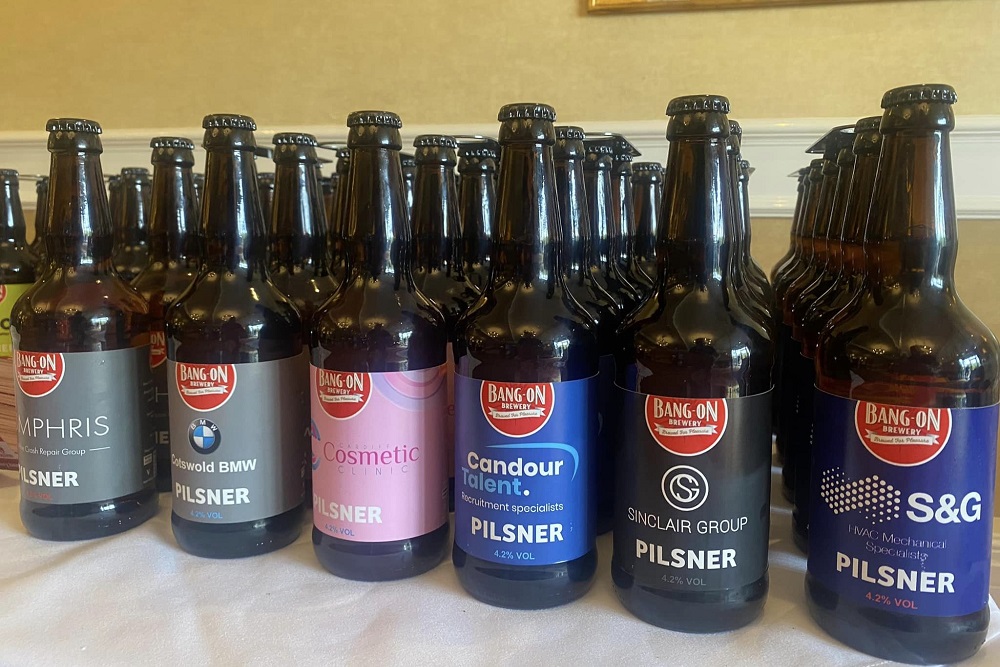 Martin Shipton
Businesses are at risk of going under unless the Welsh Government drops glass from its deposit return scheme proposal, a brewery boss has claimed.
The government's decision to plough ahead with its proposal to charge a deposit for single-use glass bottles has sent shock waves through the vibrant brewing and hospitality sectors in Wales.
The UK Government is introducing a deposit return scheme (DRS) for England but, following lengthy consultations, glass will not be included. However, that is not the case in Wales.
The owner of Bang On Brewery, Neil Randle, has warned that thousands of jobs are now under threat because of Labour's plan.
He said: "Labour's proposal is unworkable and unmanageable for small, independent businesses that produce drinks in glass bottles in Wales. Despite the brewing industry warning the Labour Welsh Government that their proposed system is a disaster waiting to happen, it is falling on deaf ears.
"We are all feeling despondent and marginalised by a leadership that doesn't know our industry and isn't even attempting to understand it.
"The disastrous policy means that, for us to make the same profit per bottle as we did in 2019, the retail price per bottle would need to be driven up £12.53. That just cannot happen because it's unsustainable. I fear thousands of jobs could be lost in brewing which will then have a knock-on effect in hospitality."

Concerned
Secretary of State for Wales, David TC Davies, expressed similar concerns, saying: "It was a delight to meet Neil and I am very concerned by what I've heard. It is clear to all—apart from Labour ministers it seems—that including glass in the DRS scheme would be a colossal mistake, with thousands of jobs and businesses potentially being lost.
"We simply cannot allow the industry to be driven off a cliff. That is why I urge Labour to sit up, listen to the industry and scrap glass from its DRS scheme."
And the Shadow Minister for Tourism and Culture, Tom Giffard MS, added: "I have been inundated from businesses which have unequivocally voiced fears with what the Labour Welsh Government is proposing.
"They are warning that thousands of jobs across Wales could be lost, if glass is not dropped from Labour's DRS proposal. Labour needs to listen, before it's too late."
A Welsh Government spokesman responded: "We speak regularly with small drinks producers in Wales on how best to include them in the scheme.
"We have been consistent throughout that we would prefer a scheme with the same scope across the UK so as to maximise the environmental and economic benefits.
"The easiest way to achieve this is for UK Government to reverse its decision to diverge away from what was the shared position across the UK, by putting glass back into its scheme. This would help tackle litter, lower pollution and help deliver Net Zero."
Transitory 
The spokesman added: "The recycling and crushing of a glass bottle, which takes a large amount of energy and carbon to create, after only one use is however a transitionary step, with recycled glass still requiring around 75% of the energy needed to produce glass from raw materials and so there is a need to move to commonly using glass bottles multiple times over.
"We have been actively engaging with industry, including the Welsh brewery sector, in order to work with them to not only make the DRS a success, but also to support them to be resilient and competitive through the transition to zero carbon."
A Welsh Government source pointed out that the UK Government's original DRS had included glass bottles and that Welsh Conservatives had initially supported that position.
Tory MS Janet Finch-Saunders had said: "There has been increased interest in whether glass bottles should be included in a DRS. I am pleased to agree with Polytag that glass should be part of the scheme in Wales.
"Scotland's DRS will help tackle the plague of glass bottles littering communities because its inclusion of glass will see the recycling of an additional 53,000 tonnes of containers. It would be fantastic to see such a boost to recycling here in Wales too"
In December 2021 Ms Finch-Saunders addressed school children on the steps of the Senedd, in an event that was coordinated by Surfers Against Sewage, saying: "We know that between 77% and 83% of recent survey participants reported they would use a DRS on most occasions for the types of containers explored, including plastic bottles, glass bottles and metal cans. This is why I have been proud to recently secure commitments that such a scheme would be all-in and to consider whether lids and caps would be accepted."
As far back as 2018, then Tory MS David Melding was calling a bottle deposit return scheme "game-changing" (not a colossal mistake) when Michael Gove announced the UK Government would introduce it.
"Mr Melding said: "We know that deposit return schemes have hugely successful return rates in countries like Norway, Finland and Australia, so it is welcome news that Conservatives in England will be leading the way to end the scourge of waste in our environment."
And even Tory Senedd group leader Andrew RT Davies described DRS as a "fantastic idea" in principle, when he visited Bang On Brewery in November 2022.
However, a spokesman for him pointed out that in a press release issued at the time, Mr Davies said: "[It] is vital concerns are sorted out before the scheme is implemented. I will raise these with Welsh Government ministers."
---
Support our Nation today
For the price of a cup of coffee a month you can help us create an independent, not-for-profit, national news service for the people of Wales, by the people of Wales.