News
Welsh Govt accuses Chancellor of delivering 'less than bare minimum budget' for Wales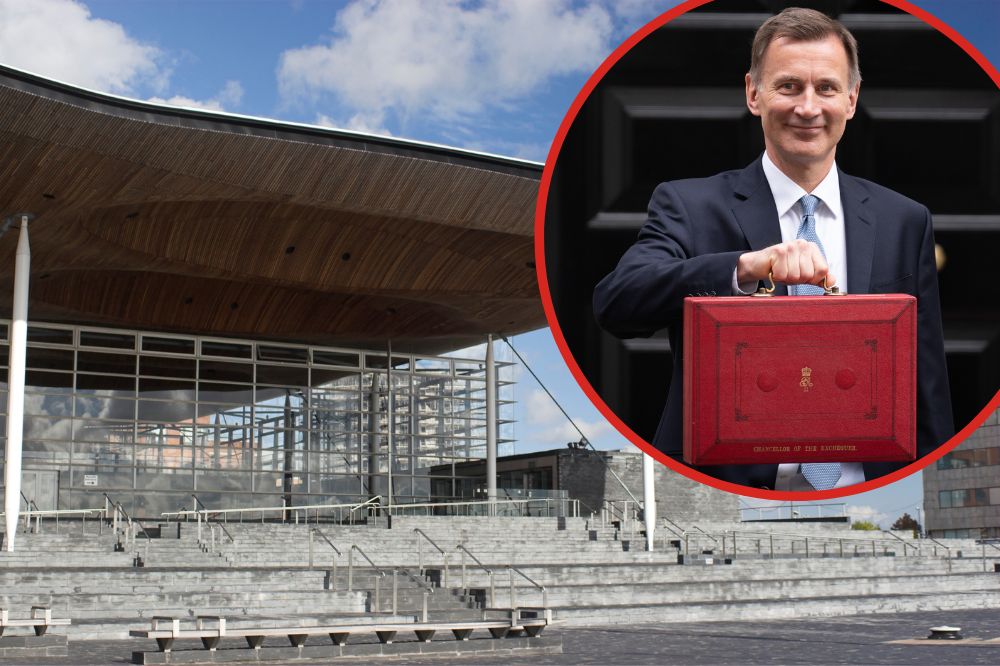 The Welsh Government has accused the Chancellor of delivering a "less than bare minimum budget" for Wales in today's Spring Budget announcement.
Finance Minister Rebecca Evans said the budget has "has fallen well short of providing the support people need during the cost-of-living crisis."
She said the Chancellor of the Exchequer, Jeremy Hunt made a series of deliberate choices to prioritise "petrol and potholes" over investment in public services, pay and economic growth.
Although the Office for Budget Responsibility set out a positive forecast for inflation to fall back from its record high levels by the end of this year, its analysis shows that living standards are expected to fall by 6% between 2021-22 and 2023-24 – the largest decrease since records began.
Responding to the Budget, which will provide Wales with an additional £178m of funding over two years, Finance Minister Rebecca Evans said: "Today we saw a less than bare minimum Budget, which misses the big picture, at a time when people's financial situations are worsening.
"It fell short of providing meaningful support – there were sticking plasters when we needed significant action. Potholes and petrol took precedence over pay rises for teachers and NHS staff.
"Critical public services which we all rely on continue to face devastating cuts – there was no extra funding for health, social services or local government.
"The decision to maintain the energy price guarantee for a further three months will provide some comfort for people in this ongoing cost-of-living crisis and is something we have been consistently calling for.
"We have also been calling on the UK Government to make Universal Credit fairer and for energy companies to stop penalising people on prepayment meters. We have seen small steps in the right direction in these areas."
The Finance Minister commented on the Chancellor's new commitments on childcare in England which promises 30 hours of childcare a week to parents of one and two-year-olds.
Rebecca Evans said: "We are already rolling-out a phased expansion of our childcare offer to two-year-olds as part of our Co-operation Agreement with Plaid Cymru.
"We will consider how best to use the consequentials from this announcement as a Cabinet, to best meet the needs of people in Wales.
"But we need to be really clear, this Budget does not go far enough in addressing the very real challenges people are facing.
"The Chancellor had the financial levers and capacity to provide comprehensive and meaningful support, as well as to invest in public services, public sector pay and economic growth. What we have seen today has unfortunately fallen short.
"It was also disappointing to see the lack of specific investment in Wales. The Chancellor did not take advantage of the investment opportunities in rail, research and renewable energy.
"We will be carefully analysing the detail of the announcements made today and will be providing more information about what they mean for Wales in the coming days and weeks."

Criticism
Welsh Liberal Democrat Leader Jane Dodds also criticised the UK Government's budget for not doing enough to support households hit by the cost of living crisis as well as continuing to deprive Wales of HS2 funding and failing to future-proof the country against rising energy prices.

Leader of the Welsh Lib Dems, Jane Dodds MS said: "This Budget shows the Conservative Party is completely out of touch. They had a chance to show they care about the cost-of-living crisis that's hitting thousands of Welsh families and pensioners but they failed miserably.
"This was an opportunity to cut energy bills and give households a real helping hand. They could have borrowed Liberal Democrat plans to cut bills by an average of £500.
"Likewise, there is nothing here to future-proof homes against future energy price rises. Wales and the UK has some of the least energy-efficient homes in Northern Europe. Without a real insulation programme families will remain vulnerable to price shocks.
"Beyond the energy crisis the UK Government has continued to deprive Wales of billons of pounds in HS2 funding it is owed, setting up our poor public transport systems for continued failure."
On the expansion of childcare in England she added: "Childcare costs are one of the most pressing issues facing families up and down Wales right now and it is holding our economy back by keeping parents out of the workforce because for many families it is more cost-effective for a parent to stay at home than return to work.
"The Welsh Liberal Democrats have called for and will continue to call for free part-time childcare from 9 months for all parents regardless of work status and the Welsh Government must use extra money it will receive today to at very least match England."
"Status quo"
Plaid Cymru Treasury spokesperson Ben Lake MP accused the Chancellor of 'opting for the status quo' with the Spring Budget but welcomed the extension of the Energy Price Guarantee to July will prevent a further increase to energy bills in April.
Mr Lake said: "It's disappointing that the Chancellor failed to extend the Energy Bills Support Scheme or the Alternative Fuel Payments in today's Budget.
"By opting for the status quo, the Chancellor has missed an opportunity to offer much needed support to off-grid households, and families that are already struggling with higher living costs.
 "It is surprising that no commitment was made to ensuring fair pay increases for our public sector workers, and it is appalling that no mention was given in the Chancellor's speech to improving digital connectivity.
"There needs to be significant and early investment digital connectivity and broadband infrastructure, transport links, renewable energy and research and development if we hope to realise Wales' economic potential.
"The Chancellor's silence on these issues today risks locking Wales into lower levels of development than wealthier areas of the UK."
Plaid Cymru said it welcomed the belated funding for childcare in England bust said it "must lead to full consequential funding to Wales."
Mr Lake added: "We are already on the front foot thanks to Plaid Cymru, with free childcare for two-year-olds extended through our Cooperation Agreement.
"The Labour government must now go faster and commit to using new funds to deliver Plaid Cymru's policy of universal childcare in full."
---
Support our Nation today
For the price of a cup of coffee a month you can help us create an independent, not-for-profit, national news service for the people of Wales, by the people of Wales.