News
Welsh Govt minister harassed in street by former BNP activist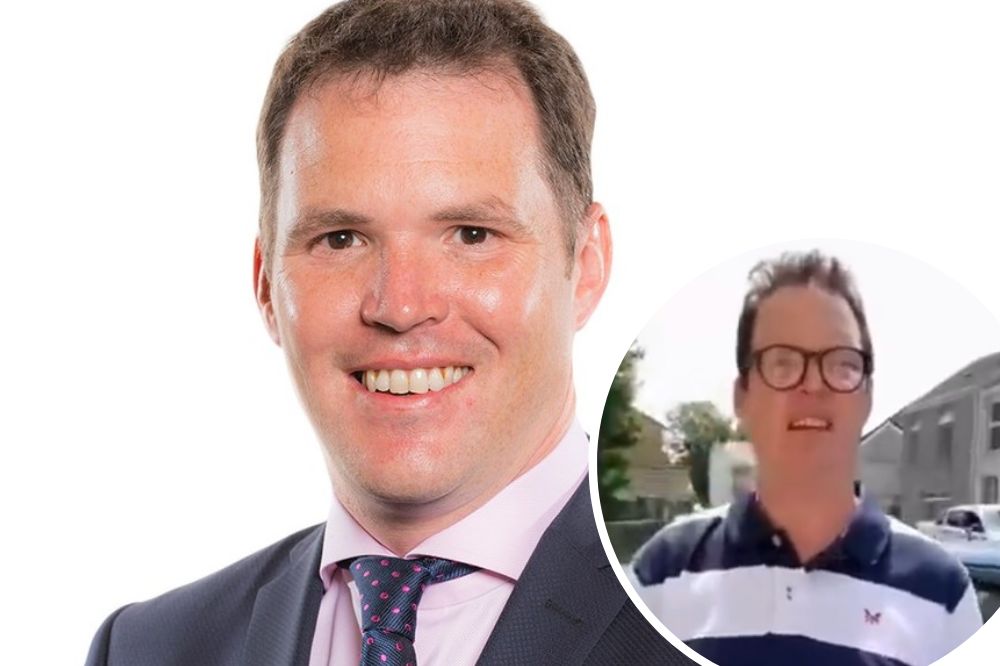 A Welsh Government minister who was knocking on doors to discuss concerns with his constituents has been harassed on the street by a former organiser of a far-right political party.
The incident was filmed by former south Wales co-ordinator of the British National Party (BNP), Roger Phillips who branded the Deputy Minister for Climate Change a "coward" because the MS had blocked him on social media.
Mr Waters and Cllr Martin Palfreman had been in the Furnace area of Llanelli talking to local residents about proposals to use the Stradey Park Hotel to house asylum seekers.
During the confrontation, which happened on Saturday (June 10), Mr Phillips filmed himself leaving his car to confront Mr Waters.
Mr Phillips said: "I've just clocked assembly member Lee Waters knocking doors in the Furnace area regarding the migrant centre we're going to have in Stradey Park Hotel.
"So I'm just going to pop out and ask him a couple of questions live on camera. Ok, lets go."
"Racist"
In the video Mr Phillips – who has previously described himself on social media as an "ethnic critic" – accused the MS of branding him a "racist in front of 3000 people".
Mr Waters said he didn't want to argue in the street and can be seen walking away – but he is then followed by Mr Phillips who asks: "Am I no longer entitled to political representation? What are you walking away from Lee?"
The former BNP activist – who was once convicted of assaulting a man at Llanelli Workingmen's Club – accused the MS of being "brave" when behind the keyboard.
He said: "Come on, behind the keyboard, you're all brave. Walking away now are you? You coward. Tell us then, why are you blocking hundreds of people on social media when they ask you questions?
"Isn't it illegal to do that, isn't that against electoral law?"
The Deputy Minister for Climate Change can be seen stopping and saying to the former south Wales BNP organiser that he often debates with people online but he had blocked Roger Phillips because he was "ex BNP" and "using this to push an agenda of hatred".
As Mr Waters walked away, Mr Phillips called after him asking: "What's your agenda? Anti British is it?"
The Labour MS replies: "You've just revealed yourself there."
Lee Waters MS told Nation.Cymru: "I'm very happy to engage with people who don't agree with me or people who have questions. I don't that all the time, that's how it should be.
"But when people just constantly want to have a go, I've decided to just start blocking them because it just drains me. Mr Phillips is someone I had blocked because he's consistently unpleasant and has a background as an organiser for the BNP."

"Stand firm"
Following the incident, Mr Waters shared the video to his own Facebook account and said: "I had a good range of conversations in Furnace yesterday.
"There are some genuine concerns which I shared, and also a growing awareness that there are some unpleasant people who are trying to latch on to legitimate concerns to push their own agenda of hatred.
"I blocked a former organiser for the racist British National Party from commenting on my posts. This is how he reacted."
In a separate post on Twitter, Patriotic Alternative supporter Olivia Mosley shared the footage with the caption: "Anti-White Welsh Assembly member Lee Waters confronted by Llanelli local."
Lee Waters shared the post along with the caption: "Seems this is what happens when you stand up to racists."
Deputy Minister for Arts, Sport and Tourism, Dawn Bowden replied to the post: "Stand firm Lee, you are far better off than them!"
Hefin David MS shared the post and said: "Lee dealt with this racist admirably. street surgeries are an essential part of what we do and we won't be put off by anti democratic goons. Well done Lee."
Nation.Cymru asked Lee Waters MS why he had shared the video of the altercation to his own social media.
He said: "I wanted people see what some of the people behind some protests are like and what they're up to. There are genuine local concerns here and outside groups are clearly trying to stir things up as they have elsewhere and they clearly have an agenda of their own.
"I wanted to join the dots for people to make sure they understood the sort of people we are dealing with here. They are just interested in grabbing something to further their agenda of hatred.
"I wanted to show that I wasn't intimidated, show my side of the story and show that I wasn't going to be cowed by these people.
"It was very unpleasant and I was shaken by it, I haven't had an experience like that before. He was an intimating man, who was very angry and was shouting at me in the street, I wasn't to know what his intentions were."
---
Support our Nation today
For the price of a cup of coffee a month you can help us create an independent, not-for-profit, national news service for the people of Wales, by the people of Wales.