News
Welsh Govt warns efforts to support asylum seekers in Wales are 'fundamentally undermined' by UK Govt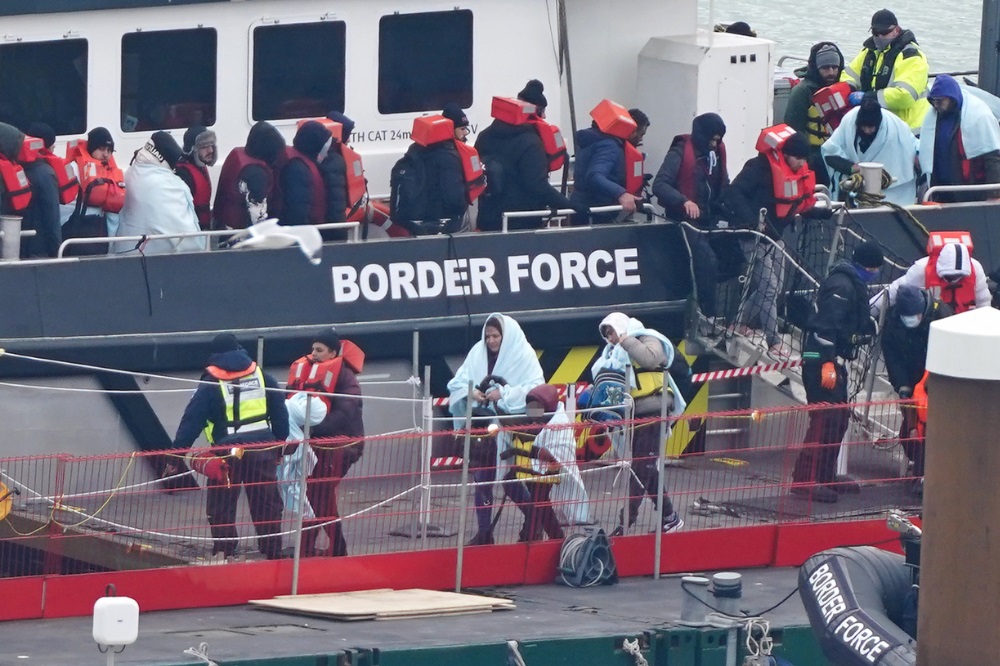 The Welsh Government has warned that efforts to support asylum seekers in Wales have been "fundamentally undermined" by the UK Government.
The Minister for Social justice, Jane Hutt has said the UK Government is not able to confirm that the new Illegal Migration Bill is compliant with the European Convention on Human Rights.
She added: "It is our view – and the view of the UN Refugee Agency – that it breaches the UN Refugee Convention."
The controversial new legislation will prevent people seeking sanctuary from claiming asylum with plans to also ban them from returning once removed.
Whilst overall numbers of asylum seekers arriving in the UK have increased, the Welsh Government reports that fewer people with invalid asylum claims are being returned to their home countries by the UK Government.
It is also taking far longer for claims to be decided and it is more complex to access support unless you are from Ukraine or Hong Kong.
The Minister for Social Justice said she's "extremely concerned" about reports of the number of children seeking asylum who are going missing.

Policy
She said: "The Welsh Government has a vision of Wales as a nation of sanctuary. Immigration policy is not devolved to Wales but responsibility for supporting and integrating sanctuary seekers rests with the Welsh Government.
"Our efforts to do this are fundamentally undermined by the approach taken by the UK Government."
Jane Hutt today laid out a Legislative Consent Memorandum and announced she would be recommending the Senedd withholds its consent for the UK Government to legislate to place duties on Welsh local authorities in respect of children's social care under the Illegal Migration Bill.
She said: "It is essential that our concerns are recognised and devolution is respected. I also cannot recommend consent is given when the UK Government has failed to confirm that the Bill is compatible with the European Convention on Human Rights."
The Welsh Government maintains its position that an asylum and resettlement policy cannot succeed without adequate safe and legal routes to the UK, effective return agreements and processes that function efficiently.
The House of Commons Home Affairs Select Committee' has made a series of recommendations regarding asylum processing facilities outside of the UK including a pilot in France.
But the Welsh Government have warned it would not prevent people making perilous journeys across the Mediterranean, the Sahara or other routes to Europe.
Jane Hutt said: "Our position is that UK Embassies and/or Visa Application Centres across the world should be resourced to accept asylum applications for those in need of international protection in the UK.
"These centres would enable people to seek asylum from outside Europe and would prevent asylum seekers being drawn to the people traffickers in Calais."
EU withdrawal means that the UK is no longer a participant in the EU's Dublin III Regulation which provided a two-way process to return asylum seekers to another EU Member State if they had first passed through that State.
It also provided a safe and legal route for those in other EU Member States to be reunited with family members residing in the UK.
Without this route, the Minister for Social Justice warned it is more difficult to return people arriving from Europe.
Jane Hutt said: "We consider it crucial that the UK participate in European-wide arrangements for the two-way resettlement of asylum seekers in a similar manner to Dublin III.
"Our position is that a feature of a European-wide resettlement agreement should also involve the UK reintroducing a scheme similar to the 'Dubs' scheme (section 67 of the Immigration Act 2016) – named after Lord Alf Dubs.
"This safe and legal route to the UK was closed several years ago but ensured particularly vulnerable unaccompanied children were able to come to the UK safely rather than making dangerous journeys.
"The Ukraine Eligible Minors scheme provides a model for how a more effective version of the Dubs scheme might be designed."
Committed
The Welsh Government said it is still committed to "continue to support and uphold the rights of unaccompanied asylum-seeking children and young people" taking a "child first, migrant second" perspective which upholds the best interests, rights and entitlements approach to providing care and support to children in Wales.
The Senedd has already legislated accordingly in Part 6 of the Social Services and Well-being (Wales) Act 2014.
Jane Hutt said: "We are completely opposed to any attempt by the UK Government to undermine the Senedd's legislative competence in this respect.
"Family reunion schemes are also critical to ensure those already residing in the UK can start to heal from their trauma.
"We recognise that war and persecution mean that traditional family structures do not necessarily exist for some. We would favour a more compassionate and flexible approach to ensure family units can be reunited, in the best interests of the children involved."
The Minister for Social Justice is calling on the UK Government to retain the ability for asylum applications to be granted from within the UK.
She said: "This includes those who came to the UK by legal routes where the situation has since changed in their country of origin and they now need to claim asylum; for those who were trafficked to the UK; and for those who can show they could not reasonably have expected to have undertaken a safe and legal route.
"We have repeatedly offered to work with successive Home Secretaries to develop workable solutions. I have set out our approach above – we have workable solutions based upon a principle of compassion. The whole of the UK should follow the ambition of Wales as a nation of sanctuary."
---
Support our Nation today
For the price of a cup of coffee a month you can help us create an independent, not-for-profit, national news service for the people of Wales, by the people of Wales.