News
Welsh hero of Spanish Civil War commemorated in Rhondda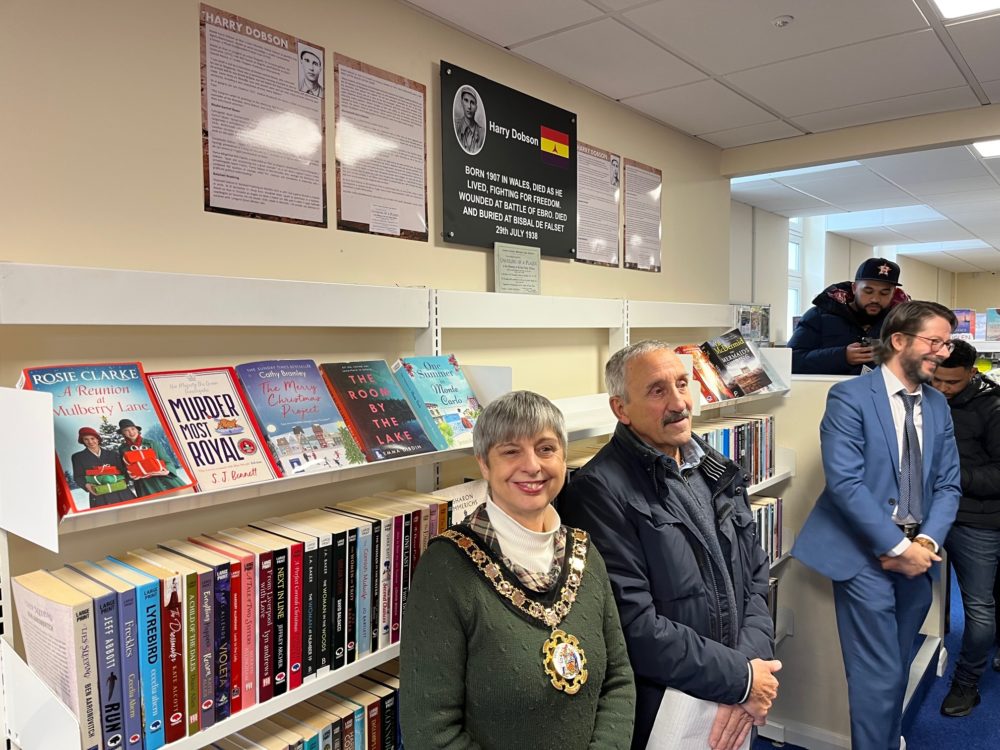 Martin Shipton
The cause that led an unemployed Rhondda miner to sacrifice his life in the Spanish Civil War remains as important now as when he died in 1938, a commemorative event has been told.
Harry Dobson from Tonypandy died in the Battle of the Ebro fighting for Republican Spain against fascist rebels led by General Francisco Franco, who won the war and went on to rule Spain as a dictator until his death in 1975.
A plaque in memory of Harry was put up in Tonypandy Library shortly after he was killed, but it got lost when the old library was demolished in the 1990s.
After representations from historians and activists, a new plaque has been unveiled in the replacement Tonypandy Library by Harry's nephew Ray Gleeson, who lives in Birmingham.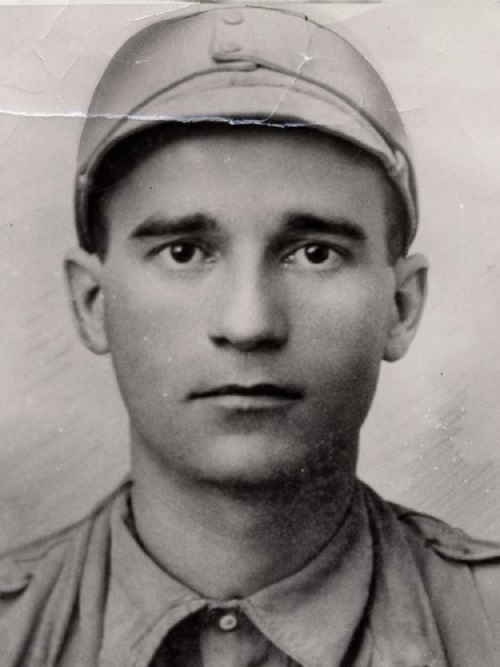 Ray told those who attended the event: "Our family is very proud of Harry. He worked as a miner until 1931 when he was victimised for his activities. He was a member of the South Wales Miners Federation and in 1929 he joined the Rhondda branch of the Communist Party of Great Britain.
"Harry was twice imprisoned for working class activities – in 1932 for four months and in 1936 for six months. He finished the last term of imprisonment in April 1937 and on June 2 he was in Spain.
"The original plaque in 1938 was unveiled by Arthur Horner, President of the South Wales Miners Federation. Arthur was the eldest surviving son of a family of 17 children. Harry only came from a family of 11. I think this determined their resolve in the 1930s to push and demand changes in equality and freedom of expression. This remembrance is not just for Harry, but for all those who volunteered and fought in Spain."
On his way to Spain, Harry survived the sinking of his ship which had been torpedoed by an Italian submarine off the coast of Malgrat de Mar, north of Barcelona.

Catalonia
Spanish Civil War historian Alan Warren said: "In Spain, as a generalisation, the Right does not want people to remember their history. I don't know if you've heard of the independence referendum which took place in Catalonia in 2017 when 900 people were beaten up by the police. There's an amnesty being offered by the Socialist coalition to those who organised the referendum and the Right are furious. So the Civil War continues in people's hearts and minds.
"Catalonia has set up an organisation called Memorial Democratic, which is trying to educate people about the Spanish Civil War. You see interpretive panels all over Catalonia, and in the Basque Country as well. It's a political strategy that's trying to show young people what democracy is. There's such an echo between now and then.
"Three weeks ago a mass grave was discovered at a Republican hospital with 36 bodies and another layer below. An old woman who had been a nurse there said there was a mass grave there and nobody knew. There's a deliberate policy, I think, in certain areas of government that they don't want people to remember. If you forget your past, you're condemned to repeat it. I think it's vitally important to remember that."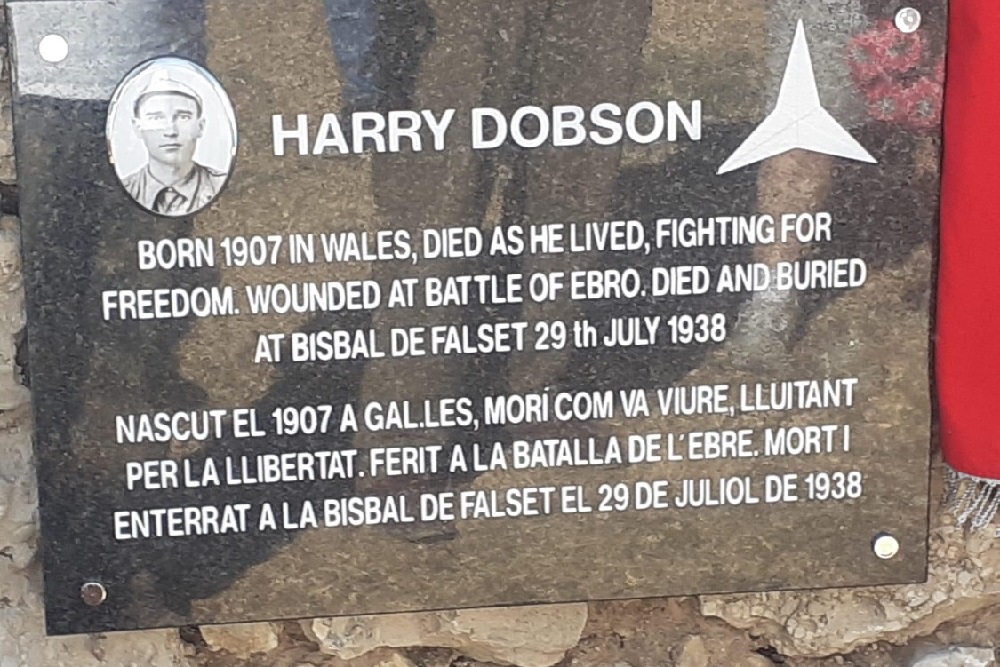 Peter Harris, the former head of the PCS union in Wales, now lives in Catalonia, where he is secretary of the Welsh-Catalan Cultural Association. He was recently involved in getting a plaque to Harry Dobson located near the spot where he died. He said: "My uncle died in the Second World War. Possibly he and many millions of people wouldn't have died if the Civil War in Spain had turned out differently.
"Harry was born in 1907 at 121 Dunraven Street, here in Tonypandy. He was the son of an Englishman who was a coal miner and a staunch trade unionist, His mother was from Abersychan [in the Gwent Valleys]. Harry set off for Spain in May 1937, leaving his home to join that great cause.It was the last chance to confront a fascist dictator and stop the spread of fascism and a European war.
"Harry took part in many of the battles before the final Battle of the Ebro. He was wounded on the battlefield and then taken to a cave hospital at the village of La Bisbal de Falset. Hospitals had to be built in tunnels and caves to protect them from bombs from the Germans and the Italians, on behalf of Franco. As he was dying, he said to the nurse who was caring for him: 'Comrade, they will never keep back the progressive cause, whatever they do.'
"Glyn Dobson, a family member, told the Rhondda Leader in 1938: "Harry was a lovely bloke. He would always call in for a chat whenever he was passing our house. He will always be remembered as somebody who stood up for what he believed was right. It's a pity that there's not a lot more around like him today."
A number of Welshmen died at the Ebro – including Thomas Howell Jones, William Durston, Sidney George James, as well as Harry. Altogether around 200 Welshmen volunteered to join the International Brigades that were fighting fascism.
On the day that Harry's plaque was unveiled in Tonypandy, Spain's Socialist Prime Minister Pedro Sanchez won a vote in Parliament with the support of Catalan and Basque nationalists that will enable him to govern for another term.
Before the general election in July, there had been fears that the fascist party Vox would enter government in coalition with the right wing Popular Party.
---
Support our Nation today
For the price of a cup of coffee a month you can help us create an independent, not-for-profit, national news service for the people of Wales, by the people of Wales.