News
'Welsh is a gift' – Woman launches subscription box for Welsh learners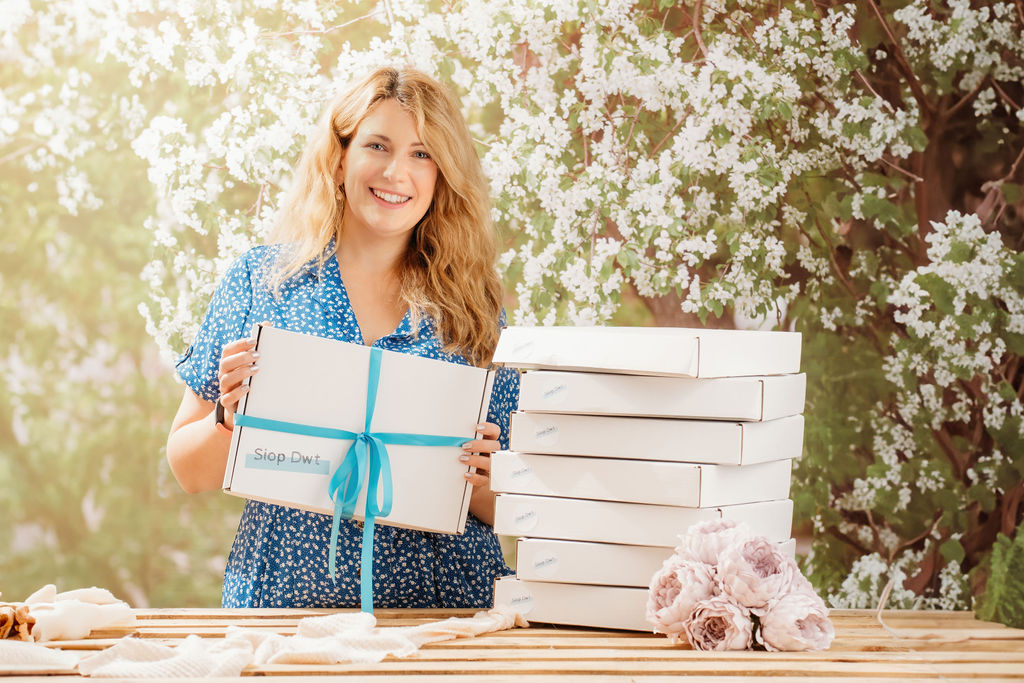 A woman who once thought speaking Welsh was pointless has now become passionate about the language and launched a business aimed at supporting Welsh learners.
Helen Rose – Jones spent her childhood and teenage years in south Wales believing the Welsh language was a waste of time and she wasn't even entered into sitting her GCSE Welsh Exam.
Fast forward 15 years and Helen found her lack of ability to speak Welsh was closing doors on opportunities both professionally and personally.
At the age of 30 during a secondment to the Future Generations Commissioner's Office she decided to learn the language.
Helen said: "I just didn't see the point of the Welsh language. Every Welsh speaker I knew spoke English. At school, they didn't teach us about the history of Wales, the history of the language and the connection with our heritage, not to mention how people had sacrificed so much to keep the language alive. Not sitting my Welsh GCSE didn't bother me at all at the time.
"Most staff in the office spoke Welsh. I was missing out on friendships & career opportunities because I didn't speak it. I was kicking myself for not paying more attention in Mrs Davies' Welsh class. Luckily, they offered Welsh classes in the workplace, I signed up and it changed my life.
"I'm still learning, but I've already discovered my own country in a new light. I've also learnt how the language is key to enjoying and appreciating our unique culture and identity. Learning Welsh is powerful, it's already benefitted me in so
many ways".

Bilingual diary
Helen's passion for the language sparked an idea for her business, 'Siop Dwt' an online shop on Etsy and an Instagram Community which now has over 2,500 international followers.
Since 2020, both platforms have focused on helping Welsh learners to access products and content to introduce Welsh into their daily lives.
One example is Helen's bilingual diary, also now available at the National Museum of Wales and in other shops in south Wales.
To make Welsh more accessible and fun, on Tuesday the 11th of July, Siop Dwt will be launching its new and unique monthly Subscription Box for Welsh Learners.
Boxes will include lots of useful products to make Welsh part of people's daily lives.
From the Lingo Newydd Magazine to bespoke puzzles and crosswords, scratch off maps with ideas for places to visit
and an opportunity to learn more about Wales. Helen has also partnered with several Welsh food and drinks producers and Welsh crafters to ensure her subscribers can also enjoy a variety of quality and tasty treats from Wales each month.
Helen said: "My subscription boxes will bring some Welsh sparkle into people's homes. I've worked with my online community to develop the idea, and as a Welsh learner myself I'm super confident these boxes will really support learners in their own day to day journey with the language, wherever they are in the world".
With things hotting up in her own community in Rhondda Cynon Taf, ahead of the National Eisteddfod in 2024 and with the Welsh Government's target of 1 million Welsh speakers by 2050, Helen believes now is the perfect time to launch this product.
She said: "Welsh is a gift. Every Welsh learner is a win for Wales. I wish I'd been taught that at school, I would have benefitted so much. Seeing my daughter's experience through Welsh medium education today proves that things are improving, but we've got a long way to go.
"I hope my Subscription Boxes help to make the gift of Welsh fun and accessible to all levels. Give Welsh a go – like me, it could change your life."
Siop Dwt's Welsh Learners Boxes are £30 a month with the option to cancel anytime. Boxes are available to pre-order here and will be readily available from launch day on the 11th of July.
---
Support our Nation today
For the price of a cup of coffee a month you can help us create an independent, not-for-profit, national news service for the people of Wales, by the people of Wales.