News
Welsh Labour candidate selection abandoned in chaos following text message allegation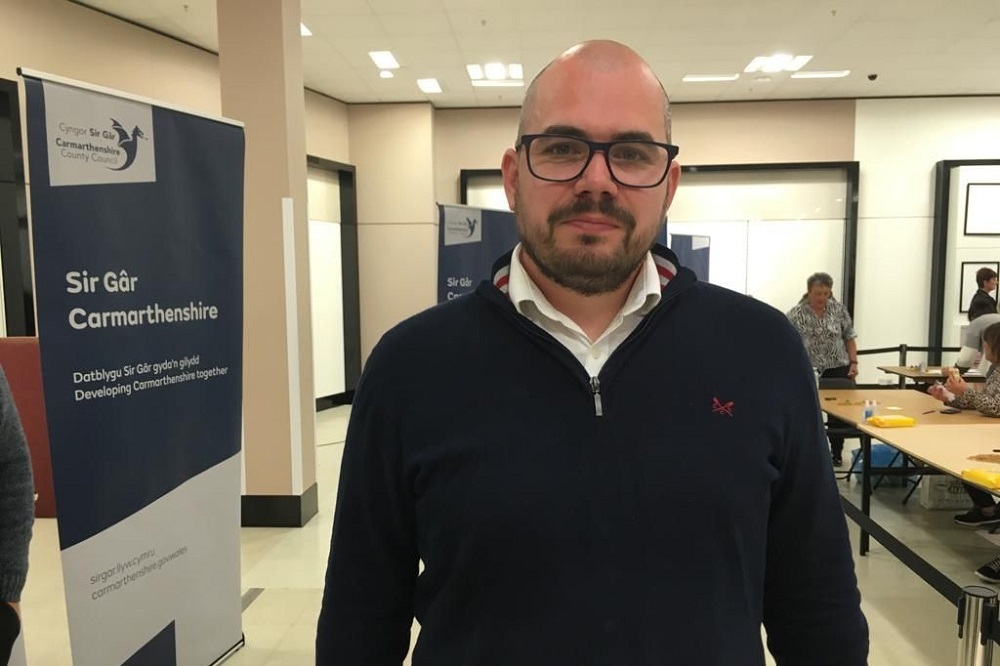 Martin Shipton
A meeting to choose Labour's Westminster candidate in the new Carmarthen constituency broke up in chaos as local party members expressed anger at the removal of a leading councillor from the shortlist after postal ballot papers had been sent out with his name on them.
Rob James, who leads the opposition Labour group on Carmarthenshire County Council, was told by Welsh Labour officials that he was disqualified from the process because of a text message he supposedly sent that he has no recollection of.
The text message is understood to have referred to Deputy Transport Minister Lee Waters, the MS for Llanelli, around the time earlier this year that Carmarthenshire county councillors were debating the issue of second homes.
Cllr James was accused of having texted an unspecified person a message which said: "If you want to cause some trouble today you may want to point out in the second home debate that the MS for Llanelli has two second homes in Carmarthenshire and doesn't live in either of them." The councillor has told local party members that he can't remember having sent such a message.
It is understood that Welsh Labour has said it can't prove that Cllr James sent the message, but that allowing him to continue in the selection process would risk reputational damage for the party.

Outrageous
A local party member who asked not to be named said: "What has happened is outrageous and very unfair. It's appalling that Welsh Labour is trying to stop local members deciding who their candidate should be."
"Rob James got nominations from all the branches in the constituency. He has led the Labour group on the county council for six years, is popular with the membership and was the favourite to win the nomination. He was put on the shortlist and his name was on the postal ballot papers sent to members who were unable to attend the selection hustings meeting [on Sunday September 3]. After the postal ballot papers were sent out, party officials said a complaint had been made about a text message supposedly sent by Rob.
"They'd been sent a photograph of the text message. They decided that they couldn't prove Rob had sent the message, but that if knowledge of it came out it could do reputational damage to Labour, and for that reason Rob couldn't be the candidate. It's absolutely crazy – even if he had sent the message, it wasn't abusive and certainly shouldn't disqualify him from taking part in the selection.
"The officials were then in a quandary about what to do about the postal votes that had already been cast. They discussed ringing members who had voted and asking them to allow party officials to cast proxy votes for them at the selection meeting, but that would make a nonsense of the secret ballot.
"There was a hell of a lot of anger expressed by party members at the selection meeting. A motion was passed saying that the selection should be abandoned. At first the party officials said there should be a two thirds majority, but members of the local party said two thirds majorities had never been required before.
"Eventually the meeting broke up and we don't know what's going to happen next."
There are three other would-be candidates on the shortlist: Calum Higgins, Tansaim Hussain-Gul and Martha O'Neil.
From December 2021 until August 2023, Ms O'Neil was a policy adviser to the UK Government, initially at the DCMS and then at the Department of Business, Science and Technology.
Cllr James said he did not wish to comment.
Welsh Labour has been asked for a statement.
Mr Waters, who is the Deputy Transport Minister, said the suggestion in the alleged message from Cllr James was not true: "For the avoidance of any doubt I do not, and never have, owned three houses," he said.
"Like every single person who has represented Llanelli, I live in two places in order to carry out the role."
Asked whether he had been involved in any of the discussions about removing Mr James from the candidate selection process, he said: "No".
The new Carmarthen seat created following boundary changes contains most of the existing constituency of Carmarthen East and Dinefwr, together with part of the current Carmarthen West and South Pembrokeshire seat.
Carmarthen East and Dinefwr is currently held by Jonathan Edwards, who was first elected as a Plaid Cymru MP in 2010. He left Plaid after accepting a caution for assaulting his wife and now sits as an Independent.
Carmarthen West and South Pembrokeshire is held by Simon Hart, the Conservative chief whip at Westminster.
One projected result for the next general election suggested the new seat was likely to be won by Labour, while another put Plaid Cymru in the lead.
---
Support our Nation today
For the price of a cup of coffee a month you can help us create an independent, not-for-profit, national news service for the people of Wales, by the people of Wales.