News
Welsh Labour constituency party rebukes Starmer over pro-Israel stance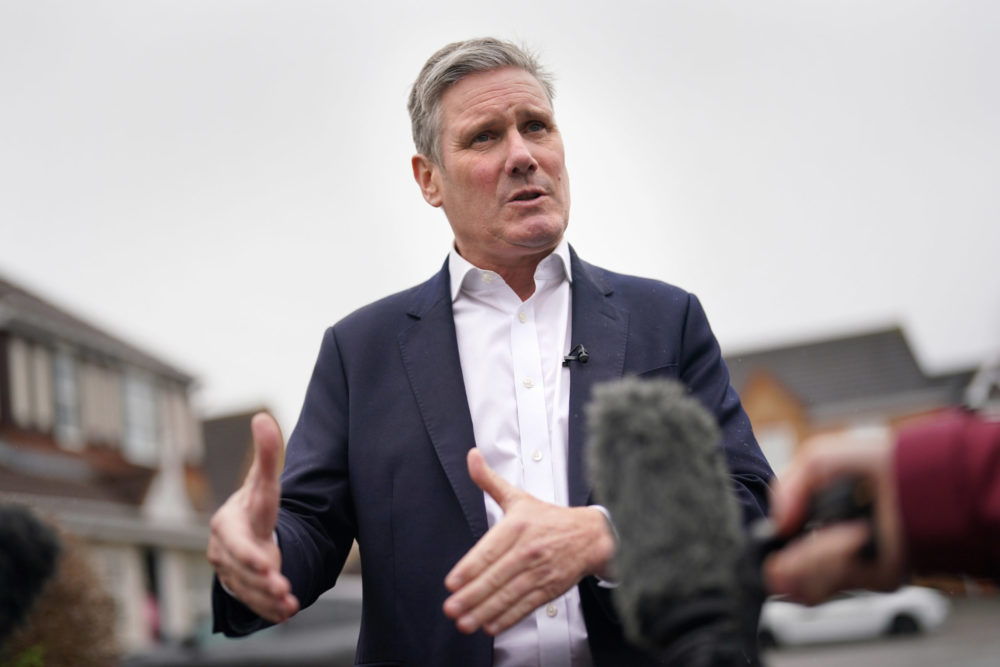 Martin Shipton
Executive members of a local Labour party have issued a strong rebuke to Sir Keir Starmer over his stance on the Israel / Palestine conflict in their last message before being merged into a bigger constituency.
The outgoing executive committee of Ceredigion Constituency Labour Party has issued a statement which says: "We … unequivocally condemn all acts of violence affecting innocent civilians, whether committed by Hamas or the Israeli military. We believe that the inexcusable acts of terrorism recently perpetrated by Hamas represent a war crime under the Geneva Convention.
"We also unequivocally condemn as a war crime the collective punishment of a whole population of Palestinians in the Gaza strip by the Israeli regime, The current escalation of conflict must be seen in the context of 75 years of oppression and dispossession of the indigenous Palestinian people of the region and the steady evolution of Israel into a fully-fledged 'apartheid' state.
"Palestinian civilian casualties in the ongoing unequal 'conflict' in Israel / Palestine- since 2008 – have been over 20 times those of Israelis. We challenge the Labour leadership to reverse their current very public and uncritical support of the Israeli regime, to be more in line with recent decisions at the Labour Party Conference.
"At this tragic time, we would also like to express our solidarity with the large number of courageous Jewish friends and fellow socialists who have spoken out and campaigned on behalf of the Palestinian people both in the UK and Israel, including organisations like Jewish Voice for Labour, and utterly condemn any anti-Semitism wherever and whenever it occurs.
"In that context, we are dismayed that some in the Labour leadership and the wider Parliamentary Labour Party still continue to falsely label anti-Zionists and opponents of the Israeli regime as 'anti-Semitic'. This 'weaponising' of 'anti-Semitism' against individual anti-racist members of the Labour Party has been a disgrace which must end and is contrary to the values and principles that we claim to uphold.
"Finally, while applauding the decision of the Welsh Government not to fly the Israeli flag over the Senedd, we reject in principle a recent circular letter from the Labour Party UK general secretary David Evans, implying disciplinary measures against members attending events held in support of the Palestnians, or even expressing the type of opinions in this statement. We believe that such 'advice' from a paid employee of the Labour membership risks bringing the party into disrepute and damaging its electoral prospects among democratically-minded members of the public."

Resignations
In an interview with LBC, Sir Keir said Israel "has the right" to withhold power and water from Palestinian civilians following the recent terror attacks on Israel by Hamas.
This prompted a spate of resignations from the Labour Party, including former MP Lynne Jones, who lives in the Brecon and Radnorshire constituency, and Clive Haswell, a former Chair of Cardiff North Constituency Labour Party. Senior Labour figures have also expressed concern that in some English cities, especially those with significant Muslim communities, Labour councillors may resign because of Sir Keir's support for Israel, possibly losing the party control of key councils.
Sir Keir appears to have modified his position since his LBC interview. He has denied he had suggested withholding supplies was appropriate, saying: "I know that LBC clip has been widely shared and caused real concern and distress in some Muslim communities so let me be clear about what I was saying and what I wasn't saying.
"I was saying that Israel has the right to self-defence, and when I said that right I meant it was that right to self-defence. I was not saying that Israel had the right to cut off water, food, fuel or medicines.
"On the contrary. For over a week now, I have been leading the charge calling for that humanitarian aid to come in.
"We all know there are innocent civilians in Gaza in a humanitarian crisis, a million children that aid urgently needs to get in.
"So I was saying yes, they have the right to self-defence – that right they do have – but not the right to withhold that humanitarian aid that needs to get in. It is now absolutely urgent."
Conference
Meanwhile supporters of Palestine are publicising a conference due to take place on November 4 in Cardiff's Temple of Peace on the theme Acknowledging Israel's Apartheid. The conference is organised jointly by Amnesty International and the Palestine Solidarity Campaign. Among the speakers will be Husam Zomlot, head of the Palestinian Mission to the UK, Omar Barghouti, co-founder of the Boycott, Divest and Sanctions movement and Naomi Wimborne-Idrissi, secretary of Jewish Voice for Labour.
Cynon Valley Labour MP Beth Winter had also been due to speak at the conference, but it is understood that she will not now be doing so. In his letter to Labour Party members, Mr Evans said that elected politicians should not participate in public events supporting Palestinians.
The Ceredigion constituency is being enlarged to take in part of northern Pembrokeshire. The merged constituency will be known as Ceredigion Preseli.
---
Support our Nation today
For the price of a cup of coffee a month you can help us create an independent, not-for-profit, national news service for the people of Wales, by the people of Wales.