News
Welsh Labour MPs under pressure to back Gaza ceasefire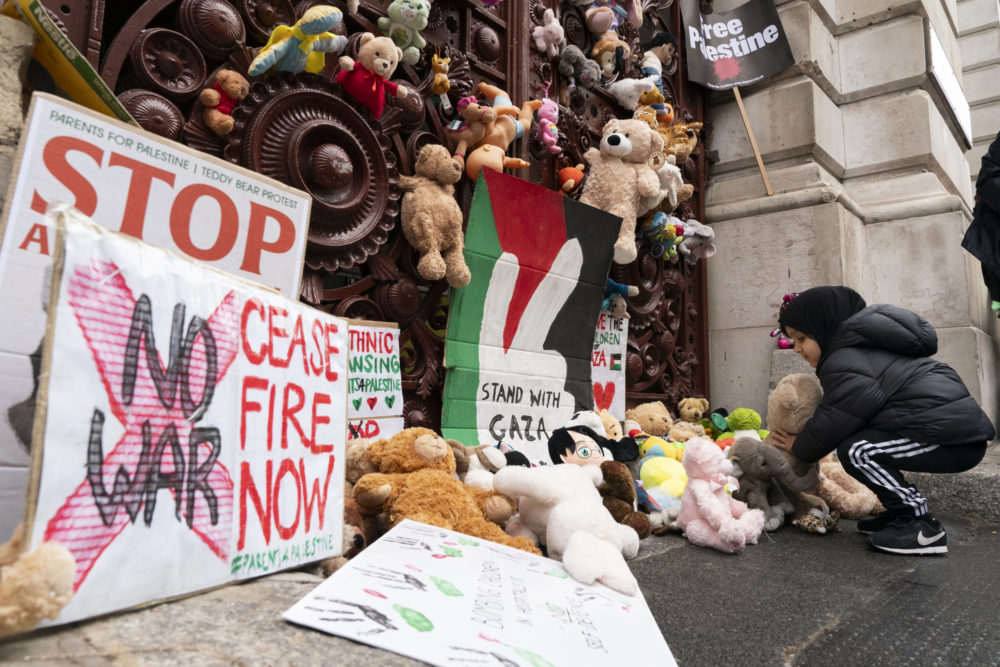 Martin Shipton
Welsh Labour MPs are coming under increasing pressure from constituents and Palestinian support groups to back a ceasefire in the conflict centred on Gaza.
In an open letter to Pontypridd MP Alex Davies-Jones, members of the Rhondda Cynon Taf branch of the Palestine Solidarity Campaign (PSC) wrote: "Like you, we were appalled at the brutal killing of Israeli civilians by Hamas on October 7 and we would welcome a thorough investigation into exactly what happened by independent investigators.
"Karim Khan, Prosecutor for the International Criminal Court, has already visited the Rafah Border Crossing, and is investigating alleged war crimes in both Israel and Palestine. He told journalists at a press conference he had wanted to enter Gaza and Israel to meet with families and potential witnesses, in the pursuit of justice, but has not been allowed in.
"The Rome Statute governing the conduct of war requires civilians to be protected. There is 'no blank cheque' for any party to do whatever it pleases, he said. Israel has clear legal and moral obligations in the pursuit of its war. Churches, mosques and hospitals have protected status and must not be attacked – but have been. Hamas too must adhere to this and not stop aid reaching civilians. Taking civilian hostages is not acceptable or permitted.
"There has been a reported spike in attacks by armed Jewish settlers on Palestinians. Khan has called on NGOs and citizens to submit evidence of war crimes that the court will investigate. Impeding relief supplies from getting into Gaza with desperately needed water, food and medicines – including morphine for use in operations – may constitute a crime under the Geneva Conventions, he said.
"Ms Davies-Jones, you say in your letter to a constituent the conflict 'has seen children fleeing their homes and innocent civilians terrified they will die in the darkness out of sight, has redoubled my belief that the international community must work to finally secure peace in the region.'
"Thousands of children and civilians have fled their homes. Indeed, they have been ordered to leave by the Israelis, who have then proceeded to bomb homes in what can only be regarded as indiscriminate. At the time of writing, almost 8,000 civilians have been killed, half of them children. This is not proportionate and is not Israel acting in self-defence. It is displacement of people and a slaughter of innocents, under the cloak of darkness and with communications cut off. Where is the outrage at that?
"You say you 'cannot begin to imagine the scale of suffering and grief"' Well, it is time to start, for what is going on has to stop. We have all seen reports on our screens of entire families being killed in the bombings, of children still buried in the rubble beneath collapsed buildings. We see parents cradling their dead children stricken with grief. Body parts are scattered after attacks. This conflict did not start on October 7. Attacks on Palestine and Palestinians have been going on for decades. And yes, we condemn attacks on civilians of any nationality or religion.
"There are instances of families being made to flee northern Gaza by Israel. They are living in cramped accommodation in the south, with reports of over 40 people jammed into small apartments – with no running water, little food or drink, and no power. Sewage is overflowing. They take it in turns to sleep. They are traumatised. This is the reality we must engage with. Begin to imagine that.
"You refer to 'dis- and mis-information' and urge journalists and others to exercise caution. Politicians should do the same. You may well know that only a handful of journalists with international SIM cards or satellite access were able to let the outside world know what was happening on October 27-28, on a night of extremely heavy bombing with a communications blackout. This left people all around the world – who have family in Gaza – not knowing whether their loved ones were dead or alive.
"Al Jazeera journalist Shireen Abu Akleh was killed by Israeli soldiers without cause, according to a report published by the United Nations on October 16. It named the military unit from which the lethal bullets were fired – the Duvdevan Unit. The Israelis sought to cover this killing up. The International Federation of Journalists together with its affiliate, the Palestinian Journalists' Syndicate and the UK's National Union of Journalists (NUJ), has called on the International Criminal Court to investigate the killing.
"On October 27, the NUJ echoed concerns from Palestinian journalists that they and their families were being deliberately targeted by Israeli forces. At least 23 Palestinian journalists have been killed since October 7. Several have been injured and many are missing. Where is the outrage at this?
"You believe the international community 'must work to finally secure peace in the region'. The truth is, the international community has consistently looked the other way while Palestinians have been attacked and ejected from their homes by Israeli settlers acting in breach of international law for decades, often with Israeli military looking on.
"On March 28, the UN's Human Rights Council heard the presentation of a report by the High Commissioner for Human Rights which stated that the current Israeli plan to double the settler population in the occupied Syrian Golan by 2027 was unprecedented, and that 700,000 Israeli settlers are living illegally in the occupied West Bank. Despite this, the West continues to arm Israel. The UK is a major supplier of arms to the Israeli military, which uses those arms to oppress and kill Palestinian civilians. Israel practises a system of apartheid, under which Palestinians are treated as second-class citizens with fewer rights and under which even children are imprisoned.
"You and the Labour leadership talk of Israel's right to defend itself. What we are witnessing before our very eyes in Gaza is Israel committing ethnic cleansing of an entire people. You know very well the backlash which has been caused within your own party by the failure to condemn this. We call on you to acknowledge the suffering of the Palestinian people. They are not caught in crossfire, as you say. They are indiscriminately targeted by the Israeli government. Acknowledging Israel's apartheid is the subject of a major conference being held in Cardiff on November 4 by the PSC and Amnesty International. Multiple human rights organisations have already documented in great detail the apartheid system of oppression of the Palestinians.
"Would you call for a ceasefire to save more children from being killed, especially as you are so passionate about issues involving mothers and babies? Ethnic cleansing is happening, but not in our name."
We asked Ms Davies-Jones to respond. She said: "I am responding to constituents who contact me directly – I have nothing to add."
Meanwhile former Blaenau Gwent council Labour leader Hedley McCarthy has written to Blaenau Gwent MP Nick Smith stating: "What has the Labour Party become if it doesn't represent humanitarian causes and people in dire need? Members of Parliaments must act according to their consciences in such matters where what is happening is tantamount to war crimes and must stand up to misguided leaders making policy on the hoof.
"I know you as a successor to Aneurin Bevan, Michael Foot and Llew Smith will stand by those who are suffering and those who wish to voice their opinions should in a democracy be allowed to do so. I'm sure your constituents would expect no less."
Mr Smith responded: "Israel was the victim of terrorism on an unimaginable scale at the hands of Hamas. Israel has a right to defend itself, keep its people safe and bring home hostages. But its operation can and must be conducted within international law.
"I was in the Chamber to hear Keir Starmer say: 'We democracies know that all human life is equal. Innocent lives must be protected. These are the principles that differentiate us from the terrorists who target Israel.' This is right. Hamas is not the Palestinian people, and the Palestinian people are not Hamas. We cannot turn away from the suffering of those in Gaza.
"Gaza is facing a humanitarian emergency and innocent civilians in Gaza are terrified for their lives. We have seen children forced to flee their homes, clean water running out and hospitals barely able to function. This is an urgent situation and civilians in Gaza need to know the world is not simply watching, but acting, to prevent a humanitarian catastrophe.
"The UK Government should support the creation of clear humanitarian corridors within Gaza with access for food, water, electricity and medicines and to allow those escaping violence to flee safely. There must also be proper protection for those working selflessly to deliver aid. Civilians must not be targeted. Innocent lives must be protected.
"Labour's Shadow Foreign Secretary David Lammy and Shadow Cabinet Minister for International Development Lisa Nandy have written to government ministers to urge further support for the people of Gaza with the following humanitarian actions:
* Matching the EU by tripling humanitarian assistance.
* Appointing a UK special coordinator for international aid to Gaza, mirroring what the United States have done.
* Immediately deploying British experts in emergency relief and medical support teams to support operations at the Rafah crossing.
• Working with international partners to give UN agencies, such as UNRWA, the long-term resources they need.
• Insisting that fuel is allowed into Gaza, to provide essential power for hospitals, water and sanitation systems.
"Sons, daughters, mothers and fathers are grieving: Israeli and Palestinian; Jewish, Muslim and Christian. We must make serious efforts to forge a political path to a two-state solution and a better future for Israel and Palestine. A future where Israelis live free from the fear of terrorism and a future for Palestinians, where they and their children can enjoy the freedoms that we take for granted."
---
Support our Nation today
For the price of a cup of coffee a month you can help us create an independent, not-for-profit, national news service for the people of Wales, by the people of Wales.